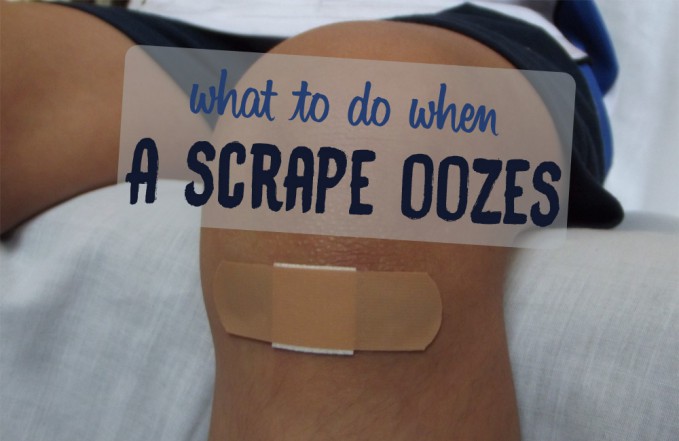 Scrapes are caused by the skin rubbing against something abrasive. Most scrapes are minor and can be taken care of at home. They may be uncomfortable, but they usually heal quite fast, usually within a week. However, it is not uncommon to have clear fluid oozing coming out of a scrape. Does it mean the scrape is getting infected? What should you do when a scrape oozes?
What to do when a scrape oozes?
According to Jan Nissl, "It is common to have small amounts of fluid drain or ooze from a scrape. This oozing usually clears up gradually and stops within 4 days. Drainage is not a concern as long as there are no signs of infection."
However if the scrape is either too deep, infected, if you can't control the bleeding, if there are still remaining debris after cleaning or if the wound is located on sensitive skin, medical wound care is usually much needed. See: How to heal open wounds faster – First aid guidelines
Can oozing be a sign of infection?

Yes, it can be, especially if a scab has formed over an area that moves. Clear yellowish to pinkish fluid may ooze from the wound and an infection could develop under the scab.

"If a scrape is weeping clear fluid, it's okay, but if it contains blood or pus or there is redness that is traveling away from the wound, the scrape has become infected and needs to be treated with a course of oral antibiotics", says Samuel Wentworth, M.D., a pediatrician in private practice in Danville, Indiana.

If you see any swelling, pus or a traveling area of redness, see a doctor because it is likely it is a sign of infection.

Most scrapes form a scab during the healing process, which is good. Once a scab is formed, the scraped area usually remains dry and does not ooze fluid anymore. In fact, a scab protects the scrape from additional injury and infection.
Should a scrape be covered with a bandage?
If a scrape oozes or still might get infected, it is advisable to cover the area with a loose-fitting bandage. Bandages keep the scrape clean, keep harmful bacteria out, and maintain moisture to prevent your skin from drying out.
However, a scrape heals best if it is left uncovered. Also, when the scrape stays moist, it often oozes fluid or small amounts of blood. After the wound has healed enough to make infection unlikely, it is better to exposure the scrape to the air to speed the healing process.
Are there any natural treatments for a minor scrape that oozes?
Colloidal silver is a natural antibiotic that can be used when the scrape is weeping. It helps kill bacteria without damaging newly forming skin cells and does not sting (which is nice for kids!). You can sprinkle colloidal silver over the affected area. It is not recommended to use essential oils at this stage, when the infection is still likely to happen.
It is also very important to wash the area before application and cover the scrape afterward with a nonstick bandage, which prevents the scab from binding the bandage to the wound.
Please read the release of liability »
The information provided on Optiderma.com is for educational and informational purposes only and should not be used as a substitute for the advice of an appropriately qualified practitioner. If you are allergic to the foods, herbs, essential oils, any remedies listed here, you must of course avoid them. For example, consuming food that you're sensitive to will only cause more (not reduce!) inflammation. Please consult a practitioner (such as Naturopath, Homeopath, Doctor of Chinese Medicine, Dermatologist, ...) to follow the most appropriate treatment to heal your skin. All the legal mentions »