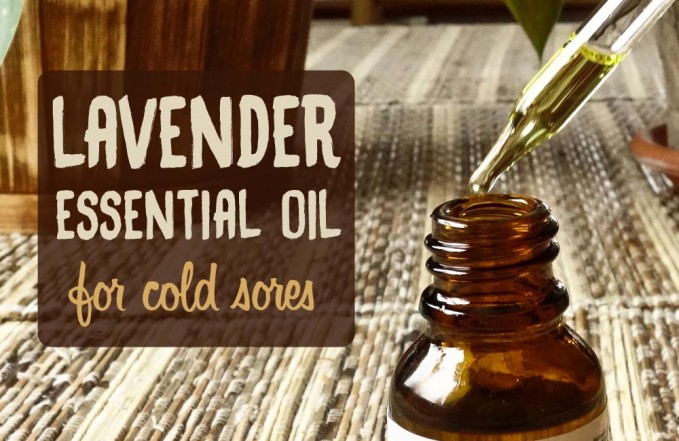 Read this before you start this recipe »
Always educate yourself about properties and contraindications of essential oils you are going to use.
Be sure you are not allergic to any ingredient before applying it on your body. First apply a dab on your wrist for example, and wait 24 hours to see if any irritation occurs.
Make sure you buy the pure base ingredients and choose ingredients that have the most beneficial nutrients.
Always dilute an essential oil in a base oil unless you are sure it is safe to use it neat.
If you can afford, spend a little more on high quality and organic oils. This will insure no unnecessary chemicals are applied to your skin.
Lavender essential oil is one type of essential oils used for cold sores that can be effective as an alternative treatment. Cold sores are caused by the herpes simplex virus, and they can be both unsightly and painful. Cold sore outbreaks can occur from time to time and can be triggered by many factors, such as menstruation, stress, exposure to sun/wind or a low immune system. Using essential oils is great if you use it at the very beginning. Lavender essential oil usually works well and can help bring down the pain. Here is a very simple recipe that is worth a try.
Preparation: 2 min
Cooking: n/a
Ingredients
Lavender Essential Oil - 10 drops
Olive oil - 25 ml
How to use lavender essential oil for cold sores?
Mix essential oil and almond oil together.
Dip a clean cotton swab in the mixture, and apply directly to the cold sore.
Store the remaining mixture in a tightly sealed glass container.
Apply it as soon as you recognize the first signs of pain or tingling that tell you a cold sore is on the way and reapply several times a day until the sore is gone. Please keep in mind that essential oils are not for internal use and can cause irritation when applied externally.
Do most people get cold sores?
Please read the release of liability »
The information provided on Optiderma.com is for educational and informational purposes only and should not be used as a substitute for the advice of an appropriately qualified practitioner. If you are allergic to the foods, herbs, essential oils, any remedies listed here, you must of course avoid them. For example, consuming food that you're sensitive to will only cause more (not reduce!) inflammation. Please consult a practitioner (such as Naturopath, Homeopath, Doctor of Chinese Medicine, Dermatologist, ...) to follow the most appropriate treatment to heal your skin. All the legal mentions »