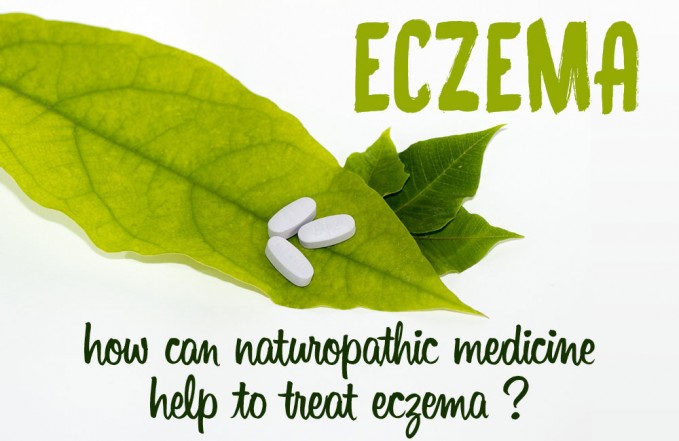 Eczema, also known as atopic dermatitis, is a very common skin disease that causes itching, redness, dryness and flakiness of the skin. What can trigger eczema? Is it possible to treat it with natural remedies? How can you lower the risk of developing eczema? Find all the answers in this interview with Dr. Candice Esposito, Licensed Naturopathic Doctor in Sault Ste. Marie, Ontario.
Is eczema hereditary? Can you pass on eczema to your children?
Eczema, along with other atopic conditions like allergies and asthma, are not inherited as single-gene disorders. They don't show a simple pattern of inheritance. Environmental and genetic factors interact in a complex way to produce disease susceptibility and ultimately expression in the form of eczema.
Studies have estimated that there is a positive family history in about two thirds of individuals with eczema. I've treated children who have eczema at birth, so it's logical to assume there is an inherited pattern playing a role.
I think homeopathy and epigenetics can probably answer this question best. Homeopathy states that all disease has an underlying root called a miasm, which you can think of as an inherited tendency. Epigenetics, at its basic level, studies how our genes are changed by non-genetic factors. So, first we have this inherited tendency to develop eczema, which is passed on, and then we're exposed to epigenetic factors such as diet, stress, prenatal nutrition, environmental toxins, and so on, that impact which genes are turned "off" or "on" and it's this combination that ultimately results in the expression of eczema, as in other illnesses.
Can you tell us what usually triggers eczema?
Several different factors can potentially trigger eczema. Remember that eczema is often seen in combination with other atopic conditions like allergies, hay fever and asthma, which can have similar triggers. Inhaled allergens like dust mites or pet dander may cause flare-ups. A bacterial, viral or fungal infection may cause a flare-up. Food allergies and food sensitivities are also a common trigger, especially in children. Other possible factors include an overgrowth of yeast (Candida albicans) in the gastrointestinal tract, altered essential fatty acid metabolism or altered immune function resulting in excess histamine release. In practice I've seen children develop eczema shortly after vaccinations. There isn't a causal link that I'm aware of or can eloquently explain; however it is something that I look for when taking a case history in my younger patients. And I've seen stress and traumas definitely trigger flare-ups in patients with eczema so I believe that the mental/emotional aspects of the illness should not be ignored.
Why is it a chronic disease?
Chronic diseases, by definition, are "diseases of long duration and generally slow progression." The opposite of chronic diseases being acute disease where the illness generally develops quickly and lasts a short period of time. Eczema, also called atopic dermatitis, is an example of a chronic disease, although it may have acute flare-ups.
How can you lower the risk of developing eczema?
Lowering one's risk for eczema, ideally begins before birth. Prenatal care could involve addressing the miasmatic tendencies of the parents to help prevent their child from inheriting that tendency. For example, if we know that the mother experienced eczema as a child we could investigate the miasm of the mother and treat accordingly using homeopathy. Limiting stress around the time of conception, during pregnancy, and in labour, in addition to optimal prenatal and perinatal nutrition can help. Limiting the baby's exposure to environmental toxins as much as possible can also help. Some studies have shown breastfeeding to lower the risk of atopic diseases like eczema. Proper food introduction for the child is important, too, to avoid development of food sensitivities. Another consideration is the environment the child grows up in. Studies have shown that children living in rural areas have less severe cases of atopic illness than those living in urban areas. Probiotics are probably the most promising neutraceutical in terms of preventing atopic disease. Infants benefit when their mothers take probiotics during pregnancy and breastfeeding. Probiotics may also reduce the risk of food sensitivities and allergies.
How can a Naturopathic Doctor help?
Naturopathic medicine has the ability to understand the underlying causes of eczema and treat those root causes. The other benefit of naturopathic medicine is that it adopts a holistic approach – so it can actually address all those factors I talked about that can trigger eczema. Naturopathic medicine understands that eczema is an external expression of an internal imbalance and therefore needs to be treated from the inside out in order to achieve healing. Eczema is actually not a topical disease – only its expression is.
Why do you believe it is better to use natural treatments?
Prescription and over-the-counter drugs commonly prescribed for eczema fail to address the root causes of the condition and therefore do not promote healing. These types of medications include topical corticosteroids, topical antibiotics, and oral antihistamines. Systemic corticosteroids are sometimes used if the eczema is particularly severe. None of these medications have been shown to be effective in the long-term and carry with them potential side-effects like skin irritations, sedation and allergic reactions. What's worse is that many of these medications can result in a rebound flare-up that is usually worse than how the eczema was originally. These medications only suppress the condition and unfortunately can often drive the condition deeper in the body. A common history I hear in practice is of a child developing asthma after long-term suppression of eczema with corticosteroids. The eczema never really went away with the medication and, in fact, was only pushed deeper in the body. Only the symptoms were relieved, not the true condition because the factors that led to the eczema were never addressed. Naturopathic medicine, on the other hand, works to restore balance to the body by treating and removing the root causes, thereby allowing the body to heal itself – the opposite of suppression.
Which natural therapies are usually the most effective ones to treat eczema?
Well, in a sense that's a bit of a difficult question to answer since each person is individual. The most effective treatments are the ones that properly address the unique factors playing a role in the individual's unique development of eczema. So, my "treatment plans" for patients with eczema are quite varied, as varied as the individuals themselves. That is a key principle of naturopathic medicine, to treat the whole, unique person rather than offer a "cookie cutter" approach. However, there are some commonalities in most cases that I find to be effective:
First it's a good idea to rule out any possible food sensitivities. You can do this through what's called an hypoallergenic diet, where for a period of two or three weeks the most common offending foods are removed from the patient's diet. Cow's milk, eggs, peanuts and wheat are common food sensitivities I see in practice. Those with food sensitivities often have a "leaky gut" or increased gut permeability. Therefore, therapies that heal a leaky gut, such as L-glutamine, Jerusalem artichoke, Tillandsia and colostrum can be helpful.
In addition to a leaky gut, individuals with eczema may also have hypochlorhydria (too little stomach acid), which impairs digestion and absorption of essential nutrients. This can be addressed through the use of bitter herbs, like Gentiana luteum (Gentian) and Quassia amara (Quassia), which stimulate the flow of digestive juices.
Liver support is important to aid the body's drainage and detoxification pathways. Herbs like Galium aparine (Cleavers) and Trifolium pratense (Red clover) can be beneficial for this purpose and they also have alterative properties, which means they help restore health and increase vitality. I often will also prescribe castor oil packs, a traditional nature cure remedy, that provides gentle liver support.
If yeast overgrowth in the digestive tract is suspected probiotics may be prescribed to help heal the intestines. Many patients with atopic illness have altered essential fatty acid metabolism, which means the fats they ingest are not being optimally utilized by the body. Remedies that support bile flow, like bile salts can help with this. Increasing the individual's consumption of cold water fish like salmon, sardines, cod and mackerel can also help. I will often have patients rotate between fish oil and borage oil supplementation, which not only help to replenish essential fatty acids, but also turn on the anti-inflammatory signals in our body.
Another common concern is excessive histamine release, which triggers inflammation. To decrease this over-stimulation of histamine remedies like Glycyrrhiza glabra (Licorice), Vaccinium myrtillus (Bilberry), Crataegus pentagyna (Hawthorn), grape seed, pine bark and green tea may be used.
What can be done on a daily basis to help with eczema?
Some studies suggest that people who have asthma along with eczema may benefit from dust mite reduction. Changing mattress covers and bedding and using air filters are some things that can be done. Again, though I think we have to ask what is causing this over-exaggerated immune response to these triggers and how do we address that? Why do these individuals in particular respond this way to dust mites when others exposed to the same environment do not.
I remember reading a study that concluded that continuous cellphone use for one hour showed a significant increase in allergic response to dust and pollen in adults that have eczema. Now, this is only one study, but it does raise the question of how environmental toxins like radiation exposure can affect our immune systems.
It's recommended that individuals with eczema use hypoallergenic soaps and laundry products and avoid exposure to chemical irritants or rough-textured clothing.
One treatment that I often recommend to patients to do on a daily basis is constitutional hydrotherapy, which utilizes the healing properties of water. A series of alternating hot and cold towels are placed over the individual's chest, then back. It's a gentle way to help strengthen and balance the immune system.
Would you have a homemade skin care recipe for eczema, using specific herbs or oils, you would like to share with us?
Well, as I mentioned before, I would use any topical application with the understanding that healing must be based on internal medications, not external ones. Topical remedies should never suppress, but simply soothe and reduce symptoms or irritation. Calendula or chamomile preparations are often helpful.
Would you have any other recommendations to help people who suffer from eczema?
Yes, I don't want to gloss over the importance of addressing any mental or emotional aspects of the illness. Emotional tension can trigger itching. Studies show that individuals with eczema tend to show higher levels of anxiety. Therapies that address anxiety are key and stress management techniques like deep breathing and meditation can be very beneficial when done on a regular basis.