Skin Issues Index
Suffering from a skin condition: psoriasis, acne, eczema, herpes? Struggling with annoying skin rashes or cuts that take forever to heal? Find effective natural remedies for your skin problem. Some remedies are proven to be powerful in healing; give them a try!
Find remedies for:
Also: birthmarks • blisters • cellulite • dandruff • frostbite • moles • shingles • varicose veins
What are natural remedies?
Before you navigate through our website, we'd like to give you an overview of what we call "natural remedies". 
Natural remedies can be very useful in the treatment of skin problems and chronic skin diseases, but it's important to understand what they are and how to use them.
Natural medicines have a long history of usage to treat many illnesses ranging from skin issues to digestive disorders. Herbal remedies in particular have existed for centuries. 
Nowadays, allopathic medicine is the prevailing norm in the Western world. But we tend to forget that only a few decades ago, natural remedies were commonly used, even by conventional doctors. 
When we talk about natural remedies, we usually refer to: 
However, there are other natural therapies that are less popular, such as: 
Click on the above links to learn more about each therapy.
Why use natural remedies for skin problems?
There are many reasons why you should use natural remedies:
Natural remedies do not use harmful chemicals.
They are often less expensive than over-the-counter and prescription drugs.
They do not produce any side effects if they are used properly! 
There are many studies that prove the effectiveness of some natural remedies with minimal risk of side effects. Research supports the use of remedies in the treatment of various skin problems. They usually do not work as fast as drugs, but the results are more sustainable.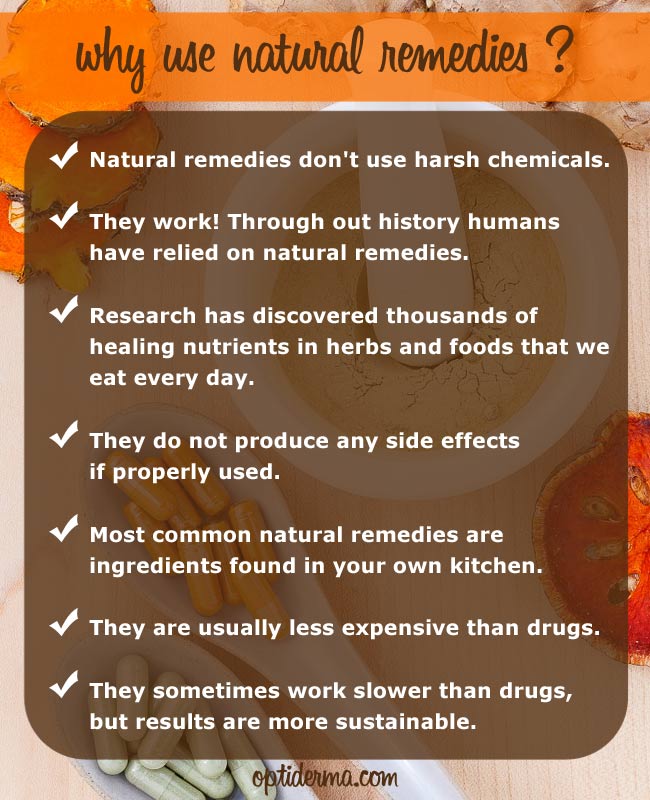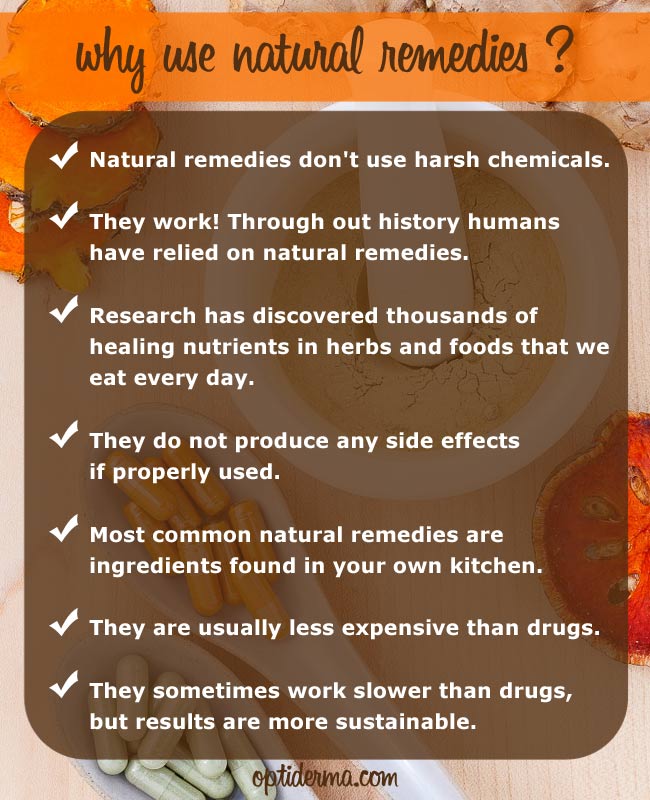 Caution: You need to have the knowledge on how to use natural remedies for skin issues. "Natural" doesn't always mean "safe" or "better". In some cases, conventional treatments are needed, and natural remedies may not be the appropriate treatment. It usually depends on the severity of your skin condition. This is why consulting a qualified practitioner is strongly recommended. That being said, there are lots of skin problems that can be treated at home. Whenever you have doubts, please consult your doctor. 
What will you find on Optiderma.com?
It's important to mention that the information provided on this website is for informational purpose only. We don't diagnose or offer treatments.
On Optiderma.com, you'll find very interested articles about nutrition and natural remedies for skin issues, as well as some interviews with qualified practitioners. This website is full of useful tips!
As a Certified Holistic Nutritionist, I also post healthy recipes. In addition, you may try some skincare recipes to make healing creams at home! Making your own skincare products is fun and often inexpensive.
Discover some healthy tips to heal your skin naturally, and find natural solutions that work for you!
Don't hesitate to share your favorite natural remedies for skin on Optiderma.com! We'd love to hear your suggestions!