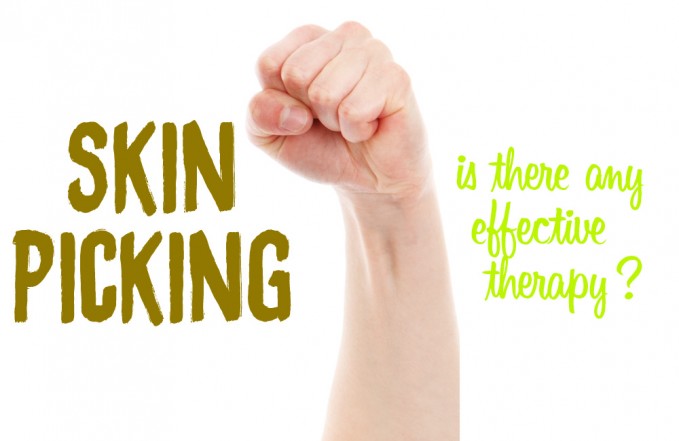 Skin picking, also known as Dermatillomania or CSP (compulsive skin picking) is an impulse control disorder characterized by the repeated urge to pick at one's own skin. Who doesn't scratch his/her own skin from time to time? The problem is that most people aren't aware that skin picking can be a real disorder. Let's try to understand the underlying causes of this disorder and how dermatillomania can be treated with Dr. Alison B. Segal, expert in the treatment of anxiety disorders including body-focused repetitive disorders, such as skin picking.
Dr. Segal, at what stage does skin picking start to be a real disorder?
Skin picking becomes a disorder when it takes up a significant amount of time (> 2 hrs/ day), causes excessive discomfort (individual's mood/self-esteem is impacted), or interferes with a person's functioning (e.g., late for work because he/she is stuck in the bathroom picking/covering up picking damage; avoids socializing secondary to shame/embarrassment from picking or skin's appearance).
What can start the pattern of picking and why does it sometimes turn into a compulsive behavior?
The pattern of picking can be started by a variety of triggers.  Some individuals begin picking pimples during their pre-teen/teenage yrs. and experience a sense of relief after popping a pimple. Others begin by squeezing pores or picking scabs and might be fascinated by the process and even enter a trance-like state.  Some individuals just scratch at their skin/scalp because they experience an uncontrollable urge.  The scratching causes damage/lesion formation which begins a vicious cycle.
Is there any hereditary factor?
Skin picking like most psychological disorders seems to have genetic component.
It is said that the disorder is typically found among females more than males. Is this true?
Yes.  A higher proportion of females than males suffer from skin picking.  However, I have certainly seen a number of males who struggle with this issue.
Is there any appropriate and most effective therapy?
Research has shown that cognitive behavioral therapy (CBT) seems to be the most effective method of treatment.  Specifically, the use of HRT (habit reversal training) and SC (stimulus control) are widely accepted methods for the treatment of skin picking.
What about medication?
If CBT alone is not working for a patient, I always encourage individuals to consult with a psychiatrist.  Some individuals are unable to do the work required of them in CBT without the addition of medication.  The combination of both is highly effective for many individuals. 
Can hypnosis be an effective way to stop skin picking?
Hypnosis alone will not stop skin picking.  However it can be a helpful adjunct to CBT. I almost always incorporate relaxation training (a form of hypnotherapy) into treatment plans for those seeking help for skin picking.
Do you have any other tips to break the pattern of skin picking on a daily basis?
The first step is always awareness of what triggers you to pick.  Who? What? When? Where? Start to keep track of this information.  These are key when starting Habit Reversal Training and Stimulus Control.
Have any of your patients stopped picking completely?
I have had patients stop picking completely, although this is rare.  What I always tell my patients is that success is having control over your behaviors.  Sometimes you choose to implement tools to prevent you from picking sometimes you don't.  But its always your choice.  No outside force is causing you to pick.
If you have a friend or a relative who suffer from skin picking, what can you do to help her/him?
Read about skin picking.  Know that it is can cause an extreme amount of shame and embarrassment, so if your friend or relative is not ready to discuss it with you, give them the time and space that they might need.  If they are open to talking with you, offer your support by asking your friend or relative what you can do to help them.  Telling someone who is struggling with this disorder to "Stop Picking!!", generally, is not going to be helpful.
Thanks a lot Dr. Segal for your time to answer these questions!