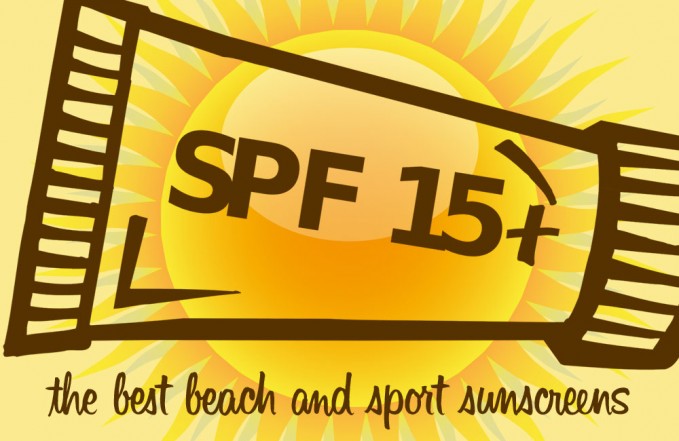 Your favorite sunscreen may not be all it's advertised to be… This is why the Environmental Working Group (EWG), a non-profit organization, assesses every year thousands of skincare products (including beach and sports lotions, sprays and creams, moisturizers, make-up and lip balms) to tell consumers what they need to know to find safe and effective sunscreens. What are the best sunscreens on the market?
Concerns about sunscreens
Reports from the Environmental Working Group (EWG) have warned consumers against many types of sunscreens.
Many sunscreens use chemicals such as oxybenzone, avobenzone, octocrylene, octisalate, octinoxate or homosalate. These chemicals are estrogenic, endocrine disruptors, and may interfere with hormones in the body.
EWG HAS AGAIN FLAGGED PRODUCTS WITH OXYBENZONE
Oxybenzone is a hormone-disrupting compound found in many sport sunscreens. The chemical penetrates the skin and enters the bloodstream.
Zinc oxide is EWG's first choice for sun protection. It is stable in sunlight and can provide greater protection from UVA rays than titanium oxide or any other sunscreen chemical approved in the U.S.
EWG RECOMMENDS THAT CONSUMERS CHOOSE VITAMIN A-FREE SUNSCREENS
FDA data suggest that vitamin A may be photocarcinogenic, meaning that in the presence of the sun's ultraviolet rays, the compound and skin undergo complex biochemical changes resulting in cancer.
Here are EWG's recommendations when choosing a sunscreen:
No Spray Sunscreens
No Super-High SPFs
No Avobenzone
No Loose Powder Sunscreens
No Retinyl Palmitate
No Combined Sunscreen/Bug Repellents
No Sunscreen Towelettes
No Tanning Oils
Can you depend on sunscreen?
THERE IS NO PROOF THAT SUNSCREENS PREVENT MOST SKIN CANCER. 
As most people using sunscreen stay out in the sun longer, they still get burned (which increases risk of skin cancer) and subject their skin to large amounts of UVA radiation, the type of sunlight that does not burn but is believed responsible for considerable skin damage and cancer.
Rates of melanoma – which is the most deadly form of skin cancer – have tripled over the past 35 years. Most scientists and public health agencies – including the FDA itself – have found very little evidence that sunscreen prevents most types of skin cancer.
The International Agency for Research on Cancer agrees.
IARC recommends clothing, hats and shade as primary barriers to UV radiation and writes that "sunscreens should not be the first choice for skin cancer prevention and should not be used as the sole agent for protection against the sun" (IARC 2001a).
PRODUCTS WITH HIGH SPF RATINGS SELL A FALSE SENSE OF SECURITY 
High SPF products, which protect against sunburn, often provide very little protection against UVA radiation and have greater risks to health.
High-SPF products require higher concentrations of sun-filtering chemicals than low-SPF sunscreens.
Some of these ingredients may pose health risks when they penetrate the skin, where they have been linked to tissue damage and potential hormone disruption. Some may trigger allergic skin reactions.
The FDA has even proposed prohibiting the sale of sunscreens with SPF values greater than 50+…
Are mineral sunscreens a safer option?
Mineral sunscreens are considered a safer option, BUT some mineral sunscreens also contain harmful chemical ingredients. So choose your sunscreen carefully! 
Every year, EWG researchers recommend hundreds of beach and sport sunscreens that meet the EWG's standards by offering strong and broad UV protection and posing few safety concerns.
Here are a few natural mineral sunscreens that the EWG lists as safe:
Kiss My Face Organics Face & Body Sunscreen, SPF 30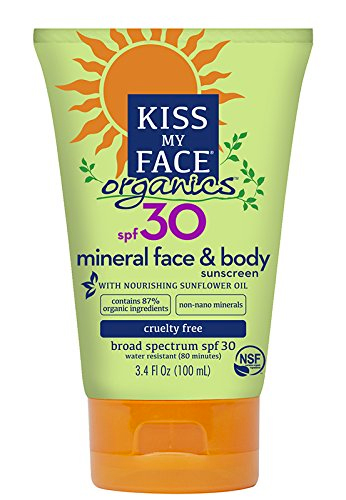 Adorable Baby SPF 30+ Sunscreen

Badger Balm SPF 30 Kids Sunscreen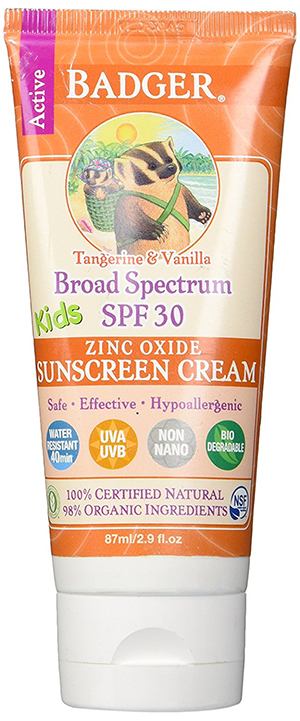 You can find other recommended brands on EWG's website: Best beach & sport sunscreens
What is the best sunscreen for you? Feel free to leave a comment about sunscreens!