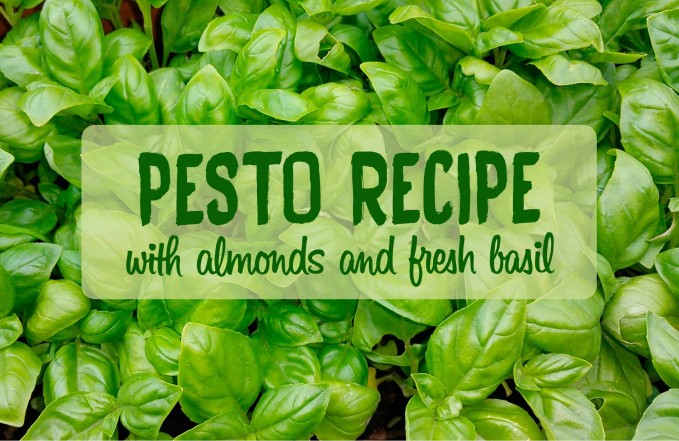 Combined with the good fats in almonds and olive oil, this pesto recipe with fresh basil really deserves a try. Why eating fresh basil? Research indicates that there are several health benefits associated with basil. The herb contains high quantitites of (E)-beta-caryophyllene (BCP), which may be useful in treating arthritis and inflammatory bowel diseases. It also has properties that can help prevent the harmful effects of aging, and is also very rich in antioxidants! Regarding almonds, they are high in monounsaturated fats, the same type of health-promoting fats as are found in olive oil, which have been associated with reduced risk of heart disease. They are also a very good source of vitamin E, manganese, biotin, and copper. Now it is time to try this delicious almond basil pesto recipe!
Preparation: 10 minutes
Cooking: 0 minutes
Ingredients to make this almond basil pesto recipe
1 cup blanched almonds
2 cups packed basil leaves
1/4 cup Extra Virgin Olive Oil
2 cloves garlic
2″ cube hard Parmesan (optional)
Directions to make this almond basil pesto recipe
Place almonds in food processor and pulse until fine. 
Add garlic and pulls more. 
Grate Parmesan into mixture, add in all basil leaves and pulse again. 
Run food processor while streaming in olive oil. 
Add water to thin a little. 
Add salt to taste.
This pesto is also delicious on baked sweet potatoes or stirred in vegetable soup, and can be stored in an air tight container in fridge for up to 1 week.