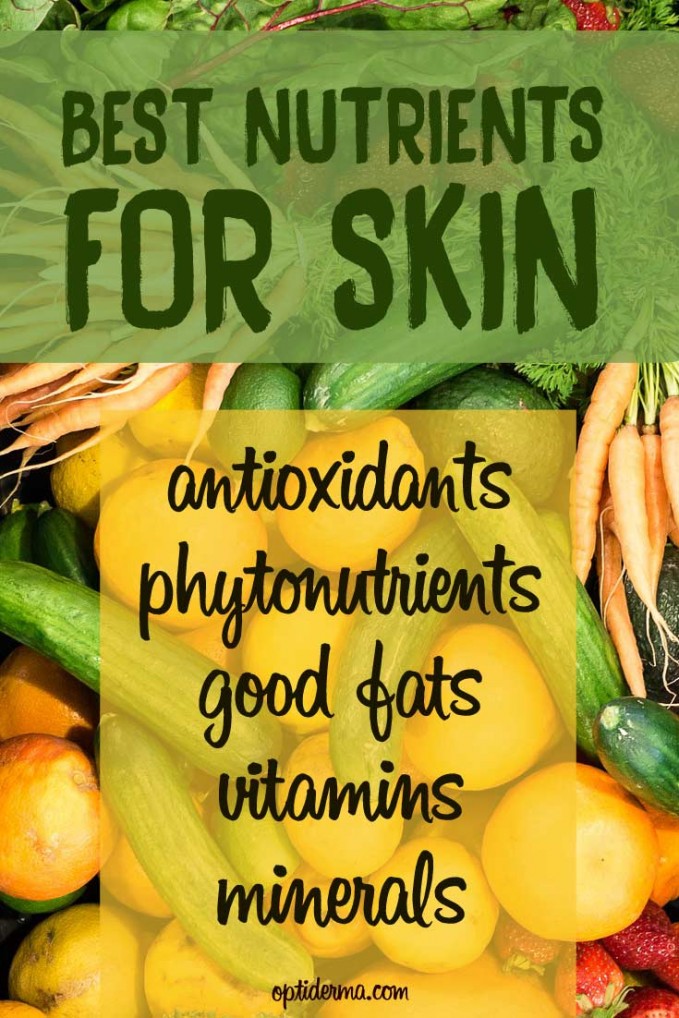 Nutrients have many benefits in terms of your overall state of health. Strengthening your immune system and giving your body the depleted nutrients it needs to function better is very important.  Nutritional supplements can help you correct the cause of your skin condition since they target your overall health. Research has shown that the skin reacts well to certain minerals, vitamins and antioxidants, especially in a whole food source. They nourish the skin, build a stronger immune system, and protect your body from toxins. Here is a list of nutrients for skin.
Best nutrients for skin: antioxidants (carotenes, vitamin C, E, selenium…)
Antioxidants can help protect your skin from the damaging effects of the sun. Vitamins A, C and E and the mineral selenium are thought to be particularly helpful in skin care. In addition to helping fortify cells against free radicals, vitamins A and C also encourage cell and tissue growth, helping the body to repair itself. This is very helpful to the skin, which is constantly shedding and regrowing cells. For this reason, any antioxidants that protect cells and encourage cell growth could be helpful in an anti-aging regimen, as they may help fight fine lines and wrinkles.
What are the foods rich in antioxidants? Berries (like açai, goji, cranberries, blueberries, blackberries), citrus fruits (like lemons, limes, oranges), cocoa, artichoke, beans, russet potatoes, cinnamon, pecans, walnuts, hazelnuts…
Carotenes
The carotene family is a group of red, yellow and orange pigments found naturally in all plants. Mixed carotenes contain vitamin A, betacarotene, and alphocarotene. They are essential for the development and renewal of the skin and mucous membrane, and deficiencies can result in a dry, flaky complexion. They act as powerful antioxidants and help protect against sunburns. Topical vitamin A treatments are actually often used to treat acne and other skin ailments. However some people prefer supplementing with betacarotene than vitamin A because of the overdose concerns of vitamin A.
What are the foods rich in vitamin A? Yellow orange fruits and vegetables (apricot, sweet potatoes, pumpkins, carrots, cantaloupe, melons, mangoes, papayas, peaches, winter squash), dark leafy vegetables (spinach, broccoli, parsley, collard greens, kale), liver, chili peppers, dandelion, sweet potatoes…
Vitamin C
Vitamin C is an antioxidant vitamin that helps us manufacture collagen, the main protein substance of the skin. It is effective at reducing free radical damage – from overexposure to the sun or pollution for example. As a result, it is commonly used in many products for wrinkles and other signs of premature aging. Vitamin C is especially effective at protecting the skin from overexposure to the sun when combined with vitamin E. It also helps fortify the immune system and aids in the detoxification process.
What are the foods rich in vitamin C? Fruits (Berries, acerola, cantaloupes, kiwis, papayas, grapefruit, mangoes, raspberries, tomatoes, strawberries, pineapples, lemons, oranges, limes), vegetables (Brussels, asparagus, potatoes, red peppers, cabbage, collard greens, kale, parsley, turnips)…
Vitamin E
Vitamin E is mainly used for wrinkles, skin elasticity, scars and damaged skin from the environmental elements.
What are the foods rich in vitamin E? Wheat germ oil, sunflower seeds, safflower, sunflower oils, nuts (especially almonds), peaches, tomatoes, cabbage, asparagus, avocados, whole-grain breads, broccoli, spinach, asparagus, dried prunes.
Selenium
Selenium is an antioxidant that works usually with vitamin E to fight free radical damage. It is also essential for the utilization of essential fatty acids and to treat inflammation. Usually selenium levels are low in inflammatory conditions sufferers.
What are the foods rich in selenium? Wheat germ, salmon, tuna, oyster, shrimp, swordfish, garlic, brazil nuts, sunflower seeds, eggs, brown rice, cracked wheat bread…
BIOFLAVONOIDS
There are approximately 4,000 naturally occurring plant metabolites called bioflavonoids. These compounds are responsible for the vibrant-color of many fruits, vegetables, and flowers. They can also defend your skin against the damaging effects of stress, pollution, and even age itself. Three of the better-known bioflavonoids, quercetin, hesperidin, and rutin, have intriguing research indicating their abilities to prevent and reverse wrinkles, reduce the appearance of age spots, and fight spider veins.
What are the foods rich in bioflavonoids? Fresh fruits (like berries, lemons, tropical fruits), fresh vegetables, onions, seeds, whole grains, green tea…
What our the best antioxidants to include in your diet? (Optiderma.com)
Essential nutrients for skin: vitamin D, B, folic acid, vitamin K…
Vitamin D: a fat-soluble nutrient
Most vitamin D – 80% to 90% of what the body gets – is obtained through exposure to sunlight. Some people use vitamin D for skin conditions including vitiligo, scleroderma, psoriasis, actinic keratosis, and lupus vulgaris. Calcitriol (1,25-dihydroxyvitamin D3) has been used topically to treat certain skin conditions, including psoriasis.
What are the foods rich in vitamin D? Fish (salmon, mackerel, but also sardines, tuna,…), cod liver oil, shrimp, egg, liver, foods fortified with vitamin D…
Do I need more vitamin D for optimum skin health?
Vitamin B
B-complex vitamins are involved in a number of functions within the body. Vitamin B3 has been shown to improve moisture retention of the upper most layer of the skin. In fact, deficiencies of B vitamins can lead to dry skin, dermatitis and acne. Supplementing your diet with B vitamins can boost appearance and strength of both hair and nails.
What are the foods rich in vitamin B? Whole grains, yeast, meat, low-fat dairy products, lentils, leafy greens…
FOLIC ACID
Folic acid helps improve the firmness of human skin. It also helps reduce the signs of skin aging. Folic Acid with other important antioxidants helps in eliminating toxins from the body, which can reduce acne on the face. But we should also note that the overdose of folic acid can lead to more acne, patchy and dry skin!
What are the foods rich in folic acid? Dark green leafy vegetables, beets, avocado, broccoli, orange juice…
Vitamin K
People apply vitamin K to the skin to remove spider veins, bruises, scars, stretch marks, and burns. It is also used topically to treat rosacea, a skin condition that causes redness and pimples on the face. After surgery, vitamin K is used to speed up skin healing and reduce bruising and swelling.
What are the foods rich in vitamin k? Leafy green vegetables, broccoli, Brussels sprouts, yogurt, kefir…
Best minerals for skin: zinc, silica, iron, magnesium…
Zinc
Although zinc is a commonly mineral for prostate health, It is also one of the premier nutrients for skin, especially for acne, eczema, psoriasis and mouth ulcer sufferers. Zinc acts by controlling the production of oil in the skin, and may help control some of the hormones. As well as strengthening the immune system, this skin nutrient helps with burns, wounds, skin rashes, itching, and other skin irritations.
What are the foods rich in zinc? Lean meat, oysters, poultry, fish, whole-grain breads and cereals, pumpkin seeds…
SILICA
This trace mineral works to make the skin firm and to improve its elasticity. It strengthens nails, hair, connective tissues, bones, and also stops the aging process in cells. It is used for wrinkles, burns, rashes, sunburns, cellulite, hair, nails, skin impurities, teeth & gums. A good source of silica is found in horsetail.
What are the foods rich in silica? Leeks, green beans, garbanzo beans, strawberries, cucumber, mango, celery, asparagus, rhubarb…
Iron
Iron is useful element for proper functioning of antioxidants and also helps to activate vitamins in the B group. This also maintains the skin's health. A deficiency of this vitamin can also causes fatigue, pale face, dry skin and split hair ends. This can also lead to nail breakage very easily and make them brittle.
What are the foods rich in iron? Cooked dried beans and peas, lean red meat, fish, poultry, prunes, oysters, whole-grain breads and cereals, dark leafy vegetables…
Magnesium
Magnesium has the capacity to detoxify the epidermis and cleanse the skin. It is all the more effective in treating or relieving those areas of the skin that are prone to allergic reactions. Magnesium is very effective in reducing these wrinkles and fine lines. Just similar to the effect of magnesium on your allergic skin, magnesium helps combat break outs or acnes on your skin.
What are the foods rich in magnesium? Spinach, beans, peas, nuts (especially almonds), seeds, whole, unrefined grains…
Potassium
Many people don't know that potassium is a key indicator to healthy skin! The reason being is this mineral is a key player in cell integrity by maintaining electrolyte balance and internal fluids – keeping cells hydrated and skin internally moisturized.
What are the foods rich in potassium? Potatoes, avocados, bananas, lean meat, dried fruits, dried beans, peas…
Sulphur
The natural mineral sulfur is sometimes taken orally or used topically to help treat a wide variety of medical conditions. Topical applications of sulfur ointments or creams might provide benefits if you have a skin condition such as acne, eczema or psoriasis!
What are the foods rich in sulphur? Garlic, legumes, onions, eggs…
Other essential nutrients for skin: good fats, bioflavonoids, lysine…
Good fats
Key elements in a natural skin care diet, essential fatty acids like omega-3s and omega-6s are the building blocks of healthy cell membranes. These polyunsaturated fats also help produce the skin's natural oil barrier, critical in keeping skin hydrated, plumper, and younger looking. If you're not getting enough good fats in your diet, your skin may be dry, inflamed, and prone to whiteheads and blackheads.
What are the foods rich in good fats? Fish, hemp, flax, nuts and seeds, sea buckthorn… 
LYSINE
Lysine is an amino acid (building block of protein). Lysine promotes skin health through increased collagen formation. It is used for preventing and treating cold sores (caused by the virus called herpes simplex labialis).
What are the foods rich in lysine? Fish (especially halibut), shrimp, lima beans, poultry, mung beans sprouts…
Causes of possible nutrient deficiencies
Keep in mind that you may be suffering from nutrient deficiencies due to the poor quality of soil, a health problem but also from medicines you have taken. For instance:
High doses of aspirin can make you absorb less vitamin C
The intake of antibiotics can deplete your flora of friendly bacteria
Long-term use of the birth control pill can cause a deficiency of folate and other B vitamins, vitamin C, magnesium, zinc, and friendly bacteria. You may suffer from candidiasis as a result
Stress can also deplete your body of vitamin B
Nutrients are primarily found in foods, but the poor quality of soil depletes our food of vital nutrients. Hence the necessity to have a good nutritional program through a healthy diet and supplements. Did you know that skin disorders may be warning signs of nutrient deficiencies?
Skin manifestation of nutrient deficiencies (Optiderma.com)