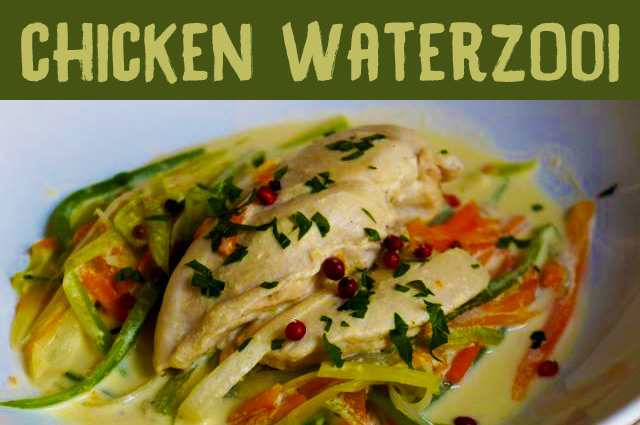 Chicken Waterzooi is a very good alternative to red meat if you feel that red meat inflames your skin. It is a perfect dish for winter time with lots of nutrients. Choose organic chicken and vegetables if possible…
Preparation: 20 min
Cooking: 1 hour
Servings: 4
Ingredients to make chicken waterzooi
4 chicken pieces
2 young leeks
4 carrots (to avoid if you are on a anti-candida diet)
2 sticks celery cut into rings
2 onion chopped finely
1 turnip
1 bay leaf
2 cloves garlic
Salt and pepper
Olive oil
1 vegetable broth
Water (500 ml to 1L)
1 glass of lemon juice
Directions
In a large saucepan, brown the onions and half of the other vegetables gently in two spoons of olive oil.
Add chicken pieces to this first vegetable layer.
Add remaining vegetables, salt and pepper. Don't mix.
Then, mix chicken broth to water and add to the preparation.
Cook uncovered for 45 minutes and add the lemon juice at the end.
Arrange chicken on warm serving plate and pour over the sauce with its vegetables.
If you want thicker sauce, you could add a little bit of cream mixed with two egg folks… but doing this, you also add more fat to this recipe.