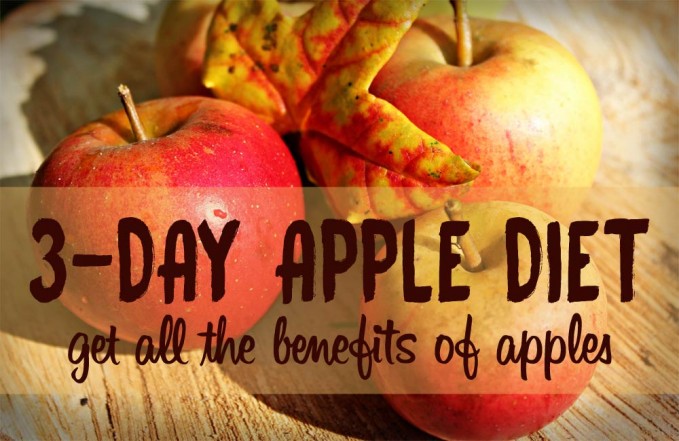 Have you heard of the 3-day apple diet? This simple cleanse consists of eating ONLY apples for 3 days! The apple detox diet revitalizes the body by helping to flush out toxins and giving the digestive system a rest. We all need to do that once in a while…
There are a million detoxes and cleanses out there and it's really hard to know which one to choose. Overall, there isn't one "best" cleanse. But here are the reasons why the 3-day apple diet is one of the best detoxes to do.
The 3-day apple diet: an easy cleanse that lasts only 3 days
The apple fast is based on eating only apples for 3 days and drinking warm water all day long (cold water isn't good for digestion and elimination). During the fast, people usually eat about 4 to 10 apples daily depending on hunger. What's great about apples is that they have a high water content and are packed with fiber, two factors that leave you satiated.  
On day 2, some people take magnesium sulfate, commonly known as Epsom Salt, for a deeper colon detoxification. Magnesium sulfate is a laxative. As such, it increases the amount of water in the intestines, and encourages elimination for constipation relief. The usual dosage is 1 to 2 teaspoons of Epsom Salt in 4 ounces of warm water. Alternatively, you can take epsom salt in capsules.
Consult a doctor before taking magnesium sulfate for colon detoxification. High magnesium contents can react with prescription drugs. Also, some people don't tolerate magnesium sulfate well. 
On the night of the third day of the 3-day apple diet, it is recommended to take 2 tablespoons of extra virgin olive oil. Olive oil will help your digestion and prompt bowel movements as your fast ends.
What kind of apples should you eat?
I recommend that you choose organic unpeeled raw apples. The peel contains about 75 percent of the dietary fiber in an apple and most of the health benefits are in the peel.
Try to eat organic and locally raised apples. The average conventionally grown apple has more pesticide residue on it than other fruits or vegetables. Apples are on top of the list of the 12 "dirty dozen"… You should read this article : 12 Fruits and Vegetables You Should Buy Organic.
Nearly 100 apple varieties are grown commercially in the United States. Black Arkansas, Arkansas Russet, Jonathon, Oregon Red and Delicious are thought to have special benefits. There are lots of varieties to choose from!
Dried apples, fresh juice and baked apples are fine too, only if no sugar is added. However, you should eat mainly raw apples for best results.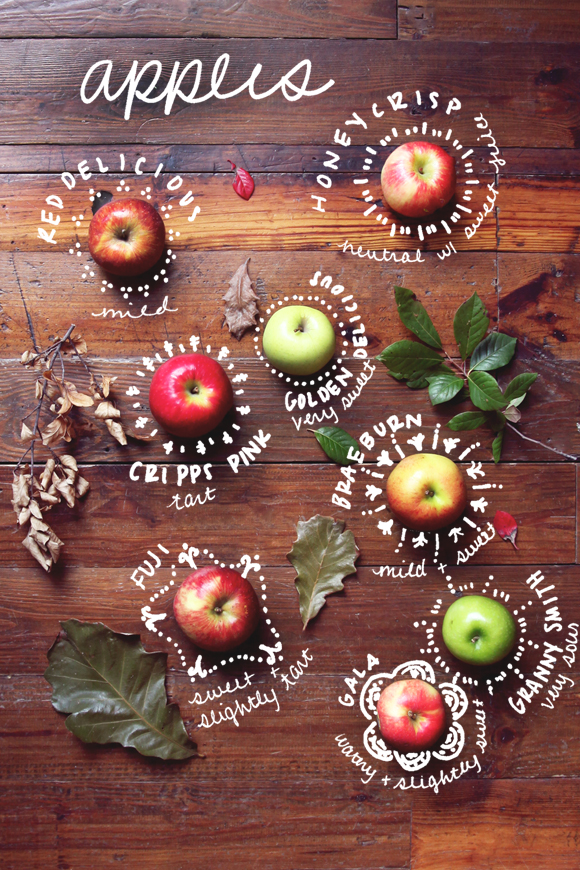 source: BLDG 25
Get all the benefits of eating apples for detoxification and general health
The benefits of apples are well-documented in research studies. They are closely associated with two aspects of apple nutrients: their water-soluble fiber (pectin) content, and their unusual mix of polyphenols.
Indeed regular intake of apples helps decrease total cholesterol and LDL-cholesterol.
The 3-day apple diet provides not only the benefits of the pectin fiber and polyphenols in apples, but also gives you good amounts of malic acid. Malic acid has numerous benefits for digestion and detoxification. It may also assist cellular detoxification of toxic metals, particularly aluminum and strontium. 
In addition, apples are rich in calcium, iron, phosphorus and potassium, as well as B-complex folates and vitamins A and C. They are high in antioxidants and research shows apple peel has cancer fighting properties, especially for liver, colon and breast cancer.
A healthy way to detox the body and prepare for winter
September is a great time to do a cleanse. Our body's natural rhythm is shifting with the seasons and this is one of the most effective times of the year to cleanse. In addition, there are lots of apple varieties to choose from in the Fall! 
As we prepare for the colder months ahead, it's good to strengthen our immune systems. Imbalance in the immune system provides an ideal environment for virus and bacteria to settle.
This 3-day apple diet will help open up the channels of detoxification, and as a result, can help the immune system to function more efficiently throughout the winter months.
That being said, you can do this cleanse anytime during the year!
Because apples are full of health benefits, they give your body a "fresh start" and a good transition to a long-term, healthy way of eating.
Cautious
This 3-day apple diet is not for everyone. Some people cannot tolerate apples no matter how they are prepared. They can cause intestinal discomfort and sometimes severe allergic reactions. If this is the case, the apple diet should not be attempted. 
Always consult your doctor before starting a fast especially if any medical conditions.
Children and pregnant women should not fast.
Avoid if you are prone to yeast infections.
If you experience any unusual or severe symptoms when you are cleansing, be sure to contact your practitioner.
Prepare yourself by following a healthy diet at least 3 days before starting your fast (no heavy big meal).
Avoid heavy exercise during your apple cleansing fast.
After your 3-day apple diet, gradually reintroduce food back to prevent a shock to your system. It is important to reintroduce food to your body in small amounts. Avoid rich foods with saturated fats, starch, or processed sugar…
Have you ever done the apple cleanse? Share your experience with others in the comment section below! Also, if you're looking for other cleanses, check out this page.
All you Need to Know about the Master Cleanse