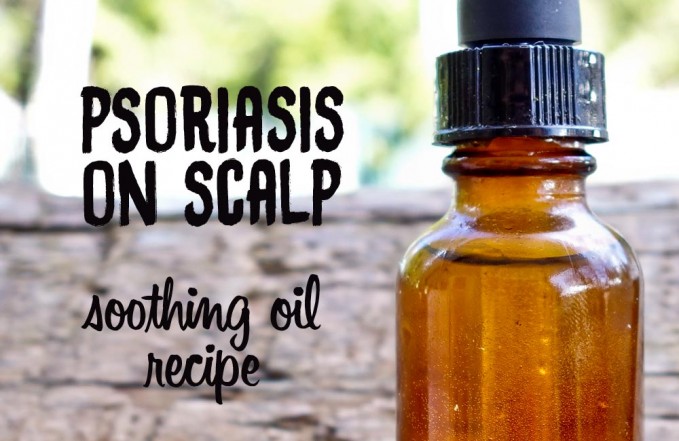 Read this before you start this recipe »
Always educate yourself about properties and contraindications of essential oils you are going to use.
Be sure you are not allergic to any ingredient before applying it on your body. First apply a dab on your wrist for example, and wait 24 hours to see if any irritation occurs.
Make sure you buy the pure base ingredients and choose ingredients that have the most beneficial nutrients.
Always dilute an essential oil in a base oil unless you are sure it is safe to use it neat.
If you can afford, spend a little more on high quality and organic oils. This will insure no unnecessary chemicals are applied to your skin.
This is a great recipe to cope with psoriasis on scalp. It contains soothing oils and other natural remedies that can be applied on scalp several times a day. Be aware that scalp psoriasis itself doesn't cause hair loss, but scratching a lot or very hard, picking at the scaly spots, harsh treatments, and the stress that goes along with the condition can lead to temporary hair loss. This soothing oil recipe will help you with that too.
Preparation: 5 minutes
Cooking: n/a
Here are the ingredients you need for this recipe:
Soothing oils for psoriasis on scalp
Other natural remedies for scalp psoriasis
Dead Sea Salt – 1/2 teaspoon. Dead sea salts help remineralize your skin.
Apple Cider Vinegar – 1 teaspoon. Apple cider vinegar is alkaline in nature and it can help regulate the pH of your skin. It also has a lot of essential nutrients, such as vitamins C, A, B1, B6, potassium and iron, as well as alpha hydroxy acids that exfoliate the top layers of the skin.
Witch Hazel – 1 tablespoon. Preliminary evidence shows that witch hazel may have anti-inflammatory properties. This herb has great results for psoriasis as explained in this post.
Directions
Mix the ingredients all together in a glass bottle with a dropper. Shake well before applying it. I recommend that you apply this solution 15 minutes before washing your hair or/and immediately after showering.
If you try this soothing oil for scalp psoriasis, feel free to leave a comment here below. I'd love to know if this recipe works well for you too! 
Anti-Inflammatory Cream Recipe for Psoriasis (DIY)