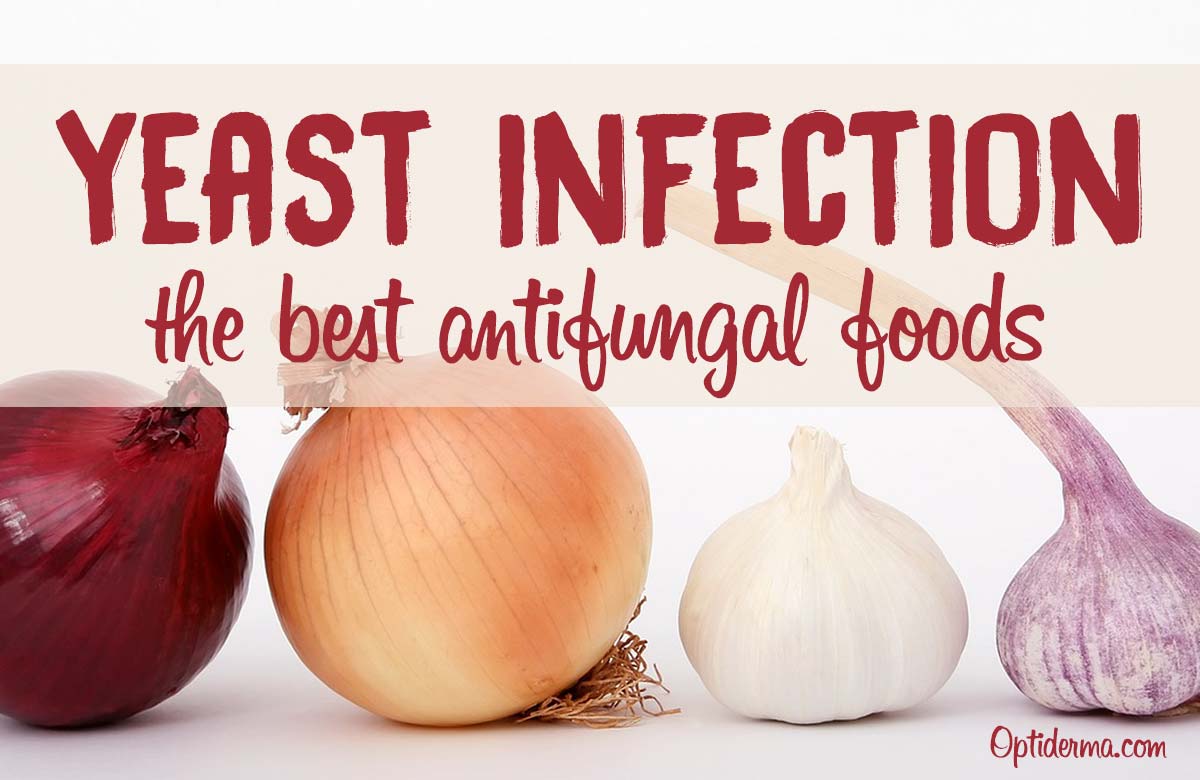 When there's a fungus among us, many of us reach for medicinal creams. But did you know that including a variety of antifungal foods in your diet can really help combat candida overgrowth? For oral infection, doctors prescribe antifungal mouthwash, pills, or an IV. Skin infections are treated with topical antifungals. These drugs can be toxic and costly. They're especially hazardous for pregnant women. Repeated use causes microbes to mutate, making them drug-resistant. Yet, if you don't eradicate yeast, it can invade your bloodstream. Uncontrolled systemic infection can even be fatal…
The good news is that there are natural options to get rid of yeast infections. Because Food is the basis of our health, our healing journey should begin on our plate! In this post, I'll explain how antifungal foods can help rebalance your flora. I'll arm you with what to eat and other natural means to combat yeast. Say "Adiós" to Candida!
Symptoms of yeast infection
With genital infection, women experience vaginal itching, burning, and a discharge resembling cottage cheese. The vagina and vulva may become red, irritated, and sore. Men develop an itchy penile rash. Both genders may experience pain with urination and intercourse.
An oral yeast infection, termed thrush, manifests as a white rash. It usually develops on the tongue and inner cheeks but can also grow on the gums, tonsils, roof of the mouth, and throat. The rash is painful and may bleed when teeth are brushed. If thrush spreads to the esophagus, it causes painful swallowing and a sensation of food lodging in the chest.
Candida can also appear on nails, under breasts, between the fingers and toes, within the armpits, and along the groin. In these cases, the rash is bright red and itchy, surrounded by blisters and scaly skin.
Since Candida impairs immunity, it can be accompanied by frequent colds and flu. Other red flags are sugar cravings, bloating, fatigue, joint pain, mouth sores, and constipation. Candida can also prompt mood swings and depression.
If you're experiencing symptoms for the first time, visit your healthcare provider for a definitive diagnosis. Once Candida is identified, implement natural remedies.
Candidiasis causes
Genital yeast infections are so prevalent, they affect 75 percent of women. Less frequently, men are hosts. The Candida albicans fungus causes over 90 percent of genital yeast infections. Other Candida species are responsible for the remainder. These conditions are medically termed Candidiasis. (source)
Candida is commonly present in our digestive tracts, mouth, throat, and genitals. It becomes problematic when there's rampant overgrowth. When Candida predominates over healthy intestinal flora, the fungus gets a foothold, becoming pathogenic and invasive. There are five typical causes.
Sugar
Candida loves sugar! The fungus uses it to multiply and convert to a pathogenic form. Yeast cells flourish on all forms of sugar and any substance that changes to sugar through digestion. This includes refined carbohydrates and fruit.
With a strong immune system, you may keep Candida at bay. But a sugar-rich diet impairs immunity, making it vulnerable to fungal proliferation. Yeast-containing foods are contributory, such as condiments, sauces, and processed fare.
Antibiotics
The most common catalyst for infection is antibiotics. These drugs kill both the harmful and beneficial microbes in our digestive systems. We each have healthful bacteria that play several heroic roles.
Beneficial bacteria kill harmful pathogens and teach immune cells to fend off invaders. They produce lactic acid and acetic acid, making the large intestine inhospitable for pathogens. Like soldiers lining the digestive tract, they create a barrier against dangerous threats. Preserving your population of friendly bacteria helps to ward off Candida.
Stress
When we're tense, our bodies release the hormone cortisol, weakening our immune systems and elevating blood sugar. Candida feeds on the sugar, upsetting intestinal microbial balance. Prolonged stress also impairs adrenal function, further reducing immunity.
Contraceptive Methods
Estrogen in birth control pills promotes Candida overgrowth. This is why many women who use these pills develop recurrent infections. The copper IUD is another culprit. Just like estrogen, copper can cause yeast to replicate.
Candida can transit between couples via intercourse. If you're prone to yeast infections, consider using other forms of contraception rather than the pill and copper IUD.
Diabetes
Candida gorges on the elevated blood sugar characteristic of diabetes. Several types of yeast infection can result. Keeping blood sugar stable helps to eradicate Candida.
Antifungal foods
The following foods keep Candida in check. By including a variety of antifungal foods in your diet, you'll prevent yeast from resisting treatment. (source)
Here are the best antifungal foods:
Apple cider vinegar
Garlic
Ginger
Onion
Oregano
Coconut oil
Probiotic foods
Turmeric
Apple Cider Vinegar (ACV)
Enzymes in ACV encourage the growth of good bacteria, overriding Candida. It's one of the best antifungal foods. Its alkalizing effect balances body pH. It also regulates blood sugar and cleanses the liver.
The type of apple cider vinegar is critical. Supermarkets often sell white distilled vinegar, colored with caramel. Instead, buy organic, unfiltered, raw ACV. This contains the all-important "mother," the cloudy strings of protein, bacteria, and enzymes that form during fermentation.
Raw ACV also gives you amino acids, antimicrobial malic acid, cholesterol-slashing pectin, trace elements, and minerals. For the best effectiveness, shake the bottle before use, to distribute its contents.
You can use ACV both externally and internally. For topical application, first do a patch test on a small body area. Soak cotton balls in a solution of equal parts ACV and water. Swab the infected area and allow to dry. You can also mix up the solution in a spray bottle and spritz it on the infected site.
For a healing bath, add 1 cup of organic unfiltered apple cider vinegar to bathwater. Soak in the tub with your knees folded up toward your body. Relax for 20 minutes, then pat yourself dry.
To balance body pH, take ACV daily at a dose of 2 tablespoons. Twice a day, mix 1 tablespoon of ACV in 8 ounces of water and drink it 15 minutes before eating. In addition to clearing up Candida, it will improve your digestion, so you absorb more nutrients from food.
Garlic
This vegetable contains allicin, an antibacterial and antifungal compound, released from garlic when it's chopped and crushed. Garlic is one of the top antifungal foods. Additionally, garlic helps balance blood sugar, reduce cholesterol, and strengthen immunity.
You can obtain garlic in several forms. Supermarkets stock fresh cloves, powder, flakes, and paste. Health food stores carry garlic tablets and oil. Here are the amounts advised by TheCandidaDiet.com.
Cloves – 1 to 2 raw, minced cloves per day
Supplement – 600 to 900 mg daily of freeze-dried garlic, standardized to 0.6 percent allicin
Oil – 0.03 to 0.12 ml, three times daily
NOTE – To avoid offensive breath, add a few springs of fresh parsley to your garlic regimen. Allicin is the substance that gives garlic its characteristic aroma. Also, avoid overdoing garlic. Excessive amounts can render bloat, upset stomach, and body odor. When handling the cloves, wear gloves to avoid skin lesions and stinging.
WARNING – If you take medication, consult your pharmacist before taking garlic on a regular basis since it can interfere with drug activity. For example, garlic is contraindicated with blood thinners, such as Coumadin. Garlic can decrease the effectiveness of contraceptive drugs. If you rely on birth control pills for contraception, use added protection. (source)
Ginger
This spice inhibits Candida growth. It's just as potent as the prescription antifungal Nystatin, without the risks and high cost. (source) The antifungal ingredients in ginger are shagelol and gingerol, identified in a 2011 study reported in the Journal of Dental Sciences and Research.
Ginger increases circulation and detoxifies the liver. It soothes the intestinal inflammation caused by Candida. It also activates the T-cells that launch immune responses. T-cells kill viruses, bacteria, and cancer. They spur other immune cells to ingest pathogens and produce antibodies. Here's an amazing fact. T-cells can recognize an invader encountered decades ago!
Brew ginger tea with tea bags, available in health food stores. Or make tea with a square inch of ginger root, chopped into small pieces and steeped in boiled water. Add zing to green juices with ¼ teaspoon of ground ginger. It also gives a savory kick to steamed veggies. Just don't overdo the dosage since too much ginger can cause diarrhea and heartburn.
Onion
Like garlic, onion also contains the fungus fighter allicin. Onion relieves the fluid retention that often accompanies yeast infection. Vitamin C and quercetin support immunity. Onion also revs circulation, speeding detoxification.
Make a healing salad of steamed onion, celery, seaweed, and cruciferous vegetables. Crucifers include broccoli, kale, cauliflower, and cabbage, containing sulfur and nitrogen that kill Candida. Seaweed is high in iodine, reducing the hypothyroidism that tends to occur with Candidiasis.
Oregano
This herb is one of the most potent natural antifungals available! The volatile oils thymol and carvacrol kill yeast cells through dehydration. Moreover, fungi are unable to develop resistance to oregano. For a potent dose, buy bottled oregano oil with an attached dropper.
Squeeze 1 drop of oil into 8 ounces of water, along with 1 teaspoon of olive oil to make it palatable. Then, drink your elixir. Do this daily until the infection clears.
If your skin isn't sensitive, you can also apply oregano oil topically to nail and skin infections. Dilute 1 drop of the oil in 1 teaspoon of olive oil and massage it into the areas.
WARNING – Oregano oil is contraindicated during pregnancy since it increases uterine blood flow, weakening the lining of the amniotic sac. People with sensitive skin can develop a rash with topical use.
The Best Antifungal Essential Oils : Get Rid of Fungal Skin Infections
Coconut Oil
Coconut oil is antimicrobial. Medium-chain fatty acids (MCFAs) attack yeast membranes, causing them to disintegrate. Fungal cells shrink and die, according to a University of Iceland study.
The recommended dose is 2 tablespoons daily, yielding 18 grams of MCFAs. This quantity of fat leaves room in your diet for other healthy sources, such as avocados, nuts, and extra virgin olive oil.
Begin intake slowly, starting with 1 teaspoon of organic virgin coconut oil per day. Gradually increase over two weeks to 2 tablespoons. If you ingest too much, it can trigger nausea and loose stools. It can also kill off Candida too quickly, causing unpleasant symptoms from the dying fungus releasing toxins.
Why Use Coconut Oil for Vaginal Dryness and Itching
Probiotic foods
Probiotics are the champion bacteria that keep Candida under control. Large colonies of probiotics crowd out Candida, boosting immunity and regulating digestive acidity.
Although probiotics are sold in capsule form (which is a great option if your diet lacks probiotics), a less expensive alternative is probiotic-rich foods. Within four days of consistently eating them, you can replenish your healthy flora. (source) 
Following are four types of low-sodium options:
Yogurt
This tangy dairy product is one of the most potent sources of probiotics. Yogurt producers add bacteria after milk is pasteurized, ensuring their viability. Look for yogurt brands displaying the "Live and Active Cultures" seal on their label. Awarded by the National Yogurt Association, this symbol certifies that a product has at least 100 million bacteria per gram or 20 billion per 8-ounce serving.
To avoid feeding Candida, choose low-sugar yogurt. For this purpose, plain, organic yogurt is best.
Kefir
Kefir is a tart dairy drink. The beverage is sourced from cow, goat, or sheep milk, inoculated with kefir grains, a fermentation starter. On average, kefir contains 10 to 20 different strains of bacteria.
Kombucha
This beverage is slightly sweet and fizzy, made by fermenting black tea. However, to ensure a brand has live microorganisms, make sure this is stated on the tea label.
Tempeh
This hearty, nutty food is made from fermented soybeans. Ideal for vegans, tempeh is a complete protein with bacteria that produce Vitamin B12. Fermentation reduces the phytic acid in soy, enabling you to absorb more minerals. Culturing promotes digestion, so tempeh isn't likely to cause bloat and gas.
Add tempeh to soup, casseroles, sandwiches, and salads. It's a chewy addition to chili and tacos. You'll find tempeh in health food stores.
Turmeric
This bright golden spice is a curry ingredient, imparting an earthy taste. Its anti-inflammatory properties are similar to those of hydrocortisone. (source) Curcumin in turmeric kills 23 strains of fungi, including Candida! A study reported in the Journal of Antimicrobial Chemotherapy found that curcumin is considerably more efficient than the drug Diflucan in eliminating oral thrush. (source)
Turmeric in capsule form is the most potent, but you'll also benefit by adding the powder to food. To increase effectiveness, consume it with black pepper and some fat. Mix 1/4 teaspoon each of black pepper and turmeric with a teaspoon of olive oil. Add the mixture to eggs, veggies, and smoothies.
Other deterrents
Since moisture facilitates Candida growth, reducing dankness can prevent it. Wear cotton underwear and loose-fitting pants. Change as soon as possible out of sweaty clothes or a wet bathing suit.
Ladies, avoid using douches and scented tampons. The chemicals they contain disturb the bacterial balance in the vagina, making you vulnerable to yeast overgrowth.
While eating the above antifungal foods, also consume greens, nuts, seeds, and low-starch root veggies, such as turnips. To expedite healing, for five days, omit sugar, fruit, grains, starches, and alcohol from your diet.
Summary
The Candida albicans fungus is responsible for most yeast infections affecting the mouth, nails, skin, and genitals. Commonly present in our bodies, the microbe becomes pathogenic when it predominates over healthy bacteria.
Infections can ensue after a course of antibiotics, destroying beneficial bacteria. Since Candida thrives on sugar, a diet high in carbohydrates is also contributory. Other causes are stress, uncontrolled diabetes, birth control pills, and the copper IUD.
Unlike drugs, dietary intervention is a safe means of eradicating fungal infection. Antifungal foods include apple cider vinegar, coconut oil, garlic, ginger, onion, oregano, turmeric, and probiotic foods. For the fastest results, include these foods in your diet while omitting sugar, fruit, grains, starches, and alcohol for five days. Supplement antifungal foods with greens, nuts, seeds, and low-starch root veggies. You may also consider taking a probiotic supplement.
Reduce the moisture that encourages fungal growth by wearing cotton underwear and loose-fitting pants. Minimize the length of time you stay in sweaty clothing and a wet bathing suit. Women should avoid using douches and scented tampons.
Do you have a natural regimen against yeast infection? What are the best antifungal foods according to you? Please share it below!
The Anti-Candida Diet: Foods to Eat, Reduce and Avoid