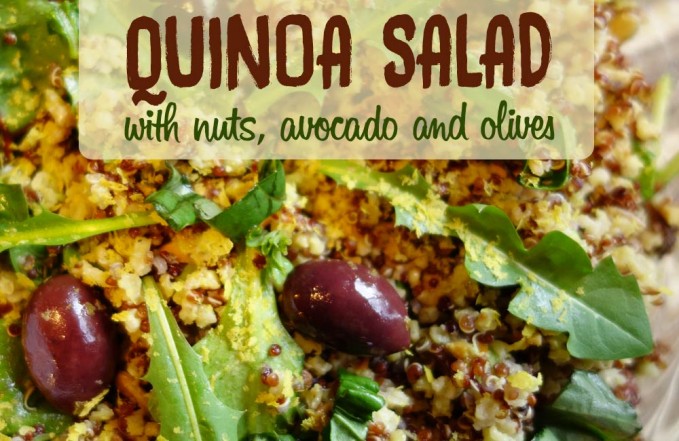 This quinoa salad is really tasty as well as being healthy!
Quinoa is gluten-free, with a low sodium and high fiber content. It's also a good source of  protein and vitamin E, B, manganese, magnesium, iron, copper and phosphorous.
It has another benefit in that it is an alkaline food. This means that it helps the blood to keep a healthy PH level. This is essential for good health. 
Feel free to experiment by adding different vegetables. Enjoy!
Preparation: 20 min
Cooking: 15 min
Servings: 6
Ingredients for this quinoa salad
2 cups quinoa (mix of red and regular)
4 + 1/3 cup chicken broth
1 avocado (sliced)
10 olives (cut in small pieces)
1/4 cup sliced almonds
1 green onion
A few leaves of baby spinach, kale (and dandelion leaves if available)
Fresh basil (cut)
Nutritional yeast (optional)
Dressing:
 3 lemon juice
5 tablespoons olive oil
5 tablespoons apple cider vinegar
1 tablespoon mustard
2 cloves of garlic (minced)
Salt
Cayenne pepper
Directions
Rince quinoa.
Cook quinoa in broth in a rice cooker. No rice cooker? Cook it in a sauce pan and wait until it fluffs up, about 15-20 minutes (stirring occasionally).
When quinoa is finished cooking, allow to cool slightly.
Add avocado, olives, green onion, herbs, and dressing. Stir to combine well.
Add more salt and pepper to taste, sprinkle with nutritional yeast and chill before serving.