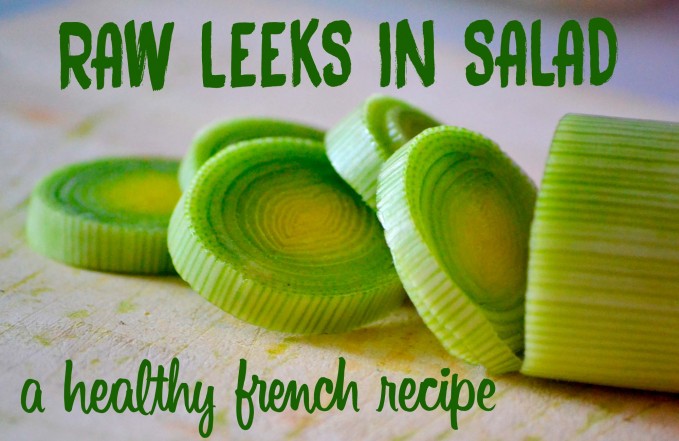 How to make raw leeks in salad? So simple! This leek salad, also called "poireaux vinaigrette" in an easy and classic french side dish. It tastes really good and is a healthy vegetarian salad. Although not as famous as onions and garlic, leeks are important vegetables for fighting against chronic low-level inflammatory states. A good source of dietary fiber, leeks also contain good amounts of folic acid, calcium, potassium, iron, vitamin K, A and C. They are easier to digest than standard onions and have laxative, antiseptic, diuretic, and anti-arthritic properties.
Preparation: 15 min
Cooking: 15 min
Servings: 3
Raw leeks in salad: ingredients
dressing:
1 clove garlic (minced)
1 shallot (chopped)
1 lemon juice
Salt and freshly ground pepper
1 tsp. Dijon mustard
4 Tbsp. extra-virgin olive oil
Raw leeks in salad: directions
Clean the leeks; wash them very thoroughly under cold running water. If they are large, do split them lengthwise.
Cut them in thin pieces and cook them the a steamer for about 15 minutes. You shouldn't cook the leeks into the water. It dilutes their flavor and are then soaked in liquid. It is much better to use a steamer or a pressure cooker.
Drain them well.
Make your vinaigrette in a bowl with the remaining ingredients, and whisk the dressing well until it is almost opaque, or emulsified, and pour it over the leeks.
Serve after completely cooled.