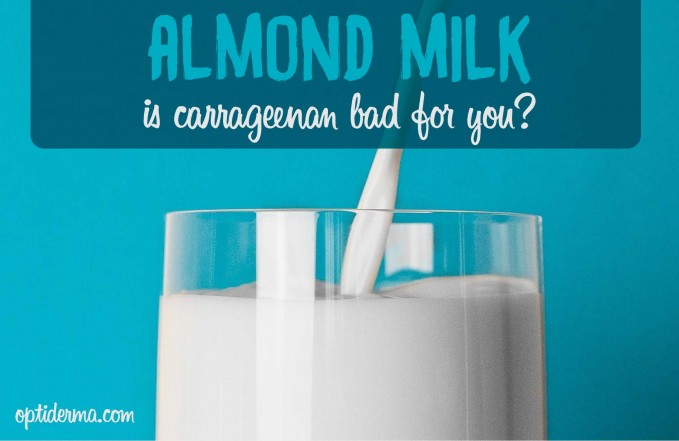 Almond milk has many health benefits and can be a very good alternative to soy or cow's milk for individuals who do not have tree nut allergies. But some brands contain added sugar or food additives such as carrageenan. Carrageenan-containing seaweeds have been used for centuries in food preparations, but the refined, isolated carrageenan found in modern processed foods has raised concerns. Is carrageenan bad for you? Should we avoid almond milk brands with carrageenan? Are there any almond milk brands without carrageenan?
What is carrageenan?
Carrageenan is a food additive that is extracted from red seaweed. It is widely used in the food industry for its gelling, thickening and stabilizing properties. There are a few distinct types of carrageenan that differ in their chemical properties, but the most important distinction is between degraded carrageenan and undegraded carrageenan. Undegraded carrageenan is approved for use in food products, while degraded carrageenan is not.
Is carrageenan safe?
The FDA considers undegraded carrageenan safe, but research indicates that carrageenan may cause gastrointestinal inflammation (aggravating conditions such as IBS, Crohn's disease and ulcerative colitis) and possibly contribute to cancer.
Review of datas of animal studies demonstrated that exposure to undegraded as well as to degraded carrageenan was associated with the occurrence of intestinal ulcerations and neoplasms. According to Joanne K. Tobacman, M.D., associate professor of clinical medicine at the University of Illinois College of Medicine and leading researchers in the field of digestive health:
Exposure to carrageenan causes inflammation and when we consume processed foods containing it, we ingest enough to cause inflammation in our bodies. All forms of carrageenan are capable of causing inflammation. Because of the acknowledged carcinogenic properties of degraded carrageenan in animal models and the cancer-promoting effects of undegraded carrageenan in experimental models, the widespread use of carrageenan in the Western diet should be reconsidered".
Further research needs to be undertaken to firmly establish the carcinogenic nature of carrageenan. Other studies have shown that food-grade carrageenan does not cause cancer in animal models. However it's best to avoid it to be on the safe side, especially if drinking almond milk every day…
Is carrageenan prohibited in some countries?
Europe prohibits the use of carrageenan in infant formula only, as a precaution. It is otherwise allowed. In Canada the US, there are no restrictions on the use of carrageenan in food. 
Are there almond milk brands without carrageenan?
There are almond milk brands without carrageenan
. Most almond milk brands do contain carrageenan, but these products don't:
If you want to stay away from unwanted sweeteners or additives, you can also start making homemade almond milk! You just need 1 cup of raw organic almonds and 4 cups of pure filtered water. However, be aware that unfortified homemade almond milk is not a good source of nutrients, such as calcium.
Does almond milk have calcium?