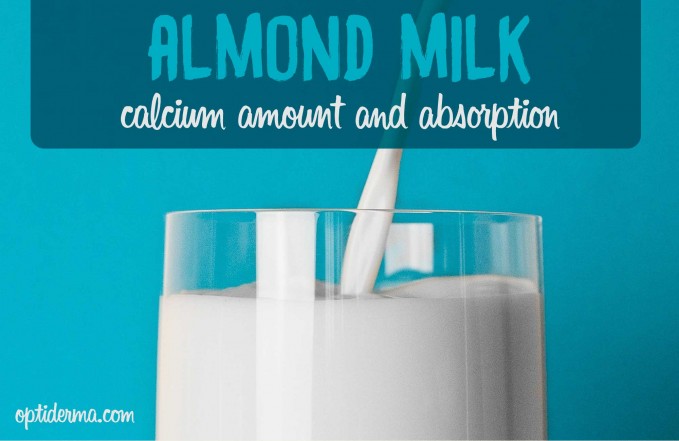 Almond milk is often used as a substitute for individuals who have difficulty digesting dairy. It doesn't contain lactose, nor cholesterol. It's low in fat and calories compared to other milks, which makes it a great milk substitute for those who would like to lose weight!
But people should be aware of the downsides when it comes to almond milk. One disadvantage is its calcium content.
Does almond milk have calcium? The answer is yes. Is it a good source of calcium? The answer is yes and no. Let's explain why it's not such a good source of calcium…
 
Does almond milk have calcium?
Almond milk, when it's not fortified, contains very small amounts of calcium. This is why it's often enriched with calcium when you buy it in your supermarket.
Unfortified almond milk is not a good source of calcium, which is important to know especially for people with conditions like osteoporosis.
How much calcium does almond milk have?
Each 8-ounce cup of plain almond milk contains only about 2 milligrams of calcium.
Considering that the adequate intake is about 1,000 mg/day for adults and 1,300 mg/day for 9-18 years of age, almond milk is certainly not a good source of calcium.
Almond milk contains a good amount of calcium only when it's fortified. After fortification, the amount is approximately equivalent than cow milk.
It delivers about 30% of your daily need for calcium (and 25% to 45% of vitamin D) in each serving.
Almond vs soy milk: pros and cons
Is calcium in fortified almond milk well-absorbed?
It's believed that fortified calcium may have poor absorption.
There is little research to show calcium in fortified almond milk helps build or maintain bone health compared to calcium that occurs naturally in foods. According to Liz Malgieri, RD:
Everyone is trying to make foods better and so much more nutritious than they really are so they add calcium to orange juice, soy milk, almond milk to make them more nutritious, but this type of calcium isn't the same as calcium that occurs naturally in foods" 
When synthetic calcium is added to food, we don't really know how much is absorbed by the body.
Many factors can influence how well calcium is absorbed through the digestive system and made available for the body.
Why is calcium carbonate used in almond milk?
There are different types of supplemental calcium.
Many foods, such as almond milk, breakfast cereals and orange juice, are fortified with calcium carbonate which is inexpensive.
Calcium carbonate is usually a well-absorbed form of calcium. But its absorption depends on stomach acid. So individuals who don't have normal levels of stomach acid may not absorb it well. Calcium carbonate is absorbed most efficiently when taken with food.
Be aware that calcium carbonate appears to cause more side effects than other forms of calcium – such as calcium citrate.
Some individuals might experience gastrointestinal side effects including gas, bloating, constipation, or a combination of these symptoms.
Almond milk brands without carrageenan