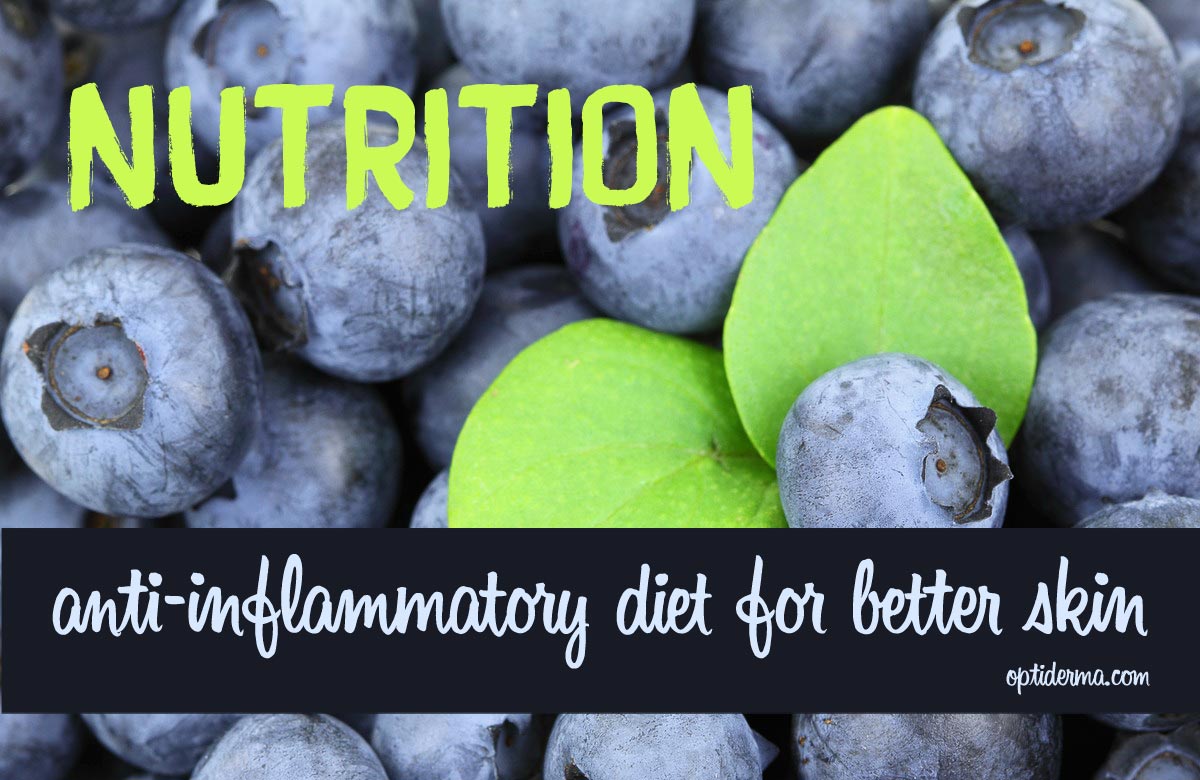 Did you know that some foods promote the skin disorder process through inflammation, stress, hormonal imbalances and blood-sugar levels? According to Chinese medicine, there are a number of skin conditions that can be caused by an improper diet or a diet that is not suitable. In fact, wrong eating habits can increase chronic inflammation common of skin disorders, which also means that good eating habits can help you correct the cause of your skin condition! The aim of healthy nutritional habits is to strengthen your immune system, fight inflammation, and correct the cause that leads to body dysfunction.
Find the culprit foods that cause inflammation
The dietary recommendations for combating skin problems can be very complex. As a first priority, it is recommended to identify the foods that may be causing an allergic reaction. A blood test or a series of elimination diets could help you find the culprit food(s). It may be worth working with a nutritionist to get started, since this procedure can be long and tricky.
The eight most common food allergens are: milk, eggs, peanuts, tree nuts, soy, wheat, fish, and crustacean shellfish. But many other foods have also been identified as allergens for some people, such as certain fruits or vegetables and seeds. There are more than 120 foods that have been described as causing food allergies. 
Keep in mind it is possible to react to a food without being allergic. A culprit food could trigger a skin inflammation. Lactose intolerance is an example of a non-allergic reaction and is quite common among skin sufferers. So is gluten intolerance.
Follow a specific anti-inflammatory diet
Following a specific anti-inflammatory diet is one of the most important things to do to get control of your skin problem. Most of the time, there is a connection between food and symptoms of a skin condition. If you control your diet, you may be able to control your disease. But you should seek the advice of a qualified practitioner to find the right diet for you. Everyone is different and has different needs in terms of nutrition. Here are two diets that are often recommended for skin conditions:
Gluten-free diet
There are a number of skin conditions associated with celiac disease. Many people with stubborn skin disorders, such as psoriasis, respond to a gluten-free diet.
Anti-candida diet
Candida yeast can be the problem for some skin conditions, such as dandruff, psoriasis, eczema, and other fungal infections. Candidiasis can be very challenging to treat depending on how severe your symptoms are. Diet definitively plays a major role in yeast overgrowth and foods that promote candida growth need to be eliminated. 
Anti-candida diet: the foods to eat, reduce or avoid (Optiderma.com)
Inflammatory foods
Foods offer nutrients required at every cellular level, and contain healing and nourishing qualities when they aren't altered or processed. Unfortunately, the poor quality of soil depletes our food from vital nutrients. Combined with improper eating habits, it can lead to inflammation. As a matter of fact, our western diet is lacking in fibre, enzymes, and essential fatty acids. Most of our food is refined, processed, and full of saturated fats or even trans-fatty acids. Learn about the foods that can easily trigger inflammation vs. the foods that are anti-inflammatory!
Animal and hydrogenated fats
Try to stay away from foods that contain fatty acids from the animal products. Arachidonic acid, the omega 6 fatty acid found in animal fats, such as dairy products and red meat, is responsible for the production of active substances (e.g. leukotrienes and prostaglandins) involved in the inflammation response. Hydrogenated fats (like margarine) and poly-saturated fats that use chemical extraction (common cooking oils) are not good for your skin. Hydrogenated fats, also called trans fats are found in most fried and processed foods. They have detrimental effects on your health, including causing a risk for type II diabetes, lowering HDL (good cholesterol) and reducing blood vessel function.
Vegetable unsaturated fats are much healthier because they provide essential fatty acids. Choose cold-pressed and unrefined oils because this method of extraction, called "hydraulic press" does not involve heat or chemicals. These oils are usually more expensive, but they contain much more health benefits. It is also important not to cook with them, unless they don't degrade too quickly. See cooking oils and their smoke point.
If the chemical structure is altered, high levels of some free radicals can harm your body and encourage inflammation. Heating often removes the oil's flavour and destroys antioxidants.
Alternatives to animal and hydrogenated fats:
Both fish oil and wild, deep sea fish are an excellent source of eicosapentaenoic acids (EPA) and docosahexaenoic acids (DHA), the two potent omega-3 fatty acids that douse inflammation. Be sure you don't get unsafe levels of mercury with some kinds of fish. It is advisable to supplement your diet with good sources of EFAs instead of eating lots of variety of fish that could contain a high amount of mercury.
What does fish oil do for the body?
Vegetarian choices of proteins: soybean (tofu, tempeh, soy burgers…), rice, hemp, soy protein powder, nut butter, seeds, sprout breads, seaweed…
If you really want to eat animal products, organic free-range chicken or skinless turkey contain less saturated fats and are less inflammatory. If you really crave steak, lean red meat (baked or broiled) is the best choice…
Sugar
Sugar is considered as a stimulant that triggers a release of adrenaline. It gives you a stress reaction and weakens your adrenal glands. In plus, it can also deplete levels of certain vitamins and minerals that are important for your skin, the functioning of your digestive system, and so on. Refined carbohydrates (like cakes, snacks, donuts) should be avoided.
Does sugar consumption worsen skin inflammation? (Optiderma.com)
Alternatives to sugar:
Natural sweeteners, such as stevia, which don't increase your blood sugar levels.
Complex carbohydrates (like whole grains) instead of simple carbohydrates like sugar.
Caffeinated foods and drinks
Tea, coffee, and chocolate, also trigger the release of adrenaline and inhibit the absorption of other nutrients.
Alternatives:
Swiss water decaffeinated coffee or herbal tea. Yerba mate and green tea contain less caffeine but more antioxidants.
Try to eat dark chocolate with a high content of cocoa and less sugar. Carob is also a caffeine-free substitute for chocolate.
Alcohol & tabacco
Alcohol and tobacco both trigger adrenaline. Alcohol inhibits white blood cell activity and harms the liver, the organ that can detoxify your body.
Anti-inflammatory foods
As far as anti-inflammatory foods are concerned, turmeric, ginger, spinach and sweet potatoes are great anti-inflammatory foods. Read this page to find anti-inflammatory foods to include in your diet!
Here are the top 15 anti-inflammatory foods that are recommended by Dr. Axe: