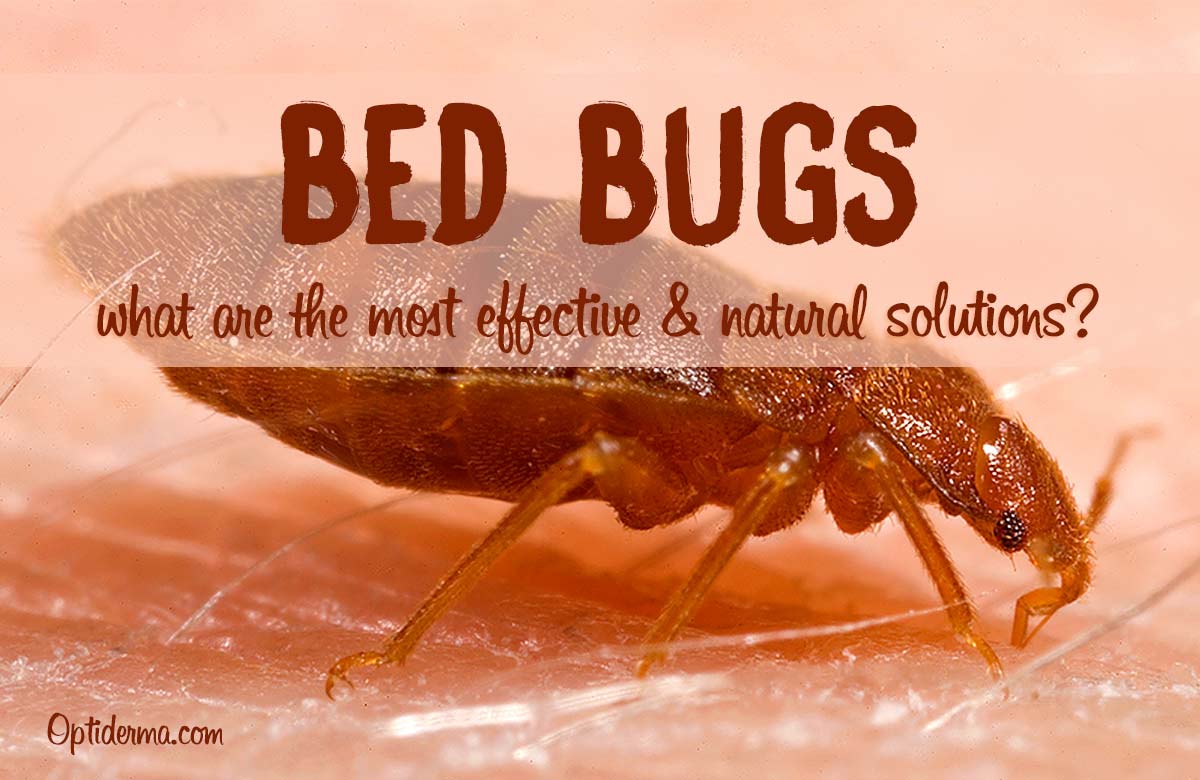 Is your home is infested by bedbugs? Are you looking for ways to get rid of them? A bed bug problem is one of those things that keeps getting worse the more you don't take action. This is why I will share with you some useful tips so that you can deal with a bed bug infestation as soon as possible. In this post we'll discuss the most effective natural bed bug sprays you can go for. You'll learn the best ways to get rid of bed bugs naturally!
Here are the most-recommended natural sprays and I'll explain to you why these products are my top picks:
Eco Defense Bed Bug Killer
Killer Green Bed Bug Killer
EcoRaider Bed Bug Killer
What you need to know before buying a bed bug spray
Where do bed bugs hide?
Contrary to what many may believe, bed bugs do not necessarily always reside in your bed. The tiny insects seek refuge in every nook and cranny in your room, making it a lot harder to kill them with just one pass of the bed bug spray.
Identify the places you suspect the little insects are breeding. Bed bugs are incredibly resilient and can go for up to 12 months without feeding. Paired with the fact that they are completely nocturnal, they can be incredibly hard to eradicate if you do not know where they're holed up. (source)
How potent is a spray?
Choosing a bed bug spray requires a bit of know-how on your part. The most important part is finding a spray that's potent enough to kill the bugs while safe enough not to harm human beings and pets.
A classic bug repellant may keep you safe at least throughout the night but will not do much in terms of exterminating the bugs permanently. 
What you need is something that can kill bed bugs and their eggs to ensure that no infestations develop further down the road.
Plastic Bags And Containers Speed Up The Process
One way to make the process more effective is to wrap small objects in good quality plastic to ensure that the bed bugs do not infest them during the extermination. Bed bugs are climbing insects and they will hide inside small plastic objects if you leave them uncovered.
The best natural bed bug sprays on the market
One thing you need to know straight off the bat is that most of these commercialized consumer pesticide sprays are useless against a full bed bug infestation. The risk is that you may get renewed infestations that are even worse than the last. 
Also, concerns over the health and environmental effects of pesticides make the practice of chemically treating bed bugs problematic. 
The natural bed bug sprays I recommend below are surprisingly effective. What's more, they are a lot safer to use without worrying about harming your health and the environment.
Herein are some of the natural bed bug sprays that are proven effective:
1. Eco Defense Natural Organic Bedbug Killer 
Eco Defense is definitely one of the best sellers to get rid of bed bugs once and for all. It claims to be 100 % safe for use around children and pets. 
Pros 
Will not stain your beddings.
Can be used on clothes and luggage.
Kills on contact.
Does not use chemicals, pesticides, or poisonous ingredients.
Money back guarantee.
Cons 
Not approved by FDA.
Strong smell.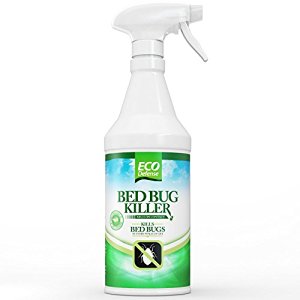 2. Killer Green Non-Toxic All Natural Bed Bug Spray
Bed Bug Killer is all natural, non toxic and all green. It quickly and effectively kills bed bugs, and it can remain active for about 20 days. It's also non-toxic so you do not have to worry about contamination. 
Pros
No residual stains on your beddings.
Kills bugs in 10 minutes or less.
Practically odorless.
Does not cause irritation when it comes in contact with the skin.
Cons
Not as effective against larvae eggs.
It does not work unless you spray directly on the bed bugs.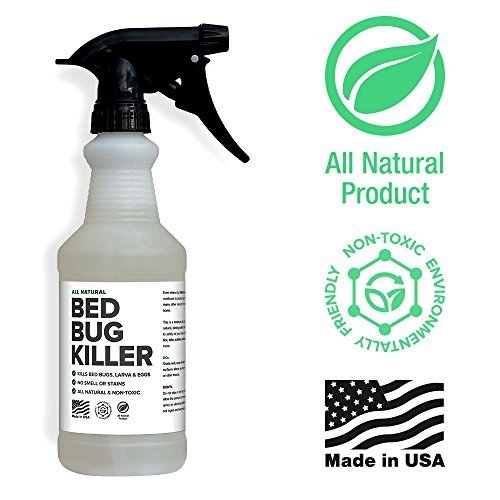 3. EcoRaider Bed Bug Killer
According to the Entomological Society of America's journal publication, EcoRaider is one of the most effective bed bug sprays. (source) It's also completely child and pet safe. 
Pros 
Not toxic to humans and animals.
Leaves no stain on beddings.
Kills bed bug eggs too.
Cons 
Requires more than a few follow-up sprays to be fully effective.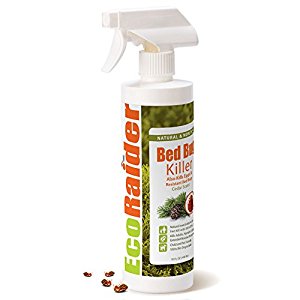 4. Neem oil spray
If you're not comfortable using bottled organic formulations, neem oil seems to be pretty efficient too. It works great for one or two bed bugs, but is useless against full-blown infestations.
Summary: what's the best bed bug repellant?
As explained above, natural sprays can be quite effective. I recommend that you use one of these sprays in combination with Diatomaceous Earth (DE), which is the best powder that kills bed bugs. It's an incredibly efficient bed bug repellant that is safe for humans and pets.
DE is very effective although you have to be a bit patient to see some positive results. Typically it takes a few days for it to work on bugs, but rest assured, it does work! Check out this post to learn about the benefits of Diatomaceous Earth and how to use it for bed bugs.
People spend months of trial and error trying to find the best solution for their bed bug problem before they finally realized the effectiveness of natural solutions!
The Best Natural Remedies for Bed Bug Bites that Blister
In case you have a bed bug eradicating method you feel you have to share with us, feel free to do so in the comments section. And if you're not sure what bit you, check out these posts : bed bug bites vs mosquito bites and bed bug bites vs flea bites.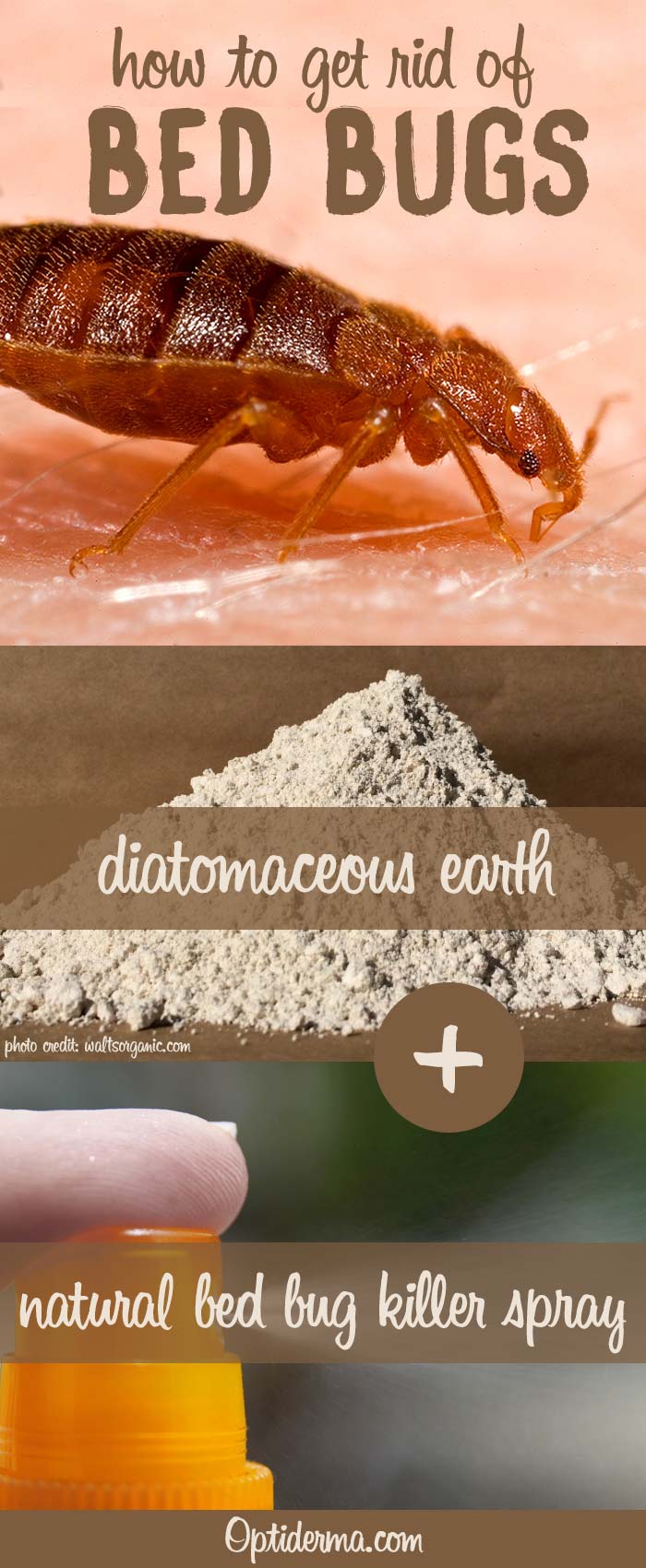 Also, you can find a detailed video on how to get rid of bed bugs here below: