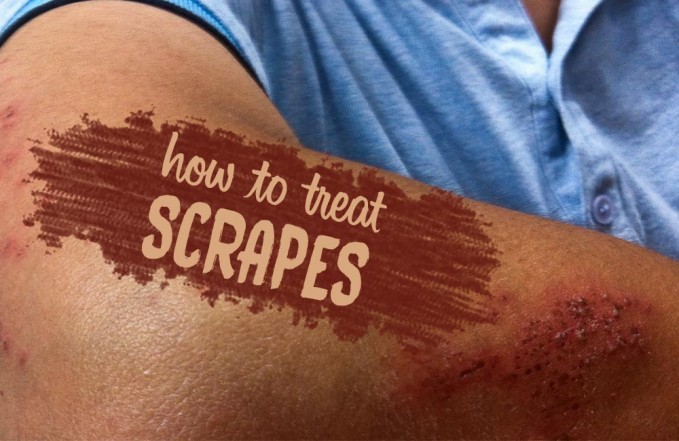 Everybody tends to get scrapes occasionally, especially children… Falling down while biking, playing in the backward, scraping their knees on the floor… Minor scrapes are part of childhood and are often viewed as part of growing up. Fortunately, most scrapes are minor injuries that can be treated at home.
Make sure it is a minor scrape
Medical treatment is required when:
There are still remaining debris that could infect the wound.
The scrape doesn't stop bleeding and is deep and large.
An infection ensues.
The scrape is located on sensitive skin.
The scrape is caused by a puncture wound, or dirty or rusty object.
The scrape is caused by an animal or human bite.
It is excessively painful.
Reduce the bleeding and avoid infection
Wash your hands thoroughly.
Apply pressure on the scrape to stop the bleeding.
Wrap a absorbent and sterile compress around the scrape.
Continue to apply pressure on the scrape with your hand.
Raise the injured part above the level of the heart to reduce bleeding.
When the bleeding is controlled, apply an ice pack wrapped in a towel until it begins to feel numb. This helps constrict blood vessels.
Take some arnica pills to stop excessive bleeding and speed healing. Homeopathy is a safe remedy to use for children as well.
How to treat scrapes with herbs?
Ensure the scrape is clean before application of any external treatments. Wash the scrape well with natural soap and water at least for several minutes. A dirty scrape that is not thoroughly cleaned can cause not only infection but also scarring.
How to treat a scrape with Myrrh
Mix one teaspoon of myrrh tincture with about 120ml of water.  Dab the myrrh mixture onto the scrape and allow it to air dry.  This myrrh mixture can be used two times a day, when changing the bandage on the scrape.
How to treat scrapes with Aloe Vera
If you've got some aloe vera on hand, apply fresh aloe vera or aloe vera gel that you can find in health food stores. Studies have shown that Aloe Vera helps new skin cells form and speeds healing. However, cases have been reported of serious secondary infection related to the use of Aloe and its capacity to regenerate skin quickly sealing in emerging bacterial infection… So don't use it if an infection is suspected.
How to treat scrapes with Comfrey
According to Herbal Remedies Info, one of the number one herbs you should try to always have on hand is called comfrey. The generative herb helps  the body grow new skin and cells very quickly. In fact, this herb can often be used in salve or poultice form, to heal bad cuts, scrapes and other wounds literally almost overnight.
To make a poultice, blend the plant with water to make a herbal bandage (1 tea spoon of powdered comfrey in 8 oz of water). 
Other tips to treat a scrape 
Cover the area with an adhesive bandage or gauze pad if the area is on the hands or feet and change the dressing often. Open air is better for quicker healing if the scrape can't get infected or if it's not going to drain onto clothing.
Any tips on how to heal a scrape? Do not hesitate to leave a comment below…