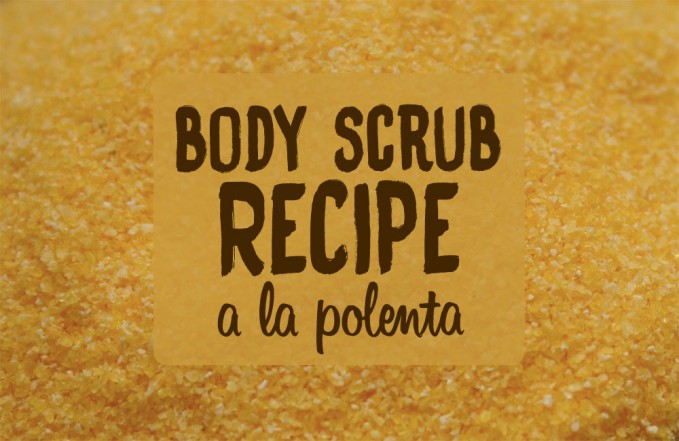 Read this before you start this recipe »
Always educate yourself about properties and contraindications of essential oils you are going to use.
Be sure you are not allergic to any ingredient before applying it on your body. First apply a dab on your wrist for example, and wait 24 hours to see if any irritation occurs.
Make sure you buy the pure base ingredients and choose ingredients that have the most beneficial nutrients.
Always dilute an essential oil in a base oil unless you are sure it is safe to use it neat.
If you can afford, spend a little more on high quality and organic oils. This will insure no unnecessary chemicals are applied to your skin.
This body scrub recipe is very easy to make and will naturally exfoliate your skin.The combination of cleansing, exfoliation and massage provides benefits that go beyond what a bar of soap can do…
Preparation: 2 min
Cooking: n/a
The ingredients your need for this body scrub recipe a la polenta…
1 tbspn polenta or semolina (tiny granules)
1 tspn virgin olive oil (1st press)
1 drop Rosemary essential oil
1 drop Juniper essential oil
How to make this body scrub recipe?
Mix the ingredients and let the mixture rise
Apply on humid and clean skin making circular movement
Rince well and moisturize your skin
skincare recipes to make at home!