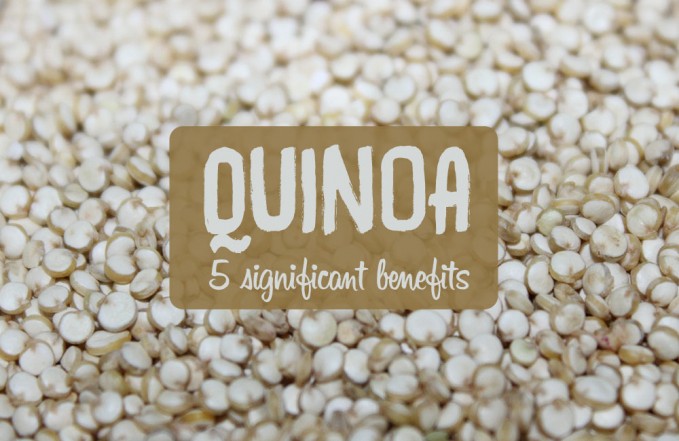 Is quinoa good for you? The answer is YES! 
Quinoa is a pseudo-cereal that has been eaten by South Americans for thousands of years before making its entrance into other parts of the world. Although the quinoa seed looks like a grain, it is not a member of the grass family like wheat or rice.
Quinoa is a great food choice for many reasons. High in fiber, it is also a complete protein and contains high quantities of vitamins and minerals. Learn about the unique health benefits of quinoa!
Quinoa can benefit your digestive health
Quinoa contains almost twice as much fiber as most other grains. Quinoa is a rich source of both soluble and insoluble dietary fiber, which aids in digestion and promotes regular bowel movements.
Quinoa is known to be easy to digest and it is gluten-free. Some people are gluten intolerant which may cause severe digestive distress. Quinoa is one of the few gluten-free alternatives to wheat and other high-gluten grains. 
Quinoa is good for weight loss
Quinoa's protein content per 100 calories is higher than brown rice or potatoes, but is less than wild rice and oats. Why is quinoa good for weight loss? Because it is nutritious, high-fiber and low-fat. 
Dietary fiber binds to fat and cholesterol, which causes the body to absorb less fat and cholesterol.
In addition, quinoa is low in glycemic index.
Quinoa is a complete protein containing all 9 essential amino acids
What distinguishes quinoa is its high protein value. It is a complete protein containing all nine essential amino acids.
Quinoa's secret is that it contains an amino acid called lysine, which is lacking in most grains. Our body needs lysine to heal damaged tissue, build and developing muscles, and boost the body's energy levels. 
Quinoa has a high content of minerals and vitamins
Quinoa contains nearly all minerals at a higher level than other cereals. It contains magnesium, phosphorous, calcium, iron, potassium, manganese, zinc, lithium and copper. 
In addition, it is high in Riboflavin (vitamin B2 that improves energy metabolism within brain and muscle cells), alpha-tocopherol (vitamin E) and carotene.
Quinoa has great anti-inflammatory and antioxidant properties
Quinoa contains anti-inflammatory phytonutrients and small amounts of the anti-inflammatory omega-3 fatty acid. It contains beneficial polyphenols that may help to reduce the risk of cardiovascular disease and cancer. 
Researchers have recently taken a close look at certain antioxidant phytonutrients in quinoa, and two flavonoids: quercetin and kaempferol.
The concentration of quercetin and kaempferol in quinoa can sometimes be greater than their concentration in high-flavonoid berries like cranberry.
In fact, Quinoa has great antioxidant properties that can protect us from free radicals that cause the aging processes and from other diseases.
Do you know that The United Nation (UN) has declared 2013 as the International Year of Quinoa to recognize the nutritional, ecological, and economic benefits of Quinoa? 
Feel free to share what you know about the health benefits of quinoa by leaving a comment below!