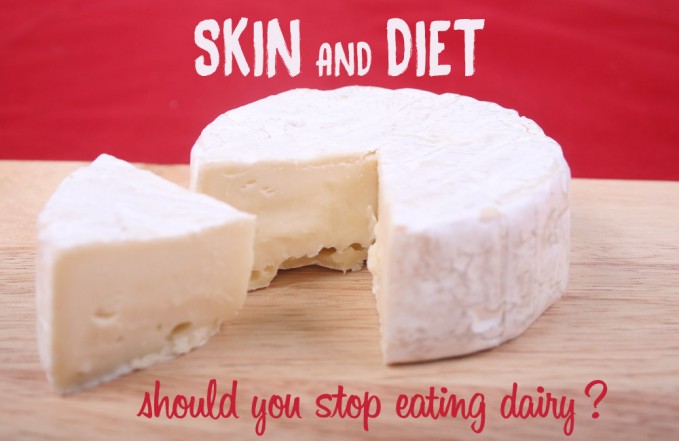 It is not uncommon to hear that avoiding dairy can be one the most powerful things you can do to clear up your skin. In the last decade or so, a number of studies have found a link between the consumption of milk and increased occurrence of various skin problems, such as acne or eczema. We asked a few questions to Holistic Nutritionist Rita Mustafa to have a better understanding of the connection between dairy and skin conditions.
What is lactose intolerance and what are the symptoms? 
Lactose is a sugar present in milk. Lactose intolerance is when the body does not produce enough lactase (enzyme) to break down lactose. Symptoms will vary from person to person, but the most common symptoms include gas, bloating, pain or cramps in the lower abdomen and loose stools.
According to MedlinePlus, around 30 million American adults have some degree of lactose intolerance by age 20. Why is it such as a common complaint and why do some people become lactose intolerant as they age? 
I actually believe most people lose the ability to digest lactose at a much earlier age. Since lactase's only function is the digestion of lactose in milk, most mammal species experience a dramatic reduction in the activity of the enzyme after weaning.
In terms of skin health, is there usually a strong correlation between lactose intolerance and skin conditions? 
I believe removing milk and dairy products (not just the lactose) from your diet is probably the most effective thing you can do for your skin.  A 2005 article in the Journal of the American Academy of Dermatology examined the diets of 47,355 women and found a strong connection between milk and milk products intake and breakouts. Another study, of 4,273 teenaged boys also found an association between milk and acne flare-ups.
Would you recommend that a person who suffers from a chronic skin condition should try to cut out dairy and see if there are any improvements in symptoms? 
Yes, most people are unaware of the effects of dairy on the body.  In my practice, anyone presenting with a skin condition, chronic or acute and put on an anti-inflammatory diet which includes avoiding ALL dairy products. The changes in skin conditions are quite amazing when you take away the offending foods and promote healthier immune system.
Is it common that some people believe they have lactose intolerance but they are actually suffering from other gastrointestinal disorders such as celiac disease or Irritable Bowel Syndrome (IBS)?  
Absolutely, most people believing they have a lactose intolerance will continue to eat dairy products (minus the lactose) along with other offending foods which could actually be doing harm in the body and/or intestinal tract.
Do you have any other recommendations (such as the best dairy substitutes or natural treatments) for skin sufferers who are lactose intolerant? 
There are so many dairy free options available today in health food stores and some large grocery stores.  You can substitute with rice, almond or coconut milk in your cereals or smoothies.  Try some rice milk or coconut milk ice cream and yogurt… They're great!