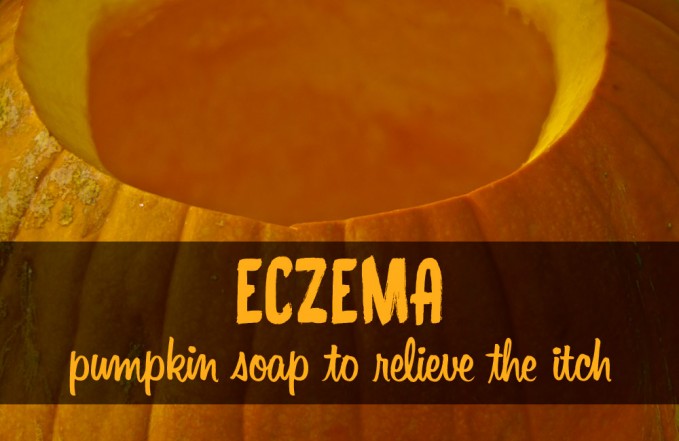 Have you heard of an eczema treatment combining a pumpkin soap and an unscented body butter to relieve dry itchy skin? Rocky Mountain Soap Company has developed an eczema duo and apparently, they had excellent feedback from eczema sufferers. OptiDerma wanted to know a little bit more about it… Discover these two products with Abby-Lynn Knorr!
When did you start creating skincare products for eczema sufferers? 
We have been selling our eczema line for almost 10 years now.
Are they 100% natural?
Yes, completely.
Do you use any organic ingredients?
There aren't any organic ingredients in the Unscented Body Butter or Pumpkin Patch Soap. It is important for us to keep our products affordable and within reach for the average consumer, and most organic ingredients are quite expensive, meaning we would have to increase our sell points.  So where we can afford to use organic ingredients without sacrificing our affordability, we do so.
Let's talk about the Pumpkin Patch Soap. What is so special about pumpkin? 
Pumpkin pulp is actually full of healing vitamins and contains enzymes which gently exfoliate dry, flaky skin.  It's the Pumpkin soap that relieves the itch for eczema sufferers.
Can you use this soap every day, on face, body, scalp… and even on baby's skin?
Absolutely, it has zero chemicals, detergents, and perfumes.  It is formulated for the most sensitive, inflamed and itchy skin.
What about the Unscented Body Butter? How does it relieve eczema symptoms?
The Butter is a very simple product that contains beeswax, cocoa butter, and vegetable oils.  It locks in moisture and protects the skin from the environment.
Do you usually get better results if the soap and body butter are used together? 
Yes, these two products are a perfect marriage.  The pumpkin soap relieves the itch and buffs away the dead skin to reveal new skin while the butter seals in moisture and protects it while it heals.
There are lots of very good testimonials on your website, especially from people who suffer from eczema and/or dry skin. Why does this eczema duo work so well compared to other products on the market? 
Probably because they are so simple and completely natural.  We believe that what goes on your skin, goes in your body and that is why we committed to making only 100% natural products.  Some of the harsh detergents and solvents you find in synthetic products are suspect in creating dry, itchy skin!
Did you get any feedback on how these products work on psoriasis?
Yes we have had some testimonials from customers saying that the products have helped to relieve their psoriasis when nothing else has, however that is not our claim.  If it does help then that is wonderful!
Are you planning to create other skincare products to relieve symptoms associated with other kinds of chronic skin conditions? 
Our focus as a 100% natural bath and body company is to create a line of skin care products that are good for your skin, smell great, and offer some kind of benefit to the user.  We want to offer safe products that contain no synthetic chemicals.  We had started working on a line of more therapeutic products but with the more stringent regulations from Health Canada, every product would have to undergo extensive testing and would have to apply for a NHP number which is both time consuming and expensive.  So the short answer for now is that we are focusing on creating safe and natural general use type products.
The Rocky Mountain Soap Company is based in Canmore, Alberta. If we don't live in Canmore, where can we find your products?
We currently have 8 retail locations in Western Canada including Banff, Canmore, Calgary, two in Edmonton, Winnipeg , Vancouver, and Victoria.  We are soon to open a store in Whistler.  We also have over 700 wholesale locations across Canada and customers can locate a store near to them on our website.  For those in remote areas or outside of Canada, we ship worldwide. Products can be ordered through our website at www.rockymountainsoap.com.