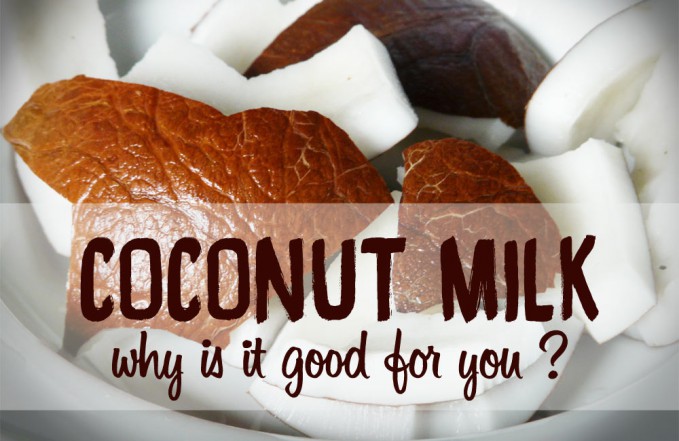 Despite the bad reputation of saturated fat, coconut milk is actually good for you. Anti-carcinogenic, anti-microbial, anti-bacterial, and anti-viral, coconut milk offers many particular health benefits and it is worth including it in our diet. It's also known to improve digestion and increase the absorption of nutrients including vitamins, minerals, and amino acids. Let's see why coconut milk is so healthy.
Does coconut milk contain healthy fats?
Coconut milk is high in saturated fat (87% fats, 10% carbs, 3% proteins), but this type of fats is much healthier than other saturated fat products. Coconut milk is made up of short-chain and medium-chain fatty acids that the body quickly turns into energy instead of storing as fat. Therefore, although it is high in saturated fat, coconut can aid in loosing weight!
Coconut has not been shown to increase cholesterol levels or heart disease but rather to lower cholesterol and raise HDL in some people. It is only when the fats in coconut are hydrogenated and turned into trans fats that they become harmful. In fact, cultures where coconut is abundant in the diet have been found to be almost free of heart disease.
The main saturated fat that it contains, lauric acid, is also found in mother's milk. In fact, coconut milk is close to human breast milk in its pH, and fat and nutrient content. Coconut water even measures the same pH as human blood. So this fat is easily metabolized by the body and has been shown to promote brain development and bone health.
Does coconut milk contain calcium?
Coconut milk does not contain as much calcium as dairy milk, but it does contain high amounts of phosphorus that can help to strengthen bones.
It's also a good source of manganese. Health benefits of manganese ensure healthy bone structure, bone metabolism, helping in building essential enzymes for building bones. There are other health benefits of manganese involved in forming connective tissues, absorption of calcium, proper functioning of thyroid, sex hormones, regulating blood sugar level, and metabolism of fats and carbohydrates.
Coconut milk also contains some amount of copper, selenium, magnesium and iron!
Does almond milk contain calcium? (Optiderma.com)
Is coconut milk healthy for your skin?
According to the Coconut Research Center, coconut milk:
Helps to form a chemical barrier on the skin to ward of infection when applied topically.
Supports the natural chemical balance of the skin.
Softens skin and helps relieve dryness and flaking.
Prevents wrinkles, sagging skin, and age spots.
Promotes healthy looking hair and complexion.
Provides protection form damaging effects of ultraviolet radiation from the sun.
Helps control dandruff.
However, keep in mind that products that mix coconut milk with additives or chemicals offer limited, if any, skincare value.
Is there vitamin E in coconut oil? (Optiderma.com)
How to choose a good brand of coconut milk?
Not all brands of canned coconut milk are good.
Good brands of coconut milk have thick cream floating on top of the can while the milk on the bottom is much more watery.
It's best to avoid sweetened, light or diluted coconut milk because it contains less of the lauric acid.
To get all the benefits from coconut milk, buying organic coconut milk is a better choice as organic growers tend to harvest their products from soils rich in nutritional value… or you can also make it yourself!
Oil pulling with coconut oil: how often should it be done?