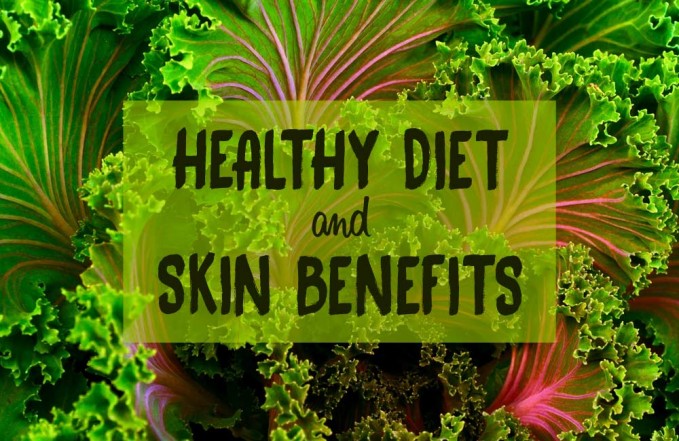 Many cases of chronic skin problems seem to be directly linked to diet. Whereas a healthy diet can benefit skin, some foods are believed to cause skin damage. What is the link between nutrition and skin? Erin Schumacher is a Certified Natural Health and Holistic Nutrition Practitioner. Thanks to her experience in natural health and skin conditions, she helps us to clarify the notion of a "healthy diet" and the connexion between skin and nutrition.
It is commonly said that one of the keys to healthy skin is a good diet. But healthy eating guidelines can be confusing.  What is a healthy diet?
There is so much conflicting information out there in regards to being healthy. It's confusing! One day carbs are good for you, the next day they are the enemy.
Luckily there are some guidelines that never change in regards to a healthy diet. And a healthy diet that provides your body with a variety of vitamins and minerals is also the best for the skin.
Some things to consider/remember are:
Eat simply. A healthy diet is NOT counting calories. A healthy diet stays pretty consistent week by week. You want to focus the majority of your consumption on real foods. That means cutting out anything that comes from a box or a bag. Focus on local (when possible) and organic produce. 
Eat whole, unprocessed foods, such as: fruits, vegetables, grains, nuts and seeds. When eating meat, consume mostly fish and chicken. Reduce or eliminate the amount of red meat you consume. 
It's best to remove sugary and caffeinated beverages and instead drink plenty of water. Caffeinated beverages can dehydrate the body. When you are dehydrated, it dries out your skin. When you have the right balance of water in your body, your skin will be soft and supple. 
Also, eating good fats is really important to healthy skin. Instead of refined and processed vegetable oils, look towards avocados, coconut oil, and olive oil. These oils are not only good for your body but they are fantastic for your skin!  
How does diet affect our skin?
It is said that a diet full of fried and fatty foods can lead to breakouts and problematic skin. This is true to an extent. There are a couple of things to remember in regards to the skin and how diet can affect it.  
First of all, the skin is our largest organ of detoxification. If you're eating "conventional" foods that are full of pesticides and harmful chemicals, your body needs to detoxify these agents.
If not through the bowels, the body may choose to detoxify through the skin. The larger the amount of toxicity in the body, the greater the detoxification efforts through the skin will be.
Therefore, when possible, always buy organic produce. If organic is not available where you live, you can wash all your produce in certain fruit/vegetable washes that are helpful for removing chemical residues. 
In addition, if one mainly eats foods that are full of rancid oils (as is the case in fried foods like french fries and potato chips) or foods that are so highly processed that the body doesn't know what to do with it (such as microwave dinners, preservative-full cookies, and hot dogs), it can lead to a detoxification process through the skin. 
In addition, when a body is not receiving the spectrum of nutrients it needs (as is the case when one consumes the standard american diet (SAD) full of refined and processed foods) it can lead to skin issues such as eczema, acne, rashes and more.
To experience healthy and vibrant skin, eat from the rainbow!
Get a variety of different colored produce into your diet daily. Experiment with fruit and vegetable smoothies and juices to help increase the amount of produce you can eat (or drink) daily.
Eliminate the junk food snacks and replace them with nuts and seeds and minimally processed foods. To quote Michael Pollan:
If it comes from a plant, eat it. If it's made in a plant, don't." 
Are there lots of skin problems that are linked to bad nutritional habits, food allergies or intolerances?
Absolutely!
Depending on your unique food sensitivities/allergies/intolerances you can experience eczema, hives, rashes, dermatitis, and breakouts.
Food allergies are the number one cause of acne, and the worse the acne the more likely food allergies are involved. Eating a food to which the body is allergic leads to a continuous toxic reaction.
In such a case, the immune system fights the food as if it were an invading organism. This can cause inflammation in the skin (and many other conditions), as well as the need to eliminate the toxin. 
The most common food allergies are usually related to soy, dairy and wheat. However, to each their own. We all have our own food sensitivities.
To find out if you have a food sensitivity, remove the food from your diet for a period of 7 to 14 days. Then slowly introduce that food product back in and notice your physical, emotional and mental reaction to the food. 
In addition, it also is worth mentioning again that conventional (and refined) foods are loaded with pesticides and man-made chemicals that the body can react strongly to. You may think you are reacting to a certain food, when in fact you are reacting to a pesticide, food dye, or preservative such as benzoate or MSG.
How a food has been prepared, processed, handled and stored can cause an allergic reaction! Therefore, the simpler is better in regards to food consumption. And learning to read labels is another skill you may want to pick up. A good rule of thumb – if you cannot pronounce it, you shouldn't eat it. 
Another thing to remember, food allergies also affect the immune system. Every time you eat a food that your body is sensitive to, it puts your entire system on red alert!
Continual stress on the immune system over time can lead to a variety of issues such as migraines, gas, bloating, mood swings, nervousness, sleeping problems, IBS, diarrhea, asthma, rheumatoid arthritis and so much more!
All parts of our bodies are beautifully interconnected. Don't make the mistake in thinking that the digestive system is in any way separate from the rest of the body. 
Do you think most people could heal their skin condition by following the right diet?
Yes, many of the cases of acne, for example, tend to clear themselves up when dairy and/or gluten is removed for good from the diet.
And as stated above, certain food allergies lead to a variety of skin conditions.
Therefore, if you work on eating a diet consisting of whole foods without pesticides and without chemical additives, you greatly reduce your exposure to potential food allergens. 
What are the other important factors to look at?
A lot of times, we tend to focus too much on food in regards to health. This is understandable because food is the easiest variable to change. However, we also need to look at lifestyle factors.  
Getting daily exercise is important to a healthy lymphatic system, which moves toxins out of our bodies. Aim for at least 30 minutes of exercise a day. 
A healthy functioning colon is important to clear skin and vibrant health. If you are having less than 2 to 3 bowel movements a day, something is wrong. Eat more fiber-rich foods and drink more water as a start to get the bowels moving. 
A healthy gut (GI tract) filled with the correct balance of probiotics and bacteria is important to total-body healthy and radiant skin. Eat and drink probiotic rich foods like yogurt, kimchi, sauerkraut, kombucha, and miso soup.
The amount of environmental toxins surrounding you can put added stress on your organs of detoxification leading to skin problems.
Look to eliminate as many "dirty" external factors as you can. Some studies have shown that the air we breathe inside our homes tends to be, on average, dirtier than the air outside our homes. This is true for those that live in cities, too!
Therefore, clean with environmentally friendly cleaning products that are not only good for the planet but good for your body and skin.
This also is the same in regards to whatever personal care products you are using on your skin. Everything that touches your skin is absorbed and must be filtered by the liver.
Therefore, if you are using makeup, lotion, shaving cream, etc that are full of toxic chemicals, it can lead to a variety of skin problems and health disorders. 
Stress! Stress is the number one cause of disease in the developed world. In addition to leading to skin issues, it can lead to heart disease, high blood pressure and more! Ways to de-stress include: yoga, deep breathing, meditating, walking in nature, exercise, and anything else that helps you to calm down.