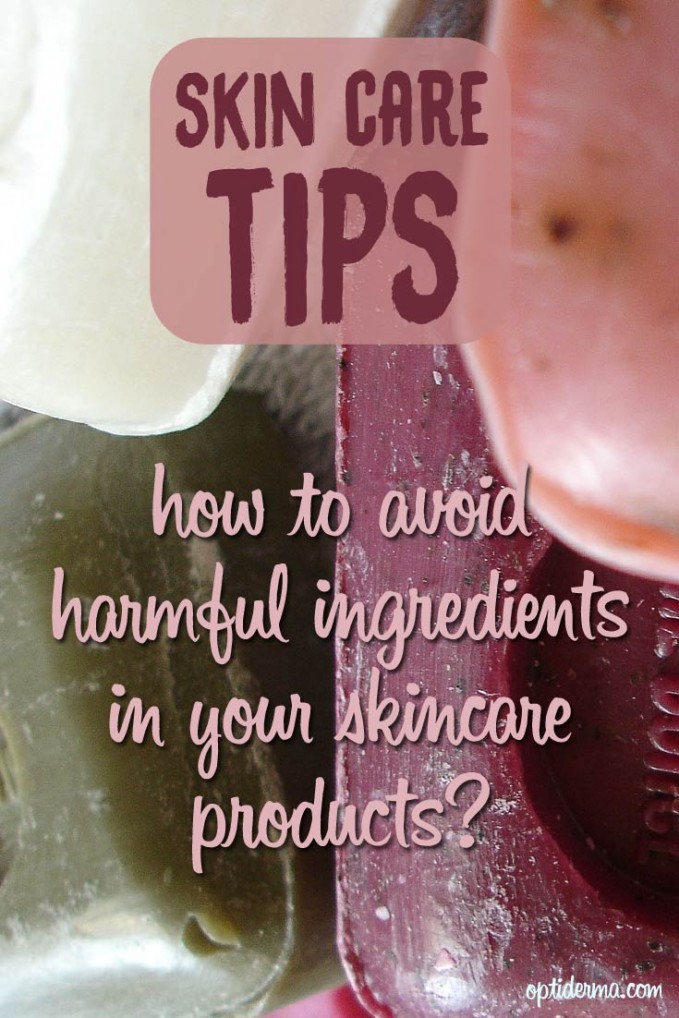 Do you ever wonder why there are so many skin allergies, why your child develops skin rashes, and why so called natural cosmetics actually damage your skin? The answer can be found in the composition of personal skincare products. Reading the label, or even more important, being able to recognize safe ingredients to harmful chemicals, is the first step in protecting yourself.
Why should you read the label and how to avoid harmful ingredients?
Taking good physical care of your skin involves protecting your skin from chemical products and synthetic fibres. Many products are made from petrochemicals and should be avoided because they are easily absorbed by your body (causing rashes, allergies, etc.) and transported throughout your body (causing all kind of health problems).
Therefore it's wise to use organic and hypoallergenic products especially if your skin is easily irritated, and it's sometimes even safer to make your own skin care products to be sure they are 100% natural.
Be aware that all ingredients aren't required to be listed on the label when they are used in small amounts and companies don't have to pass strict safety tests. 
As a result, you could be surprised what is not revealed on your skincare product label: what are never listed are usually the carcinogenic or toxic solvents that are used to make the ingredients. 
The best way to be sure a product does not contain harmful chemical is to check if the company uses only the safest ingredients, which means to find a reliable cosmetic database making product reports. 
We advise you to take a look at an excellent cosmetic database for skincare products: EWG's Skin Deep. It pairs ingredients in more than 25,000 products against 50 definitive toxicity and regulatory databases.
List of the most commonly used harmful chemicals
Here are the most commonly used chemicals in skincare products:
Methyl, propyl, ethyl, butyl paraben
These are used to extend the shelf life of products but are known to be toxic and cause allergic reactions.
Triethanolamine (tea), diethanolamine (dea)
These are used as emulsifiers most of the time. They can form cancer-causing nitrosamines and cause allergic reactions.
Diazolidinyl urea, imidazolidinyl urea
These are preservatives that can cause contact dermatitis.
Sodium lauryl – laureth sulphate
These contain cleansing properties, but are often derived from petroleum, which causes eye irritation when used in shampoos, skin rashes, dandruff, etc.
Petrolatum
This is a cheap mineral oil used for emollient properties. It can lead to dryness and chapped skin.
Propylene glycol
This is originally natural (vegetable glycerine mixed with grain alcohol), but is usually a synthetic petrochemical that is known to cause eczema, hives, and allergic reactions.
Pva/va copolymer
This is derived from petroleum and can be considered toxic. It can damage the lungs of sensitive problems.
Stearalkonium chloride
This is a toxic chemical used in fabric softener. It can cause allergic reactions.
Synthetic colors
These are labelled as FD&C or D&C and can be carcinogenic.
Synthetic fragrance
The word 'fragrance' can hide one of the 200 ingredients that can cause skin irritation, rashes, dizziness, headaches, etc.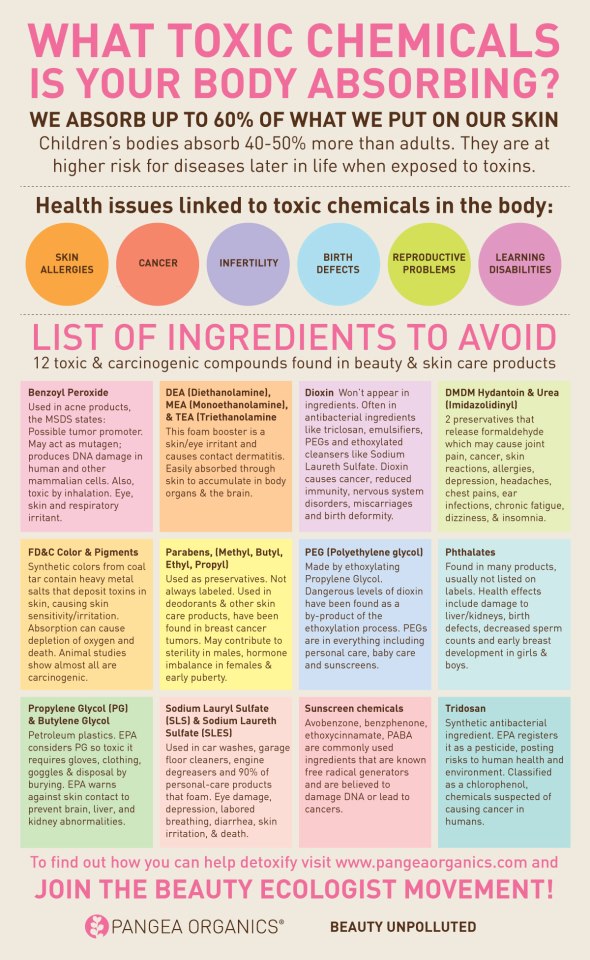 via pangeaorganics.com
How do I know if a certified organic skincare product is 100% organic?
Due to a lax regulation, many personal care products use the word "organic" but they actually use petrochemical material instead of organic material in making their main cleansing ingredients.
Some so-called organic products have even been tested positive for the carcinogen 1,4-Dioxane in a study commissioned by the Organic Consumers Association.
The word "organic" is not properly regulated on personal care products as it is on food products. You should look for products certified under the USDA National Organic Program to be sure they don't use any non-organic materials.
Be careful with weaker standards like Ecocert and OASIS standards; Ecocert actually allows certain petrochemicals in cleansing ingredients.
What are the natural ingredients that preserve skin care products?
Natural preservatives and antioxidants can be used to preserve skin care products. Preservatives are substances that kill bacteria, yeast and fungi and have no effect on the shelf life of the oils.
Since these organisms love humid environments, skin care products requires preservatives when water is present – like in creams and lotions. On the contrary, soaps and oil-based skin care applications do not need preservatives because bacteria avoid waterless environments.
There are many natural preservatives such as natural extracts, plants, and essential oils. However, these substances can be toxic. For example, citrus or grapefruit seed extracts have natural antimicrobial properties, but can be the cause of hormonal imbalances.
On the other hand, anti-oxidants inhibit oxidation and prolong the shelf life of products by preventing the oil from turning rancid. However, they have no effect on fungi, bacteria, and yeast. A good antioxidant is Rosemary Oleoresin Extract (ROE).
Citrus seed extracts are often used despite the potential negative side-effects. There are also substances that protect skin cells from the damaging effects of oxidisation, including carotenes (vitamin A and betacarotene), vitamin C, and vitamin E.
Many natural ingredients are good alternatives for fragile skin. You could choose between almond, jojoba, apricot, avocado, lanolin, cocoa butter, glycerin, oatmeal, aloe vera, and calendula to name just a few.
Preservatives like citrus fruit acid or antioxidants such as vitamin A, E, C, or alpha lipoic acid are also much better choices.
It is the same idea with the clothes you wear and are in contact with all day and night. Man-made fibres such as polyester don't allow perspiration to evaporate causing bacteria to grow. It is preferable to use natural fibres such as wool, silk, linen, hemp, or cotton.
What are the natural ingredients used in personal care products?
Here is a non-exhaustive list of natural ingredients:
allantoin
almond
aloe
apple extract
angelica
bentonite
calendula extract
camomile extract
comfrey extract
cornflower extract
cucumber extract
d-alpha tocopherol
deionized water
ginger extract
glacial clay
glycerine

grapefruit extract
green tea extract
kaolin
lanolin oil
lavender extract
lemon extract
lemon grass extract
nettle extract
orange fruit extract
panthenol
pectin
peppermint extract
reticulin
rosemary extract
safflower oil

shea butter
sodium (cocoate, hyaluronate, hydroxide, palmitate, PCA)
sorbitol
squalane
willow bark extract
witch hazel extract
…
Despite their suspicious names, the following ingredients are also natural:
alpha lipoic acid
amino acids
aminobenzoic acid
ascorbic acid
benzylic acid
citric acid
essential fatty acids

fruit acid
glutamic acid
glycolic acid
hyaluronic acid
lacticlinoleic acid
linolenic acid
pyruvic acid
Also watch this Story of Cosmetics (video below). It examines the pervasive use of toxic chemicals in our everyday personal care products, from lipstick to baby shampoo!