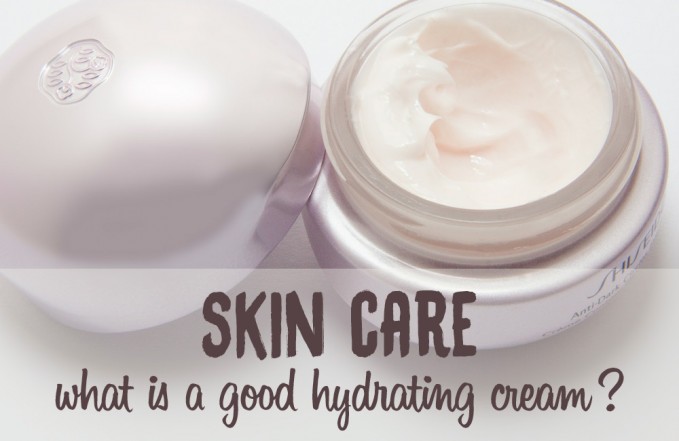 Who has never experienced dry and flaky skin? Weather, steamy showers, soap, aging, irritants, skin conditions: all these factors can dry out skin. No matter what the cause, dry itchy skin is something that can be relieved with a good hydrating cream. Let's look at what exactly is an hydrating cream and the best ingredients to keep the skin well-hydrated.
What is a hydrating cream? Is it different from a moisturizer?
Hydrating creams are designed to deliver moisture to your skin by increasing water content. They contain humectants which attract water from the air, hold it within a substance, and then slowly release the moisture into the skin. 
On the other hand, moisturizing products use emollients to prevent water content in the skin from evaporating. Moisturizing makes skin soft and smooth and prevent moisture loss. 
Indeed hydrating products are often said to be moisturizing as well because they usually contain occlusive agents that keep moisture from leaving the skin. In addition, some moisturizers contain humectants to hydrate the skin.
Why is it important to keep your skin hydrated?
Using an hydrating cream on a daily basis is essential especially if you suffer from a skin condition that makes your skin even drier. According to Mehmet Oz, MD, the skin must be kept adequately hydrated in order to protect our bodies from UV radiation, microorganisms and toxic agents. Hydrated skin will remain flexible and allow our protective barrier to remain intact. If skin is broken, environmental factors can damage our bodies and cause exacerbated water loss, feeding a cyclical pattern of more damage due to further dehydration.
In addition, moisturizing your skin will help smooth out wrinkles and prevent further wrinkles forming – to a certain degree at least. 
How to choose a good hydrating cream?
There are thousands of skincare products that claim to smooth and relieve skin dryness. But which product to choose from? Many hydrating creams that are on the market today come with some ingredients that can be detrimental to your health. 
Some humectants are harsh industrial chemicals, such Propylene glycol. Propylene oxide, of which propylene glycol is a derivative, is known to cause eczema, rashes and dry skin and is classified as a carcinogen in EPA's Toxic Release Inventory. Some other examples of synthetic humectants are Ethylene/Diethylene Glycol, PEG compounds (eg Polyethylene Glycol), Synthetic alcohols (eg Glyceryl Coconate, Hydroxystearate, Myristate, Oleate)
Many conventional creams using synthetic humectants form a suffocating film on the skin to prevent moisture loss. These products may leave your skin feeling soft in the short term. But applying them daily introduces lots of toxins into your blood stream and may irritate your skin.  
There are alternative ways of hydrating and moisturizing your skin safely. Choose natural humectants such as Lecithin, Panthenol (pro-vitamin B5), or Glycerin. Natural phospholipids, from lecithin, are good humectants. Phospholipids attract water from the surrounding air and hold water where an increased level of hydration is needed. These humectants are safe and natural and provide the dry skin care you need without causing further damage.