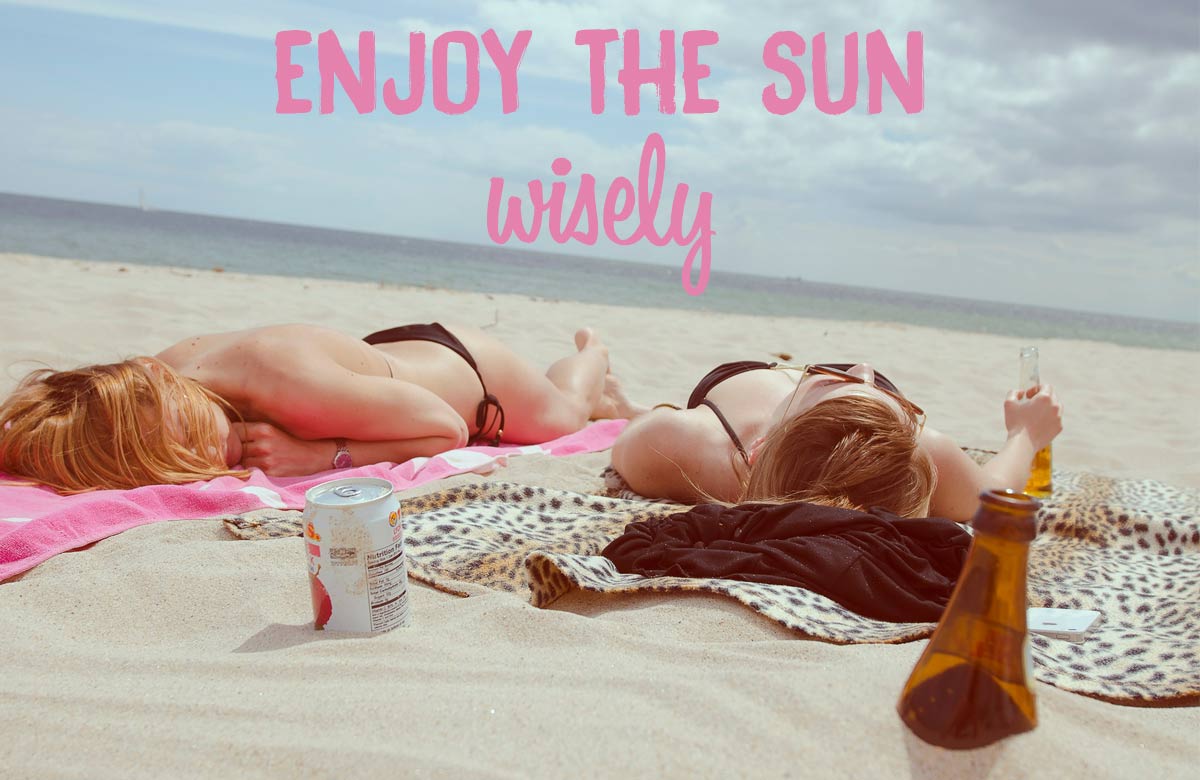 For years we have been told to cover up in the sun to cut the risk of getting skin cancer. But studies have shown that a sensible amount of sun reduces your risk of several cancers and other serious health conditions. How to enjoy the sun wisely?
How to enjoy the sun and avoid sunburns?
Natural substances on earth have incredible healing powers, but they can also harm your body if you are not careful. Overexposure to sunlight is widely accepted as the underlying cause for harmful effects on the skin. 
Here are a few things to remember about sun protection:
Try to avoid sun between 10am and 3pm. If you can, plan outdoor activities for early morning or late afternoon/evening.
Wear a hat and clothes that cover your body to avoid sunburns
Use a natural sunscreen that is not harmful for your skin
Supplement your diet with essential fatty acids to keep your skin well hydrated and drink lots of water to prevent dehydration. 
In addition, beware of photosensitizers that can make your skin more sensitive to the sun:
Foods like celery, parsley, or parsnip
Some drugs like anti-inflammatories or antihistamines
Some essential oils like citrus oil (orange, lemon, grapefruit), bergamot, lavender, rosemary, and cedar
Can you depend on sunscreen for sun protection?
Many sunscreen products claim to prevent skin damage, aging and cancer. But do sunscreens provide the protection they claim?
Reports from the Environmental Working Group (EWG) have warned consumers against using many types of sunscreens. Chemicals used in sunscreen are endocrine disruptors and may interfere with hormones in the body.
Are mineral sunscreens a safer option? Mineral sunscreens are usually better options, but some mineral sunscreens also contain harmful chemical ingredients. Choose a natural mineral sunscreen that the EWG lists as safe!
Why is sunlight important?
Sunlight helps the skin manufacture vitamin D. Vitamin D is made by our bodies through the action of the sun's UVB rays on our skin. We actually get about 90 per cent of our vitamin D from the sun!
Vitamin D is essential for absorbing calcium, keeping our bones healthy, and for protecting against serious chronic diseases. Studies have linked it to heart health, and it may also have a role in preventing certain cancers.  
As sunscreen blocks UVB radiation, concern has been expressed that the widespread use of sunscreens, particularly those with high sun protection factors, may result in low vitamin D levels.
15 minutes of sun exposure, without sunscreen, to your head and arms each day is recommended to boost vitamin D levels and your mood!
Is Sunlight good For skin problems such as Psoriasis?
Some skin conditions like psoriasis seems to lessen during summer.
UVA is a recommended treatment for psoriasis, the natural UVA rays of summer sun can be therapeutic.
But you do not need excessive sun exposure to effectively treat psoriasis – 30 minutes per day of natural sunlight is more than adequate.
Overdoing it could cause significant problems, not only increasing your risk of skin cancer, but sometimes making your psoriasis worse.
Sun overexposure can damage your skin so it is very important not to get burned. Overexposure ages the skin and causes skin problems like wrinkles, leathery skin, or even skin cancer.
Monitor your time in the sun carefully!
High-SPF sunscreens: dangers and potential health risks