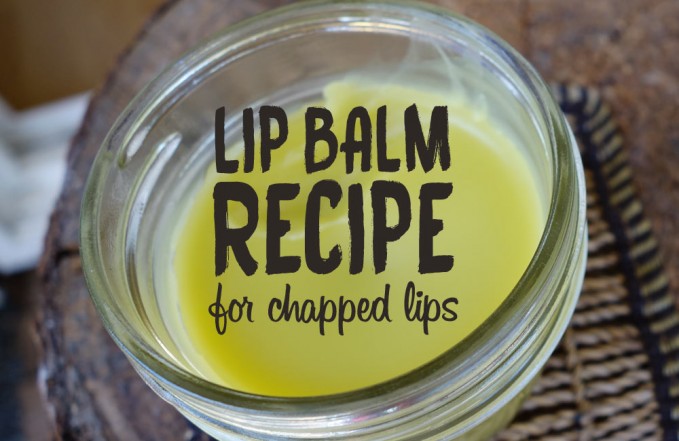 Read this before you start this recipe »
Always educate yourself about properties and contraindications of essential oils you are going to use.
Be sure you are not allergic to any ingredient before applying it on your body. First apply a dab on your wrist for example, and wait 24 hours to see if any irritation occurs.
Make sure you buy the pure base ingredients and choose ingredients that have the most beneficial nutrients.
Always dilute an essential oil in a base oil unless you are sure it is safe to use it neat.
If you can afford, spend a little more on high quality and organic oils. This will insure no unnecessary chemicals are applied to your skin.
A great lip balm recipe for people who are prone to cold sores. And it is so easy to make it at home…You could add more jojoba oil if you want a softer consistency. Almond and jojoba oils are very nourishing for your lips. Beeswax and tea tree are antifungal.
Preparation: 30 min
Cooking: 3 min
Ingredients
3 tablespoons jojoba oil
4 tablespoons almond oil
2 teaspoon beeswax
1 tablespoon honey
8 drops orange oil
4 drops grapefruit oil
1 drop tea tree oil
Do not apply this lip balm before exposure to strong sunlight because it contains citrus essential oils that are phytosensitive. 
Properties of essential oils for skin
How to make this lip balm recipe?
In a small saucepan, warm beeswax, honey and oil (low heat) until the wax melts.
Remove from heat and add the drops of essential oil.
Next, set the small pan in a ice-water bath and stir rapidly for several seconds the formula becomes thicker.
Put the mixture in small containers with a lid on and let it et for 2 hours before use.
This lip balm for chapped lips doesn't need to refrigerated.
Lip balm for cold sores with lavender essential oil