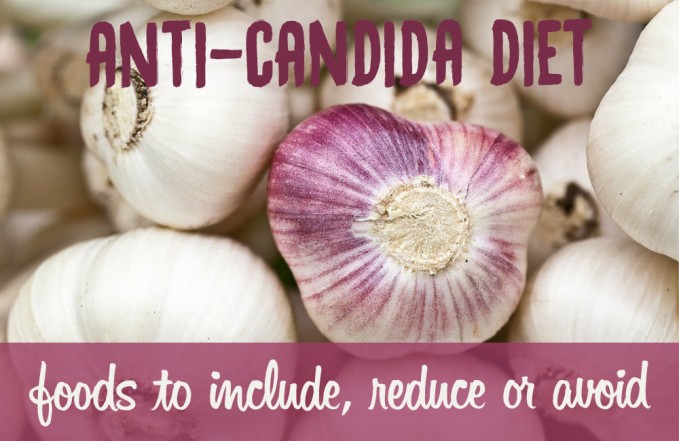 There is no "official" anti-candida diet. So if you make your own research on internet, you're going to discover that everyone has different ideas on what to eat, which can be frustrating. Depending how strict you want your diet to be, here are a few suggestions to help you start an anti-candida diet.
Anti-candida diet: the foods to include
Foods that inhibit yeast growth: garlic, onions, turnips, cabbage, broccoli.
Fresh vegetables, legumes, beans, tofu.
High-protein alternative grains like quinoa or amaranth and sprouted grains (eat in moderation).
Eggs, fish and meat (except pork) – organic white meat (chicken or turkey) is better, but red meat is allowed if grilled and lean.
Raw and unroasted nuts and seeds (except peanuts, cashews, and pistachios): almonds, brazil nuts, filberts, pumpkin seeds, sunflower seeds, etc. – Be careful they are not rancid.
Cold-pressed and non refined oils: olive, apricot, avocado, hemp, flax, safflower, sunflower,coconut, etc.
ghee (clarified butter), raw nut butter.
Lemon.
Fermented foods and probiotics. Examples include: kefir, plain yogurt, sauerkraut & other fermented vegetables, kombucha, miso, tempeh, kim chi.
Anti-candida diet: the foods to reduce
The foods listed below are allowed by some practitioners during the entire diet, but not for the two first weeks for others:
Semi-sweet fresh fruits (once or twice a day): apples, pears, peaches, plums… Avocado is allowed and is actually very nourishing for your skin. Avoid tomatoes.
Gluten-free grains (eg. brown rice, millet), whole-grain pasta (rice, kamut, spelt), oatmeal.
Whole wheat. Try to stay away from whole wheat at least the first two weeks of your diet.
Whole grain bread without yeast (replace yeast by gluten-free baking powder) or yeast free pumpernickel breads…
Dairy products if you tolerate them. Choose dairy-free cheeses or goat cheese instead if you can.
Starchy and sweet vegetables, such as potatoes and sweet potatoes. Avoid them at least the two first weeks.
Corn flour tortillas, rice cakes, baking powder biscuits.
Anti-candida diet: the foods to avoid
Processed sugar (even natural sweeteners – except stevia)
Pastries, cookies, candies.
Dried or caned fruits.
Condiments, vinegar, mustard, ketchup, pickles, miso, cheeses, soy sauce, margarine.
Mushrooms, yeast extract, baker's or nutritional yeast.
White rice, wheat, yeast breads, refined flours, corn.
Packaged and processed foods, smoked meat and fish, preservatives, refined or cooked unsaturated oils.
Note: be careful with leftovers. Mold starts to grow on food after 24 hours. If storing longer than 24 hours, freezing is best.
Anti-candida diet: what to drink?
Lots of water. You can add fresh lemon juice to your water.
No alcohol.
No coffee, no black tea, no tea at all if you can. Mold starts to grow on food as it is dry, which is true of tea and coffee…
Herbal teas are ok (such as chamomile, peppermint). Rooibos is the best one because it is anti-fungal!
Canned, bottled or frozen fruit juices are not allowed.
Milk is allowed. Goat milk is better.
Contact a nutritionist to find the best anti-candida diet according to your own needs. A nutritionist may recommend that you take some medication to kill yeast (such as acidophilus, grapefruit seed extract, olive leaf, etc.) depending on how severe your condition is.