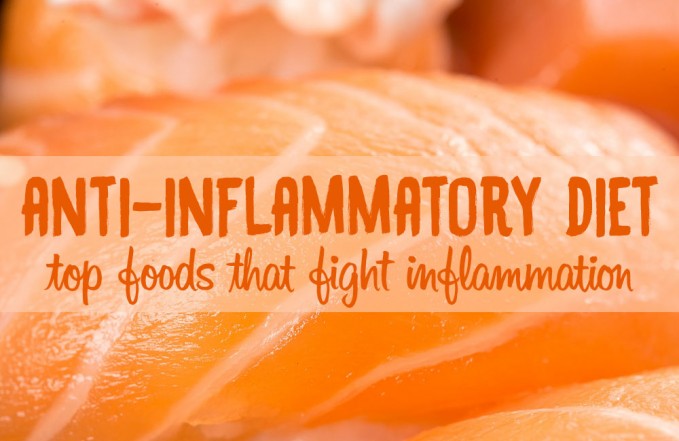 Many experts agree that an anti-inflammatory diet is one of the best way to prevent most chronic diseases. However it is difficult to know which foods to choose to fight inflammation. Some of the foods supposedly healthful can actually make inflammation worse. Let's see how to select the foods that are anti-inflammatory.
How to know what foods to choose: The Inflammation Factor
How food affects inflammation? There's nothing on the nutrition label to tell you this. This is why Monica Reinagel, a noted nutritional researcher, has created the IF (Inflammation Factor) Rating's system that helps estimate how various foods may affect inflammation in the body.
The IF Ratings measure the effects of more than 20 different factors that determine a food's inflammatory or anti-inflammatory potential, including:
Amount and type of fat
Essential fatty acids
Vitamins, minerals and antioxidants
Glycemic index
Anti-inflammatory compounds
As a result, foods with negative ratings are likely to contribute to inflammation, especially when consumed in excessive quantities because they contain known inflammatory nutrients, including arachidonic acid and saturated fat.
On the contrary, foods with positive IF Ratings contain known anti-inflammatory nutrients, including monounsaturated fat, selenium, docosahexaenoic acid (DHA) and folate.
Here are the Inflammation Factor Ratings for different types of foods:
Atlantic salmon (farmed), cooked 1/2 fillet (178g) – 386
Yogurt, non-fat 1 cup (245g) – 156
Raisins, seedless 1 small box (43g) – 145
Long-grain brown rice, cooked 1 cup (195g) – 143
Roasted pumpkin & squash seeds 1 ounce (28g) – 79
Toasted sunflower seeds 1 ounce (28g) – 72
Banana 1 medium (118g) – 60
Whole egg, hard-boiled 1 large (50g) – 51
Corn, boiled 1 ear (77g) – 50
Walnuts 1 oz (28g) – 38
Whole-wheat bread 1 slice (28g) – 28
Miso 1 ounce (28g) – 21
Mango 1 fruit (207g) – 19
Instant oat cooked with water 1 ounce (28g) – 12
Olive oil 1 tbsp (14g) – 71
Carrot, boiled 1 carrot (46g) – 77
Broccoli, boiled 1 stalk (180g) – 143
Onion, raw 1 small (70g) – 164
Sweet potato, boiled without skin 1 medium (151g) – 232
Mollusks oyster, canned 1 cup (162g) – 377
Spinach, boiled 1 cup (180g) – 466
Atlantic salmon (wild), cooked 1/2 fillet (154g) – 895
Ginger, ground 1 tbsp (5g) – 1447
Turmeric, ground 1 tbsp (7g) – 1523
Fish oil, salmon 1 tbsp (14g) – 1875
The most anti-inflammatory foods are: fish oil, turmeric, ginger, wild salmon and spinach. Include these foods in your diet! 
However, it is neither necessary nor desirable to eliminate all foods with negative IF Ratings from the diet. A balanced, anti-inflammatory diet will contain foods with both positive and negative ratings. The goal is to balance your food choices so that the sum of all foods eaten over the course of the day is in the positive, anti-inflammatory range.
The Top 5 Foods that Fight Inflammation
Fish Oil and Wild Salmon
Why does fish fight inflammation? Both fish oil and wild salmon are an excellent source of eicosapentaenoic acids (EPA) and docosahexaenoic acids (DHA), the two potent omega-3 fatty acids that douse inflammation.
Turmeric (ground)
Why does it turmeric inflammation? Turmeric contains a powerful, non-toxic compound called curcumin. Research shows curcumin acts as a scavenger of nitric oxide and inhibits COX-2, a pro-inflammatory substance.
Ginger (ground)
Why does it ginger inflammation? Ginger contains very potent anti-inflammatory compounds called gingerols. In addition to providing relief from nausea and vomiting, ginger extract has long been used in traditional medical practices to reduce inflammation. In fact, many health care professionals use ginger to help treat health problems associated with inflammation.
Spinach (Boiled)
Why does spinach fight inflammation? This dark green leafy vegetable is such a rich source of anti-inflammatory and anti-oxidative flavonoids and carotenoids: Vitamin A, B2, B6, C, E, K, calcium, folate, iron, magnesium, manganese, potassium, tryptophan, and more.
Sweet Potatoes (boiled, without skin)
Why do sweet potatoes fight inflammation? Sweet potatoes contain nutrients that are powerful antioxidants that help to heal inflammation in the body, including beta-carotene, manganese, vitamin B6 and C as well as dietary fiber.
What's the best anti-inflammatory Diet ?
Some foods promote health disorders through inflammation, stress, hormonal imbalances and blood-sugar levels. In fact, a specific diet can alleviate inflammation due to sensitivities to certain foods, while wrong habits will increase chronic inflammation.
However, dietary recommendations can be very complex. Even the foods that are likely to fight inflammation in some individuals could trigger inflammation in others. In fact, the list of inflammatory foods can be different for one person to another.
This is why it is worth working with a nutritionist to get started, since this procedure can be long and tricky. Don't hesitate to contact me if you need help to elaborate a nutritional program that is specific to your needs.

source: nwahealthsolutions.com