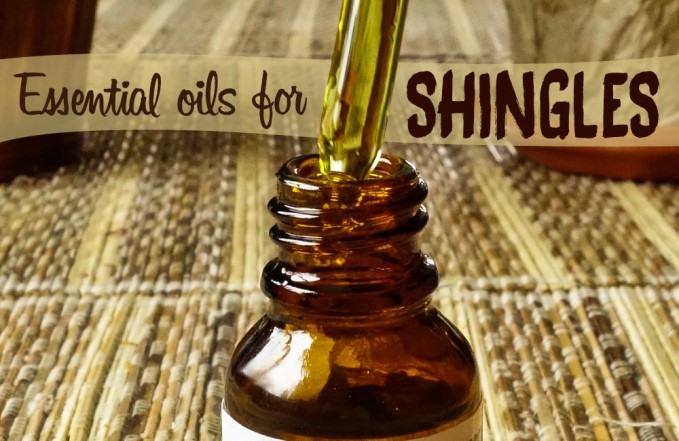 Do you have itchy and painful fluid-filled blisters on your skin? Has your doctor diagnosed you with shingles? The good news is that there are several natural ways to ease symptoms. In this post you'll learn about essential oils for shingles, and how to use them to relieve the pain and speed up the healing process.
What is shingles?
Shingles – also called Herpes Zoster or zona – is a painful infection of a nerve and the skin surface that is supplied by the nerve. It's often accompanied by a localized skin rash with blisters.
What causes shingles? It's caused by the same virus that causes chickenpox – the varicella-zoster virus. Once exposed, the virus can lay dormant for years. The virus may never cause any problems when it stays inactive. However, it may reactivate in some individuals.
We don't know why the varicella-zoster virus reactivates. But the virus usually reactivates when the immune system is weakened. This is why psychological and emotional stressors often trigger shingles.
A shingles episode usually lasts 2 to 4 weeks. (source)
5 most effective essential oils for shingles
Each year in the U.S., about 1 million people develop shingles. In fact, it's said that 1 in 3 people will have shingles during their lifetime.
Even if you can't get rid of the virus, there are powerful natural remedies for shingles, such as essential oils and herbs. Essential oils have strong antiviral properties and they can help stimulate the immune system. This is why they are effective at reducing the activity of the virus. In addition, essential oils can help heal the skin faster, and some of them are relaxing to the nerves.
Based on testimonials and research, here are the most effective essential oils for shingles:
1. Bergamot essential oil
Bergamot is one of the best oils to ease the pain and heal the blisters. Not only it is anti-viral, it is also analgesic (pain-relieving) and a powerful anti depressant, which is useful as having shingles can be very depressing.
2. Geranium Bourbon essential oil
A small scientific trial has shown that Geranium Bourbon Oil 100% rubbed onto the skin began relieving pain 2 to 10 minutes after application. Relief was greatest at 60 minutes after rubbing it in.  
3. Lavender essential oil
To ease the pain, lavender essential oil is a great choice. In fact, lavender is very soothing for all skin problems, and relaxing to the nerves.
4. chamomile essential oil
Chamomile oil has been used for treating shingles. It helps healing and relieve pain. (source)
5. Ravintsara essential oil
The essential oil of Ravintsara (Cinnamomum camphora) is also a powerful antiviral oil and can be applied externally as a relief for shingles. Blended with Tamanu Oil (Calophyllum), ravintsara has been used for years to ease the pain and inflammation of shingles and all forms of herpes.
How to use essential oils for shingles?
External application
Add a few drops of essential oil to a tablespoon of a carrier oil – such almond, peanut, or olive oil.
Apply the mixture directly to the lesions at the first sign of an outbreak. The lesions usually dry up and disappear within three to five days. 
Alternatively, you could make a blend of essential oils with witch hazel:
Healing bath
Make an oatmeal bath:
Pour 2 cups of colloidal oatmeal into lukewarm bathwater. The soothing properties of oats is often used to treat inflamed skin. The coolness of the water can calm itchiness and ease pain from blisters. 
Add 5-10 drops of essential oils of your choice to water.
Soak for 15 to 20 minutes.
Caution
Most essential oils should never be used undiluted on the skin. 
Essential oils can sometimes irritate the skin, especially if you are allergic. You can test for allergies by rubbing the oil into a small patch of skin. If the skin becomes irritated, don't continue to use the oil.
If you are pregnant don't use essential oils. 
Avoid using the oil on young children who may have more sensitive skin. 
Please always consult a doctor or herbalist for proper application of oils.
Other tips for shingles
Keep the skin rash clean and dry to avoid infection.
Try not to scratch your skin as it will slow down the healing process. Read this post that explains why you shouldn't pop blisters. Also, shingles can be spread through direct contact with fluid from the blisters. 
Apply cool, wet compresses on blisters to reduce itching and pain.
When you take a bath or a shower, make sure it's on the cooler side. Hot water will only make itching worse!
Apply Manuka honey topically to skin rash a few times a day. It's another proven natural treatment for shingles. Studies show that honey has significant antiviral activity against varicella-zoster virus. (source)
Wear loose-fitting clothing to feel more comfortable.
It's better not to cover the rash. But if the rash needs to be covered, use a non-adherent dressing.
Summary
The benefits of essential oils go well beyond a pleasant smell! They can help you relax, ease the pain, reduce inflammation and heal skin. Add just a few drops of bergamot essential oil into your bath and you'll feel better!
The best essential oils for shingles are Bergamot, Geranium, Lavender, Chamomile and Ravintsara essential oil. In his book Prescription for Natural Healing, Dr. Balch also recommends calophyllum oil, eucalyptus oil, goldenseal oil and lemon oil for the treatment of shingles. 
Also, reducing stress in your life as much as possible is key. A better stress management can help prevent and treat shingles since stress has such a big impact on the immune system.
As shingles make the skin highly sensitive, make sure you don't further irritate your skin. Use gentle and natural products. Avoid scratching, and see a doctor especially if the blisters are spreading.
Caution: If shingles are located on your nose or near the eyes, consult a health-care professional immediately. The virus may spread to the eye and cause eye damage or vision loss.