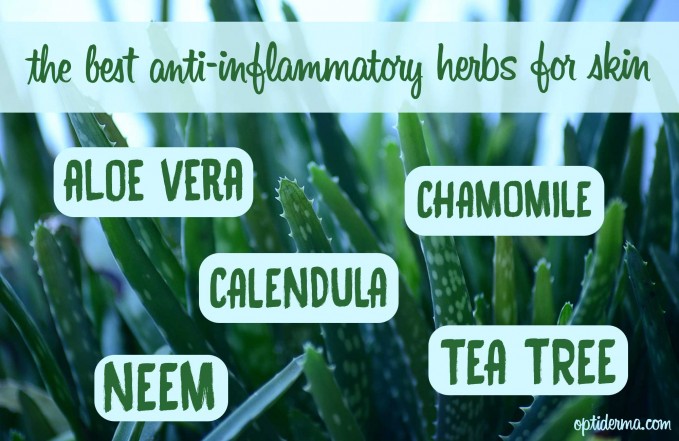 Herbs have been used for medicinal purposes by cultures around the world for centuries. With herbal medicine, also called botanical medicine or phytomedicine, many people have had amazing results in the treatment of skin conditions.
Herbs generally work more slowly but with fewer side effects than drugs! Herbal remedies aim at improving your overall body, so you can see results not only in your skin but your whole health. 
Many chronic diseases result from inflammation on the cellular level. Reducing inflammation to ideal levels is key to achieving optimal functioning, enhanced immunity, vibrant energy, mental clarity, and clear skin. 
There are so many powerful herbs that can help with skin issues, but with such a variety, how do you know which ones are best? One of the best anti-inflammatory herbs for skin are aloe vera, calendula, chamomile, neem, tea tree and witch hazel. We'll explain you why!
Why using herbs that have significant anti-inflammatory benefits?
Inflammatory skin diseases are the most common problem in dermatology. They come in many forms, from occasional rashes accompanied by skin itching and redness, to chronic conditions such as dermatitis (eczema), rosacea, seborrheic dermatitis, and psoriasis.
This is why learning about the best anti-inflammatory herbs for skin is useful to treat any skin condition. 
Skin inflammation can be characterized as acute or chronic. Acute inflammation can result from exposure to UV radiation (UVR), ionizing radiation, allergens, or to contact with chemical irritants (soaps, hair dyes, etc.). This type of inflammation is typically resolved within 1 to 2 weeks with little accompanying tissue destruction.
In contrast, chronic inflammation results from a sustained immune cell mediated inflammatory response within the skin itself. 
Fortunately there are lots of compounds from nature that have anti-inflammatory benefits without the negative immunosuppressive side effects of potent prescription drugs.
Because of the potential benefits of "natural" compounds to address skin problems, a considerable amount of this "botanically-based" research has been funded by government health agencies worldwide. This research has led to the identification of many botanically-derived "antioxidants" that also have significant anti-inflammatory activities. 
One of the most potent natural anti-inflammatories discovered to date is Curcumin. Foods like dark-colored greens, cruciferous veggies or Omega-3-rich fish also have strong anti-inflammatory properties.
However, herbs deserve a special consideration because, on an ounce per ounce basis, they are extremely potent compared to foods.
What are the best anti-inflammatory herbs for skin?
Almost all herbs and plants are anti-inflammatory to some degree, some with a more pronounced action than others.
Here is a selection of the best anti-inflammatory herbs for skin:
ALOE VERA

Aloe Vera is native from North America. Commonly used for constipation and other digestive disorders, it is one of the best anti-inflammatory herbs for skin. It also aids in the regeneration of new skin.
It's used externally for skin infections, acne, frostbites, burns, insect bites, blisters, allergic reactions, seborrhea, dark spots, and anti-aging.
Aloe vera has such a strong reputation for repairing damaged skin that it is a frequent ingredient in commercial skin-care products.
The gel reduces inflammation and itching, and promotes wound healing.
Topical aloe also reduces the redness and flakiness of psoriasis. One study found an aloe vera cream slightly more effective than a topical steroid.
Other studies show promise in relieving seborrheic dermatitis, frostbite, and burns.
CALENDULA

Also called marigold, calendula is a common ingredient in skin medications. It has antifungal and anti-inflammatory properties, which also makes it one of the best anti-inflammatory herbs for skin.
Calendula addresses sore, inflamed, and itchy skin conditions: skin rashes, diaper rash, minor sunburns, wounds, acne, ulcers, bed sores, varicose veins, eczema, psoriasis and related conditions.
Calendula creams have been shown to relieve skin inflammation. Calendula massage oil also greatly heals, soothes, and softens skin, making it a good addition to massage oils or when preparing a carrier oil blend. 
CHAMOMILE

When used externally, chamomile helps reduce skin inflammation. Research has shown that a topical chamomile solution is more effective at relieving the itch, pain, and inflammation of skin lesions than topical hydrocortisone (steroid) treatment. 
Chamomile can soothe insect bites, chicken pox, wounds, burns, bruises, sunburns, rashes, and itchy or inflamed skin, and it is also a popular remedy for stopping the growth of ulcers.
This herb is well-known for easing the discomfort of eczema, psoriasis, acne, and diaper rash.
It's considered as one of the best anti-inflammatory herbs for skin.
NEEM

For thousands of years Ayurvedic medicine has used neem for skin care and to treat skin disorders. 
Neem oil can help relieve redness and itching of irritated skin. This herb is moisturizing for dry and cracked skin, and is a gentle alternative to tea tree oil. 
Neem leaf is also used for treating skin conditions because of its strong antibacterial and anti-inflammatory properties.
Neem is less popular than other essential oils, but is still one of the best anti-inflammatory herbs for skin!
TEA TREE

Tea tree essential oil is an excellent natural antiseptic for skin infections and helps treat many conditions.
Tea tree has anti-inflammatory properties and can help with hemorrhoids and eczema, dry scalp due to psoriasis. 
This herb is also used to treat ringworm, athletes foot, and thrush because of its antifungal properties.
What are the other most common herbs for skin rashes and skin conditions?
Apart from our selection of the best anti-inflammatory herbs for skin, many other herbs provide great benefits when it comes to skincare and skin treatments.
Here is a list of other herbs for skin:
COMFREY

Comfrey contains allantoin, a chemical that protects the skin and promotes new skin cell growth. Externally, it's said to be anti-inflammatory and speed wound healing due to its natural concentration of allantoin.
Comfrey is recommended for external use only because it contains pyrrolizidine alkaloids, chemicals which, in large amounts, can damage the liver. Moistened leaves can be applied directly to the skin as a poultice.
Chaparral

Chaparral protects from harmful effects of radiation and sun exposure. It was traditionally used by Mexicans and Native Americans to treat and prevent immune disorders and skin infections. 
It is also used topically for bruises, rashes, eczema, psoriasis, dandruff, wounds, and as a mouthwash to kill bacteria.
Dandelion

Dandelion is traditionally used as a tonic and blood purifier, for constipation, inflammatory skin conditions, joint pain, eczema and liver dysfunction, including liver conditions such as hepatitis and jaundice.
Dandelion juice is a great detoxifier, diuretic and antioxidant. These properties make it effective for the treatment of acne. Dandelion sap known as dandelion milk is effective in treating skin diseases caused by microbial and fungal infections.
It can be used for the treatment of itchiness, eczema, warts, athlete's foot, ringworm and other similar conditions without any side effects.
Echinacea

Used internally to fight infections, Echinacea can also be applied externally for inflamed skin and badly healing wounds.
Echinacea facilitates wound healing, lessens symptoms of and speeds recovery from viruses. Anti-inflammatory effects make it useful externally against inflammatory skin conditions including psoriasis and eczema.
It may also increase resistance to candida, bronchitis, herpes, and other infectious conditions.
Goldenseal

Goldenseal contains berberine and is a great herb for skin. Goldenseal can be applied to the skin to treat eczema, athlete's foot, ringworm, canker sores, rashes, ulcers, wound infections, itching, acne, dandruff, ringworm, herpes blisters, and cold sores.
It is used as a mouthwash for sore gums and mouth.
Gotu kola

This herb is mainly used to treatcellulite and different kinds of skin inflammation. Varicose veins can be treated with Gotu kola. Gotu kola also has a long history, with use in Chinese and Ayurvedic medicine for promoting wound healing.
The types of triterpenoid compounds gotu kola contains are believed to strengthen the skin and increase antioxidant production. Because it stimulates collagen production, gotu kola is an amazing ingredient for preserving and restoring youthfulness to the skin.
Horse chestnut

Horse chestnut firms and tones slack and dilated veins. This herb also treats hemorrhoids and is often used by people who tend to bruise easily. 
Horse chestnut extract can be found listed as an ingredient in some skin cleansers. The high level of saponins in horse chestnut extract makes it an effective skin purifier.
Bath oils and infusions sometimes contain horse chestnut extract due to its skin softening properties.
Horsetail

With a high silica content, horsetail rejuvenates hair, nail, and dry skin. It helps reduce wrinkles. Studies have already indicated that silicon can improve skin texture and resilience, while reducing the depth of wrinkles. 
Horsetail is a great herb for skin. It promotes collagen formation,  helps restore skin elasticity, soothes cuts and wounds, and improve conditions like eczema.
Lavender

With its calming effects, lavender helps with psoriasis and eczema when they are linked to stress. Lavender is a great herb for skin.
Some of its skin benefits include that of being antiseptic and anti-fungal which helps to reduce scarring and speeds healing. The essential oil is also an anti-inflammatory and circulatory stimulant. 
Oregano

Chinese herbalists have used it for generations to sooth rashes and relieve itching. It treats acne, psoriasis, cracked skin and has powerful anti-fungal and anti-bacterial properties.
It can also be used as a mosquito repellent.
Oregano is a great herb for skin and is very useful to treat athlete's foot. Oregano oil fights against skin infections. 
Plantain

Plantain is used for skin and scalp irritations, injured or tired skin and has anti-inflammatory. It's used for sunburns. 
While the anti-inflammatory nature soothes the burning and rashes, antibacterial properties prevent itching. The extract of these leaves of this herb contains certain elements that ease the itching, inflammation, and soreness associated with insect bites and bee stings.
Thus, it soothes down the skin, promoting faster healing. Inflammatory skin conditions, such as acne and rosacea get benefits from the topical application of this cooling herb extract.
Along with easing down the inflammation and preventing the region from infections, this herb also prevents scarring by inducing faster healing and regeneration of skin cells.
Red clover

Traditionally used for menopausal symptoms, red clover also helps with skin conditions, such as psoriasis, eczema, sore baby bottoms and nappy rash. 
Red Clover retards the process of skin aging due to its estrogen-like effects and helps to maintain youthful and vibrant skin.
It also ensures appropriate skin thickness and healthy keratinization and vascularity of the skin. Red Clover hastens the wound and burn healing process.
Topical application of red clover in appropriate percentage can help heal such wounds quickly.
Sage

Purifier, tonic and antibacterial, sage is ideal for sensitive scalp with dandruff or cradle cap. The antibacterial properties of this amazing herb prevent the occurrence of skin infections.
It also possesses antiseptic and anti-inflammatory properties, which help cure acne as well as relieve the symptoms of eczema and psoriasis.
Saint John's Wort

Saint John's wort oil extract can make a good external application for burns, wounds, sores, bruises, and other skin problems. Full of powerful flavonoids, it helps protect, soothe, and heal skin, while providing anti-acne and anti-inflammatory benefits. 
Whether you have oily or dry skin, this herb helps kill bacteria and calm irritation.
Plus, it helps plump and hydrate skin while restoring elasticity, reducing the look of fine lines and wrinkles.
Seabuckthorn

Seabuckthorn has long been known to effectively treat persistent and irritating skin conditions such as rosacea, psoriasis, eczema and dermatitis. It promotes skin hydration, elasticity, and skin regeneration, and even helps treat and prevent acne. 
The unique high fatty acid content of sea buckthorn oil and the wealth of nutrients it contains make it one of the most health-promoting herbal oils today. It's believed to have high antioxidant, anti-inflammatory, and antiviral properties that help promote total body wellness. 
WITCH HAZEL

This hydrosol or flower water is a natural astringent and tonic. It is anti-irritant and anti-inflammatory. Witch hazel can be used for hemorrhoids, acne, cuts, bruises and herpes. 
Witch hazel may also be effective for the treatment of eczema and psoriasis. It can help dry up weeping eczema and reduce itching and inflammation when applied topically with gauze pads. 
You might experience allergic reactions or an intolerance to certain herbs. This is why it's advisable to take herbal remedies for skin under the guidance of a practitioner, not only for allergy reasons, but also to take the correct products and dosages. Be sure there aren't any contra-indications before taking any herbs, especially if you are a pregnant or nursing.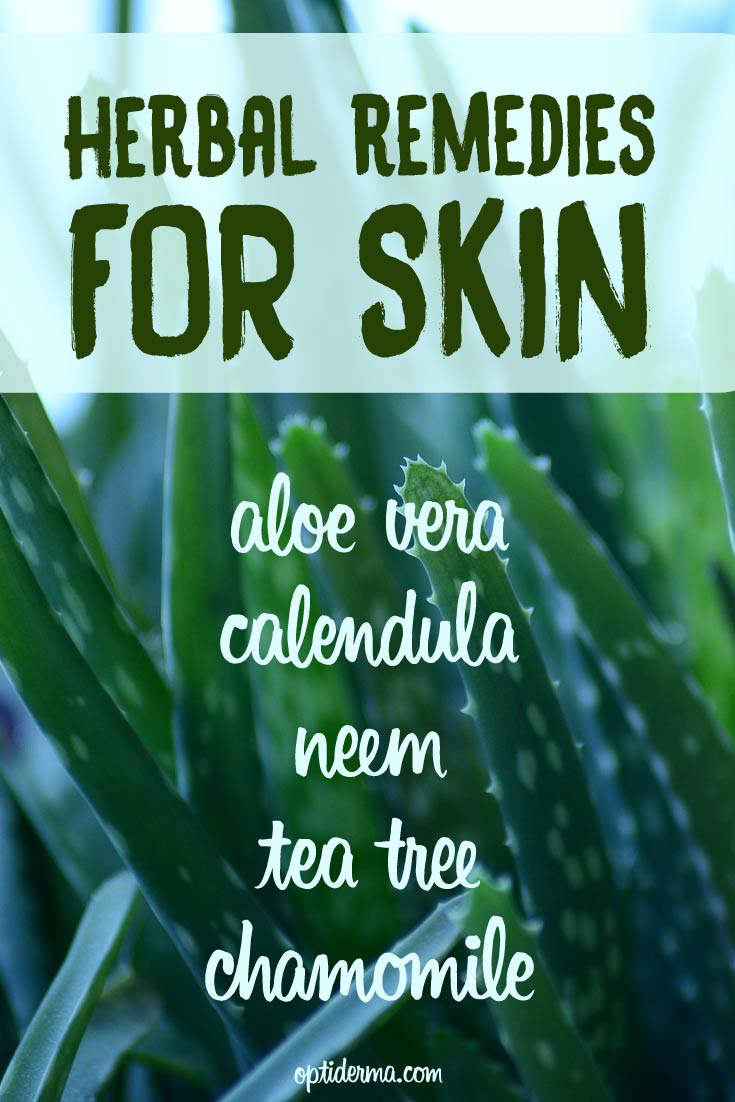 What are the best essential oils for skin? (Optiderma.com)