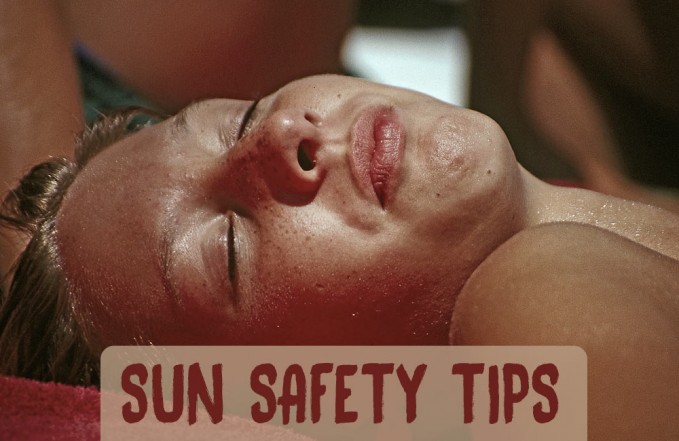 Summer is here and that means more time outside for most of us. Want to keep your skin safe in the sun? Careless exposure to the sun can engender serious health consequences. Not only it can cause more wrinkles and age spots, but it is the number one cause of skin cancer. Follow these sun safety tips to avoid sunburns, keep your skin safe and enjoy the sun wisely!
Cover up & protect your skin
Wear a hat with a brim, long sleeved shirts, and pants. Clothing should be light-colored and lightweight. Limit to one layer of absorbent material to facilitate evaporation of sweat.
Don't forget your sunglasses – that provide at least 97% protection against both UVA and UVB rays.
On both sunny and cloudy days, use a natural sunscreen with an SPF of 15 or greater that protects against UVA and UVB rays. Choose a natural mineral sunscreens that the Environmental Working Group lists as safe!
Apply enough sunscreen and reapply it every two hours, or after swimming or sweating. Keep in mind that natural sunscreens have to be reapplied even more frequently.
Protect your skin by staying in the shade whenever possible, and limit sun exposure during the peak intensity hours, between 10 am and 3 pm.
Kids are more vulnerable to sun damage. A few blistering sunburns in childhood can double a person's lifetime chances of developing serious forms of skin cancer. Be even more careful with your child's skin!
Enjoy the sun wisely! 15 minutes of sun exposure, without sunscreen, to your head and arms each day is recommended to boost vitamin D levels.
Increase Your Fluid Intake
Before prolonged physical activity, make sure you are well-hydrated and increase your fluid intake in excessively hot and humid environments, strenuous exercise, and if you are sweating.
The human body is made up of over 60 percent water and it is important to stay hydrated. That water contains a mixture of minerals, including sodium, calcium and potassium – known as electrolytes, that are lost through kidney functions, sweat and the moisture in breath.
They need to be replaced through food and drink especially when it is hot!
Be Careful with the Use of Essential Oils
Be careful if using essential oils for your skin. Some of them cause the skin to be more sensitive to sunlight and one would therefore burn and damage more easily.
The main culprits causing phototoxicity are the oils from the citrus family.
Here is a list of essential oils that may cause sun sensitivity (1):
Angelica
Bergamot
Bitter orange (cold pressed)
Cumin
Dill
Grapefruit (cold pressed)
Lemon (cold pressed as well as distilled)
Lemon verbena
Lime (cold pressed as well as distilled)
Orange
Mandarin
Tagetes
Tangerine (cold pressed)
Yuzu
Feel free to leave a comment if you have more sun safety tips to recommend!