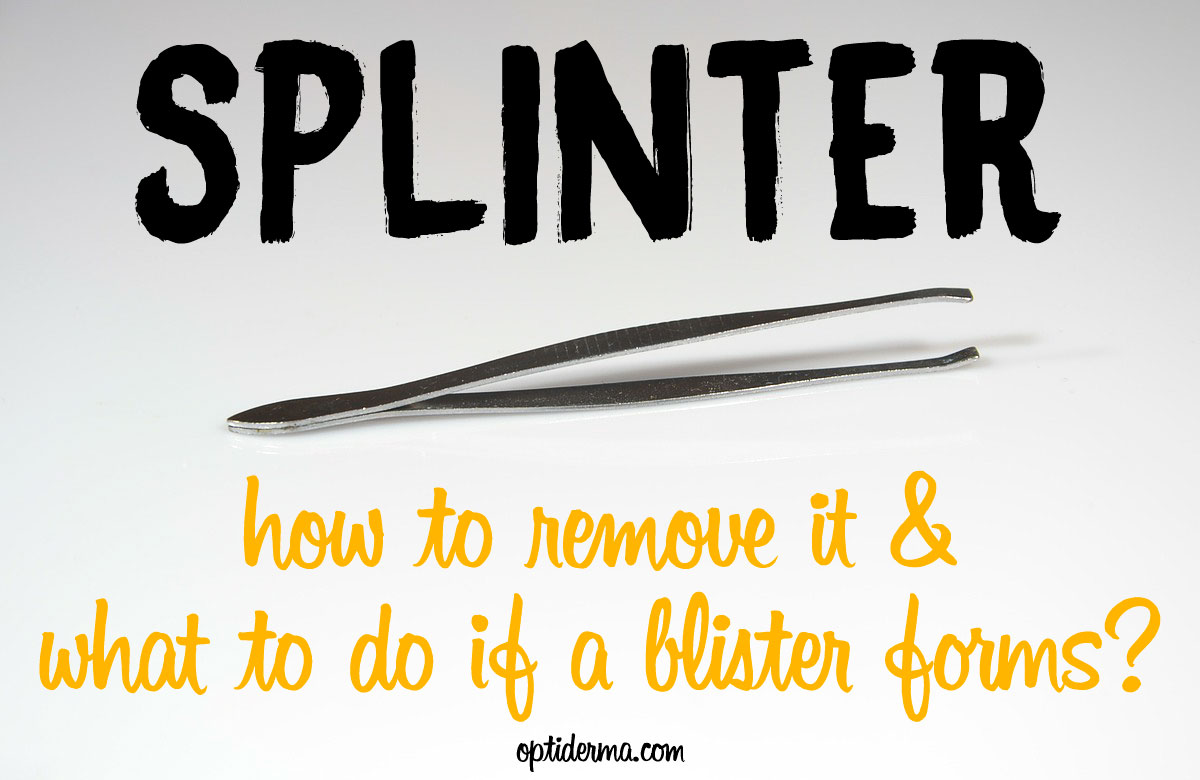 Have you ever had a splinter that stubbornly refused to budge? Perhaps you weren't aware of it until a blister formed. Are you confused by whether to pop a sac or leave it alone? I certainly was before researching these conditions.
I want to save you the effort of dredging up accurate information. So I've written this blog as a thorough guide for handling both splinters and blisters. The next time you're faced with either, you'll know exactly how to remove a splinter, and what to do to promote healing.
What are the types of blisters?
A splinter is a sliver of an object or a foreign body that lodges in your skin. It can be a fragment of:
aluminum
fiberglass
glass
metal
pencil graphite
plant spine
plastic
thorn
wood
What happens if you don't remove a splinter?
If you don't remove a splinter, it can cause complications, such as:
infection from bacteria present on the source
blister formation
damage to organs, muscle, or bone through migration
permanent pigment stains from pencil lead
wounds
tetanus
You now understand why it's important to remove a splinter as soon as possible.
I want to elaborate a bit on the subject of tetanus since it's a serious infection.
The bacteria responsible live in dust and soil and enter the body through skin tears. The toxin produced by tetanus bacteria causes severe muscle cramping, typically in the chest, stomach, neck, and jaw.
For this reason, the lay term for the condition is lockjaw. When the jaw muscles tighten, it becomes difficult to open your mouth and swallow. Bacterial poison can also trigger seizures, impaired breathing, and spasms so strong, they can break your bones!
Symptoms arise within three to 21 days of infection. If left untreated, tetanus can be fatal. Most people in the US are immunized during childhood by receiving a tetanus vaccination.
The initial shot is recommended at ages 2, 4, and 6 months. A second vaccination is administered between 15-18 months, and boosters are advised at ages 5 and 12.
To remain protected as an adult, you need to get a tetanus booster every 10 years (source).
The exception to this guideline is if you acquire a splinter from a dirty source. If it's been more than five years since your last booster or you don't recall the time of your last shot, you should be vaccinated again (source).
How to remove a splinter?
You have several options for sliver removal. Whatever method you choose, you should preface it with washing your hands and the affected area with soap and warm water. Cleaning your skin first reduces the risk of infection.
To anesthetize the area, massage it with an ice cube for five minutes. Then, choose from the following options, based on the depth and size of your splinter.
Here are 6 ways to remove a splinter:
1. use Tweezers
Eyebrow tweezers with straight tips work best. They enable a better grip than pointed tips. Before using tweezers, disinfect them by swiping with a sterile cotton ball soaked in rubbing alcohol.
If the sliver is hard to see, use a magnifying glass to make it more visible. If a flap of skin is covering the splinter, sterilize a needle with rubbing alcohol.
Use the needle tip to break the skin and raise the flap.
Grasp the sliver with your tweezers, and gently pull it out at the same angle of entry. This approach will help you avoid breaking the splinter and leaving part of it embedded.
To see a demo of this technique, watch this video:
2. Use black drawing salve
Black drawing salve is a very effective way of removing a splinter if the fragment is embedded in the skin. Follow the instructions explained in this post.
3. The Use of tape for splinter removal
A superficial or fragile splinter may relinquish its grip with the use of tape.
Take your pick of duct, electrical, or masking tape. Tear off a piece large enough to cover the area, press firmly, and then slowly peel off the tape.
If part of the splinter remains in your skin, repeat the procedure or try another method.
4. Using glue
Apply a thick layer of school glue to the splinter and surrounding skin. Let the patch dry completely for 30-60 minutes. When the glue is no longer wet or tacky, grasp the edge of the piece and slowly pull it out.
Hopefully, you'll see the splinter stuck in the wad of glue.
NOTE: Do not use instant glue to remove a splinter. It can adhere too tightly to your skin and trap the splinter.
5. Removing a splinter with wax strip
For a deep splinter, a wax strip may do the trick. Pharmacies sell hair removal kits with pre-cut cloth or plastic strips. 
Affix a wax strip
to the splinter and then peel it away, as you would glue.
6. How to remove a splinter painlessly? Baking Soda Paste
This method works well on tiny splinters that are hard to see.
Make a paste with one tablespoon of baking soda mixed with one cup of warm water. Apply the paste to the splintered skin and cover it with a bandage. Leave the bandage in place for 24 hours and then remove.
The poultice will cause the skin to swell and push out the splinter. At this point, you may need to remove the sliver with a sterilized needle or tweezers, as described above.
Using baking soda is one of the best methods to remove a splinter with no pain at all!
What to do if there's a wound after removing a splinter?
If a sliver has left a skin wound, here are the steps to take:
If your skin bleeds after removing a splinter, staunch the blood by applying firm pressure to the skin with a clean gauze pad. In the case of a minor wound, the bleeding should stop within a few minutes.
Wash the wound with soap and warm water to remove any remaining bacteria.
If your skin is split, press the edges together with two pieces of sterile gauze.
Until the wound heals, apply an antibacterial ointment, such as PurTect, and a bandage to the area twice daily.
Should you pop a blister that has formed around a splinter?
Now, the answer to the thorny question:
According to WebMD, you shouldn't puncture a blister unless it's painful, large, or will cause further irritation if left alone. The fluid-filled sac is a protective cover produced by your body to keep the underlying skin clean and prevent infection (source).
If a blister warrants draining, here's what to do:
Thoroughly wash your hands and the affected area with warm water and soap.
Sterilize a needle by rinsing it with rubbing alcohol.
Use the needle to make a small hole in the blister, and gently pinch out the fluid with your fingers.
If the fluid is yellow or white, this is a sign of infection, requiring medical attention. Other flags are red streaks extending from the blister and warm skin.
Do not remove the skin over the broken blister since it serves as a protective cover.
Apply antiseptic ointment and a bandage. If a blister is small and tolerable, resist the temptation to pop it. The sac will eventually deflate by itself and peel off.
Meanwhile, there are remedies you can use to speed the healing process.
How to heal blisters caused by splinters?
Choose from the following remedies, based on blister status (deflated, intact, inflamed or slow to heal):
1. Green Tea
To reduce pain and swelling, take advantage of the anti-inflammatory compounds in green tea.
First, steep a tea bag in a mug of hot water, along with a teaspoon of baking soda for antiseptic action. After the mixture cools, soak a gauze pad in the solution, and apply it to the blister for five minutes.
If the bleb is on your foot, steep three tea bags and one teaspoon of baking soda in three cups of hot water. Pour into a basin and allow your tootsies to soak.
Also, drink green tea three times daily. Its vitamins and antioxidants will hasten healing.
2. Apple Cider Vinegar
Although the acid may sting, apple cider vinegar is antibacterial. Dabbing the liquid on your popped blister will protect it from infection.
3. Vitamin E Oil
Think "E" for expedited skin healing and scar prevention. Pop a capsule and squeeze the oil directly on your blister. Alternatively, you can buy a cream containing vitamin E
and massage it over the skin.
4. Castor Oil
To dry out a blister, apply castor oil to the sac with a cotton ball, and cover it with a bandage.
5. Witch Hazel
This natural cleanser is astringent. It will dry out the blister and accelerate healing. Apply with a cotton ball.
6. Aloe Vera Gel
Aloe is soothing to a blister that's red, swollen, and painful. Its anti-inflammatory action is scientifically proven to heal burns and sunburned skin, and is likewise beneficial for blisters.
7. Epsom Salt
Although Epsom salt will sting a popped blister, it's helpful for an intact sac on your foot. It will soothe pain and swelling, ward off infection, and dry out the sac.
Add two tablespoons of Epsom salt to a basin of warm water and stir thoroughly. Soak your feet for 15 minutes. Then dry completely.
8. Tea Tree Oil
Tea tree oil is both astringent and antibacterial. Make a solution of one part tea tree oil
and three parts coconut oil. Apply to the blister with a cotton ball and let it sit for 10 minutes. Then, rinse with cold water.
Do you need medical assistance?
Make an appointment with your doctor or visit a walk-in clinic if a splinter is:
more than ¼ inch deep
under your fingernail
pressing on muscles or nerves
bleeding considerably
causing swelling
draining pus
generating redness, streaks, or warmth
producing a deep wound
near your eye
Also, seek medical assistance if the accompanying wound is dirty, the area is throbbing, or you have a fever. If the source of the splinter was in contact with dust or soil, obtain a tetanus shot.
How to prevent splinters?
Although you're an expert now on splinter removal and the treatment of blisters, let's consider what you can do to avoid them altogether.
Wear shoes when walking on decks, porches, and boardwalks. Note that Crocs, sandals, and flip-flops can still allow splinters to penetrate your skin.
If a glass item hits the floor, wear shoes to protect your feet.
Avoid sliding your hands over railings, fences, and hedges.
Wear gloves when working with plants or using a tool with wooden handles. Also, don gloves to carry lumber or firewood.
If you have a deck, regularly inspect it for deterioration. Sand and stain areas that are cracking, splitting, and thinning.
Hopefully, by following the above suggestions, you'll be spared of snagging a splinter. But just in case one slips through the cracks of your caution, you'll be able to nab it, pronto.
What's your favorite method to remove a splinter? Do you have any tips? If so, please share them below!