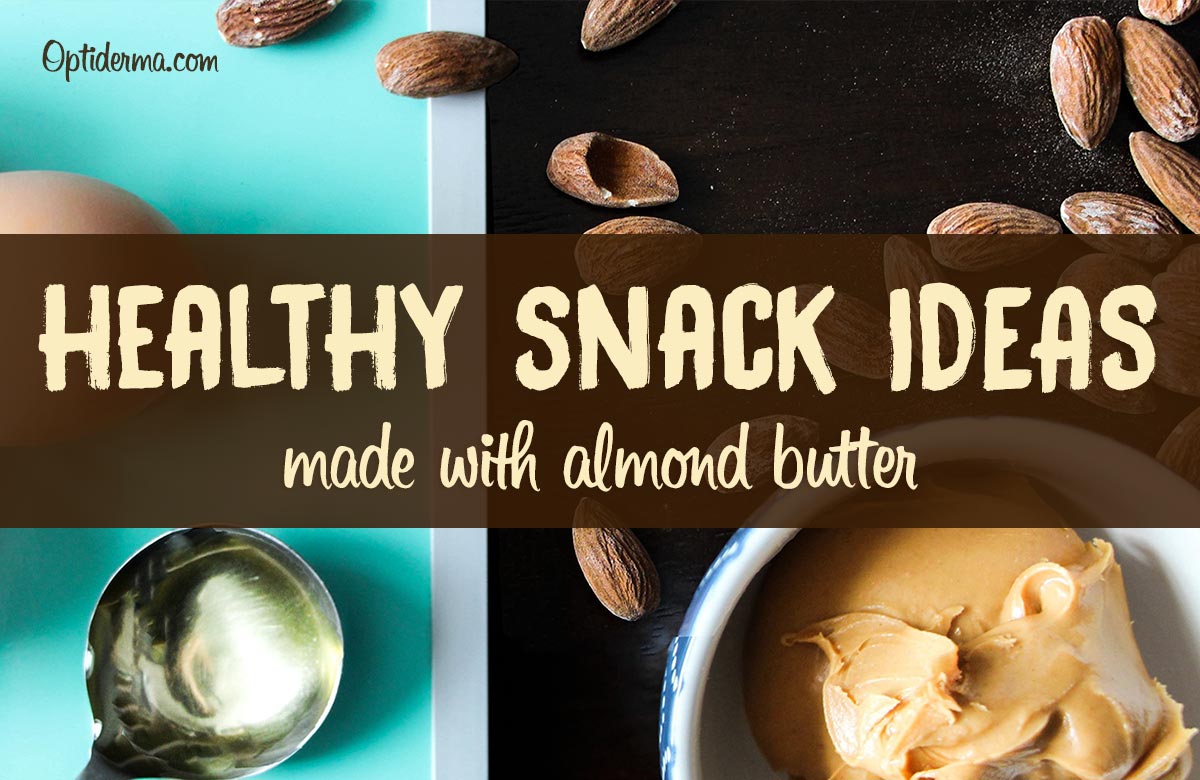 You very much are what you eat when it comes to your overall health. When you want to look and feel better, adjusting your diet is very important. Adding nutrient-rich and tasty foods like almond butter will satisfy your cravings and improve your health. 
In this post you'll find a great selection of almond butter snacks that are delicious and good for you! You'll also learn the benefits of almond butter and in what savory recipes it can be used.
The Benefits of Eating Almonds and Almond Butter
Almonds are full of important nutrients that your body needs for good health. Among other nutrients, these nuts contain magnesium, potassium, calcium, and Vitamin E, all of which are vital for good skin, bone, muscle, and internal organ health.
Because of their high magnesium content, almonds are linked to good heart health and can help lower your risk of heart attack and heart disease. They also help keep your bad cholesterol levels within normal limits. If you have high blood pressure or are at risk of cardiovascular disease, you may benefit by adding almonds to your diet.
Like most tree nuts, almonds are high in fiber. Their fiber content helps satisfy your hunger and makes you feel full without overeating. When you want to lose or maintain a healthy weight, you may try snacking on almonds or eating products made from them like almond butter.
Top Tasty Snack Recipes with Almond Butter
Almond butter is great to use in a number of delicious recipes or to enjoy as a simple snack to satisfy you between meals. It can be used in a wide array of easy and tasty recipes that will be sure to please your family.
Here's a selection of the best snack recipes that use almond butter:
#1 Banana Protein Bars made with Almond Butter
If you want to use it to make a healthy snack for your loved ones, you might try this recipe for banana protein bars. These bars are vegan as well as gluten-free.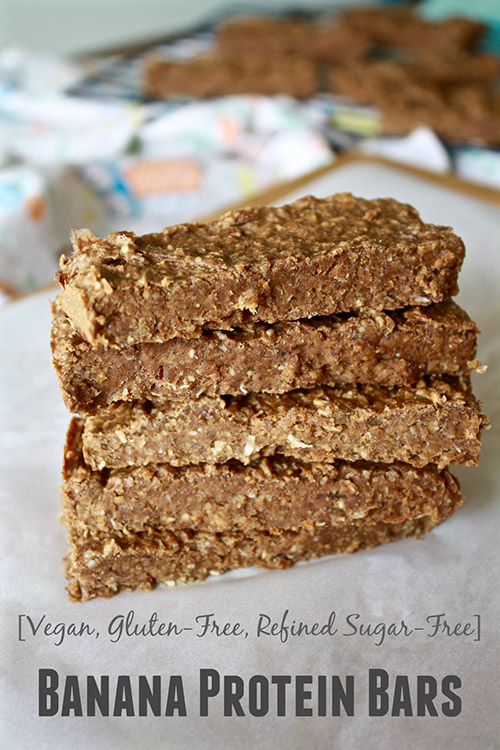 Get the recipe: fitmittenkitchen.com
#2 Hemp Seed Banana Sushi
When you want an almond butter recipe that will give you a dish that you can use as a side entree for dinner, you might try almond butter hemp seed banana sushi. This recipe calls for three simple ingredients: bananas, hemp seeds, and almond butter.
Simply peel the bananas, spread them with almond butter, and roll them in hemp seeds. Freeze the sushi for an hour. Slice and then serve as as side dish at dinner or even as a treat at breakfast or after school.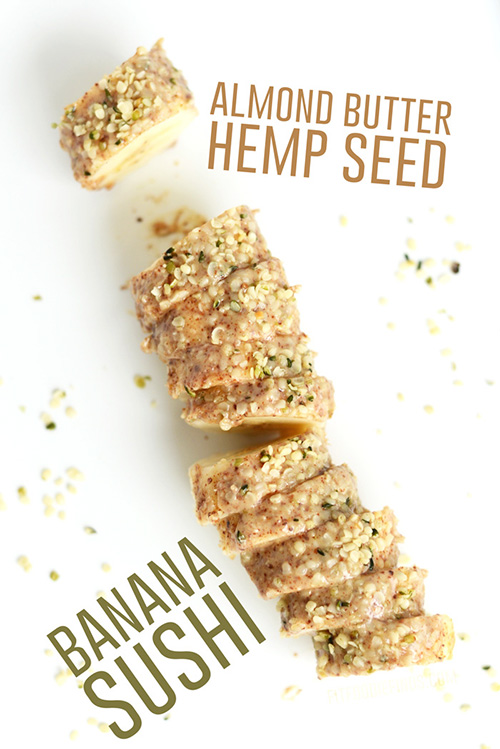 Get the recipe: fitfoodiefinds.com
#3 Tasty Blueberry Almond Butter Smoothie
You can even use almond butter to make tasty smoothies. To make a blueberry almond butter smoothie, you need:
blueberries (either frozen or fresh organic)
almond butter
almond milk
banana
flax seeds
chia seeds
Blend the ingredients together in a blender or smoothie maker to get a beverage that is both a treat and healthy for you.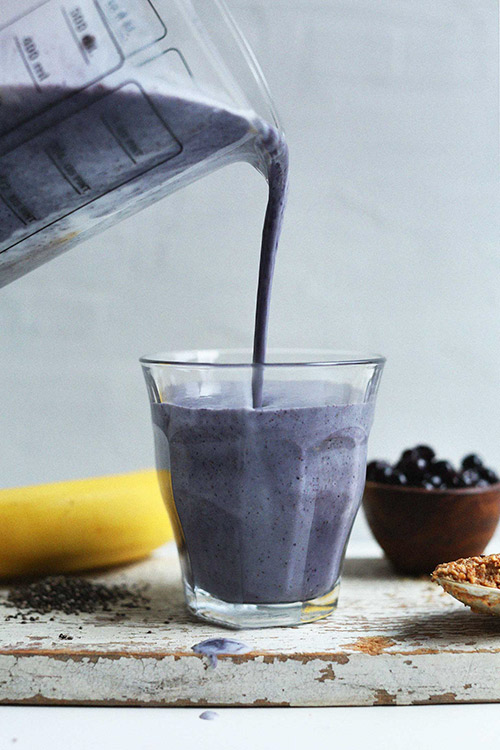 Get the recipe: minimalistbaker.com
#4 Roasted Beet Hummus with Tahini and Almond Butter
Hummus is definitely one of my favorite snacks. Try this delicious recipe and eat hummus with raw vegetables for a healthy snack. Here are other ideas if you don't know what to eat with hummus!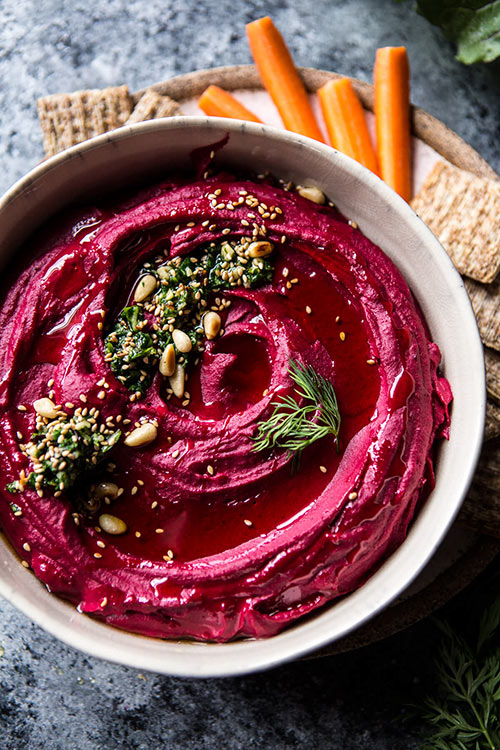 Get the recipe: halfbakedharvest.com
#5 Almond Butter Coconut Bites
Looking for tasty snacks you don't need to bake? These coconut bites are delicious, gluten-free, vegan and very easy to make!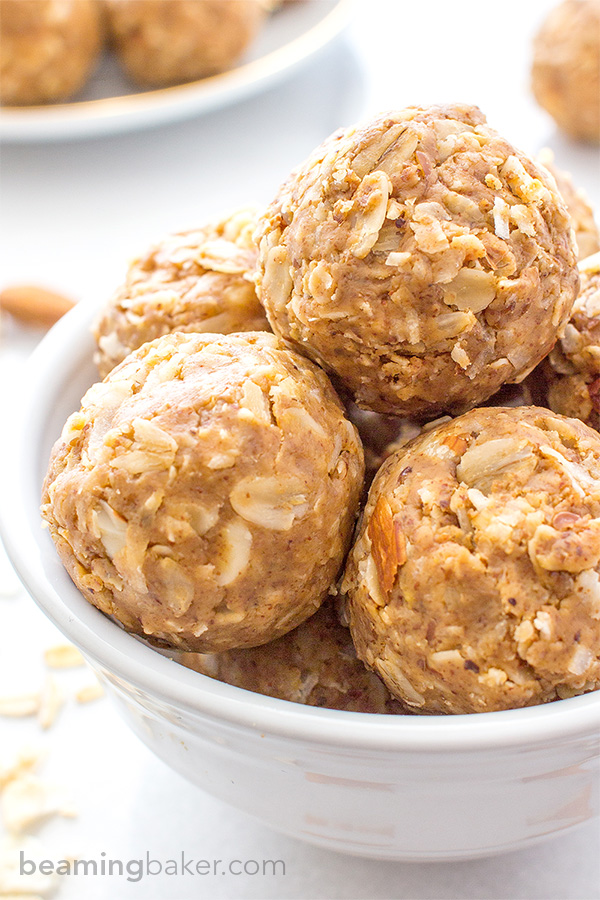 Get the recipe: beamingbaker.com
Summary
Almond butter is a versatile and healthy ingredient that can be used in a wide array of recipes. However, keep in mind that almonds require significant amounts of water to grow. In fact, to grow a single almond, nut growers must use at least 5 liters of water. Enjoy them but eat them with moderation! 
Did you know that you can make your own almond butter at home? Learn how to make it yourself here. Tell us about your experiences with almond butter or what recipes in which you like to use it!