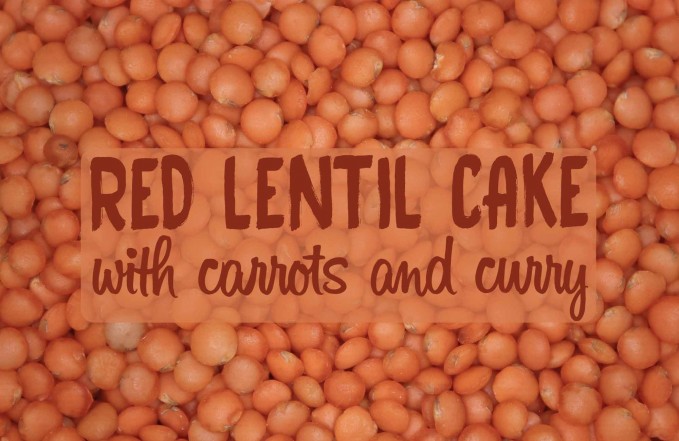 A delicious savoury cake, which is also gluten and dairy-free!  This red lentil cake recipe is easy for anybody to make. Lentils, curry, carrots, onions, nutritional yeast… Only good ingredients! Lentils are a very good source of cholesterol-lowering fiber. Not only do lentils help lower cholesterol, they are of special benefit in managing blood-sugar disorders since their high fiber content prevents blood sugar levels from rising rapidly after a meal. But this is far from all lentils have to offer. Lentils also provide good to excellent amounts of seven important minerals, our B-vitamins, and protein—all with virtually no fat. 
Preparation: 20 min
Cooking: 45 min
Ingredients you need for this red lentil cake recipe
350 g red lentils 
2 large carrots, diced 
1 onion, chopped 
6 eggs 
4 cloves of garlic, minced
2 tablespoons olive oil 
20 g nutritional yeast
40 g brown rice farina hot cereals (not cooked) or 70 g gluten free breadcrumbs
1 teaspoon tapioca or corn starch
30 g hazelnuts 
1 teaspoon turmeric 
1 teaspoon curry

Directions
Cook the lentils in water for 10 minutes (add salt to water only after 5 minutes).
Drain well and set aside. 
Preheat oven to 340°F (170°C).
In a frying pan, stir fry the onion in olive oil until translucent, then add the carrots and garlic. 
Add salt and pepper and stir fry for another 5 minutes. 
In a bowl, whisk the eggs with the nutritional yeast, rice farina and tapioca. 
Add the well-drained lentils, vegetables and spices. 
Adjust the seasoning. 
Pour into a greased loaf pan.
Sprinkle with coarsely chopped hazelnuts and bake for 45 minutes. 
Enjoy warm or cold with salad.