Freckles are irregular pigment changes in the skin. They produce brown spots on the skin and are exacerbated by exposure to the sun. What can you do to help stop the development of freckles? Learn about nutrition, sun protection, and the herbs that help lighten freckles.
Causes of freckles
Overproduction of pigment by the melanocytes
Ultraviolet rays from the sun
Fair-skinned, red-haired people are more prone to freckles.
Nutrition
Diet doesn't have a big influence on freckles. However, protecting the skin from the sun help stop the development of freckles. A diet rich in essential fatty acids and vitamin A, B, and C can be beneficial. To learn about the link between nutrition and sun protection, read the interview: is nutrition important in sun protection?
Herbal remedies for freckles
Are there any herbs that help lighten freckles?
Horseradish juice is said to be helpful in lightening freckles.
Oatmeal can be dabbed on the skin several times a day.
A mix of unripe currants, honey and fresh lemon juice. The acidity in the lemon juice has been shown to lighten freckles.
Papaya juice, cucumber, onion, parsley, sour milk can help to fade freckles as well. See How to get rid of freckles naturally (leonsbeautytipsandsecrets.com)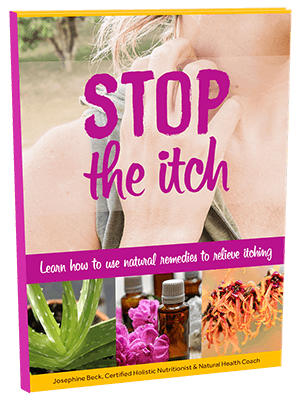 How To Relieve Itchy Skin?
We've put together this
FREE
guidebook for you to learn how to stop the itch with natural remedies.
No email required.
A gift to our readers!
FREE INSTANT DOWNLOAD
Freckles: other advice
Be careful with suntanning. People with freckles are more susceptible to sunburns.
Be sure to keep your skin well-moisturized.