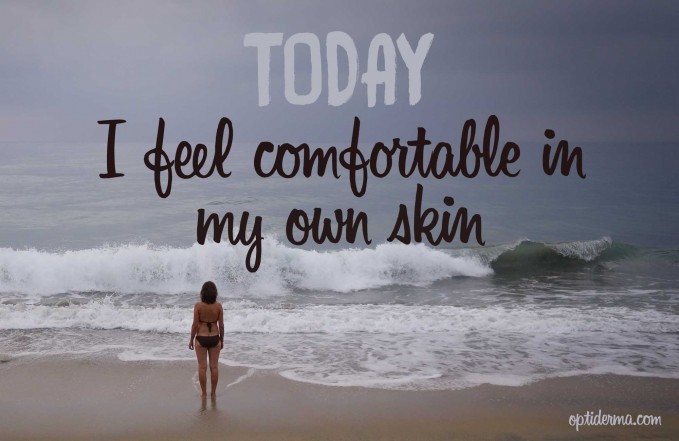 Have you heard of the technique of visualization? Psychologist and author Gay Hendricks, Ph.D., believes that visualization is one of the most powerful tools for change. I decided to create a visualization image for psoriasis in order to help people who suffer from this disease. The goal of this image is to nourish the positive thoughts and weed out the negative ones. Why not give it a try?
What is the technique of visualization?
Visualization is the technique of focusing your imagination on behaviors or events you'd like to have occur in your life. It's suggested to create a detailed schema of what one desires and then visualizing it over and over again, using all of your senses. The practice is based on the idea that your body and mind are connected. By using positive pictures, creative imagery and self-suggestion, visualization can change emotions that subsequently have a physical effect on the body.
Why did I choose this image for psoriasis?
About the photo
This photo of me looking at the ocean was taken a few weeks ago on a beach in Mexico. I've been suffering from psoriasis for more than 10 years. You probably can't see that I have psoriasis on the photo. As a matter of fact, I have psoriasis patches on many parts of my body (scalp, arms, scalp, belly, back…). But when the photo was taken, I really felt comfortable in my own skin – even in a bikini! That day, my skin disease didn't bother me and the photo shows that reality. This is why I decided to use the photo to create a visualization image for psoriasis. It can also work for people suffering from other chronic skin diseases, such as eczema. 
About the message: "Today, I feel comfortable in my own skin"
Our skin is like a wave. One day it can bring inflammation, frustration, and mental suffering. The other day it can bring healing, hope and happiness. It's important to set up mental goals JUST FOR TODAY as everything changes constantly and so quickly.
Accepting our skin the way it is and not being afraid of what people think of it, is a huge step. Whether you suffer from psoriasis or eczema, you know what a challenge this can be. The only thing we can do is to try our best to heal. But while we are trying to heal, it's necessary to see ourselves in a positive way. I believe the first step of the healing process is to accept ourselves – which also means our skin – the way we are.
How to use visualization techniques to heal your mind and your skin?
Have a positive attitude toward yourself
Our skin is definitely trying to teach us something. We should be more gentle with ourselves, listen to our body and have a positive attitude, whatever happens. Believe me, I know it is not easy all the time. But don't underestimate the power of thoughts. Thoughts can be so destructive, but also healing. Be aware that our mind may block the path of healing. It's paramount to think in a positive way, especially when suffering from a skin disease.
Change your pattern of thinking
There are techniques to change the pattern of thinking. Healing visualization is one of them. If you look at a picture that inspires positive things, healing and peace, it's going to change something in your mind. If you repeat it again and again, your mind will begin to change and eventually negative thoughts about yourself will begin to fade away. The goal of these images is to nourish the positive thoughts instead of the negative ones. Do it every day!
What's the best time to do visualization exercises?
Most visualization techniques begin with relaxation followed by summoning up a mental image. I started doing visualization after my daily meditation session when my mind was calm and ready to listen.
There are also visualization CDS or mp3 available, such as Creative Visualization from Dick Sutphen, that can help you with general visualization exercises. There is no perfect way to do visualization, but I hope this image will help some of you, as much as it helps me.
I hope you'll find your own healing path and I wish you all a learning journey.