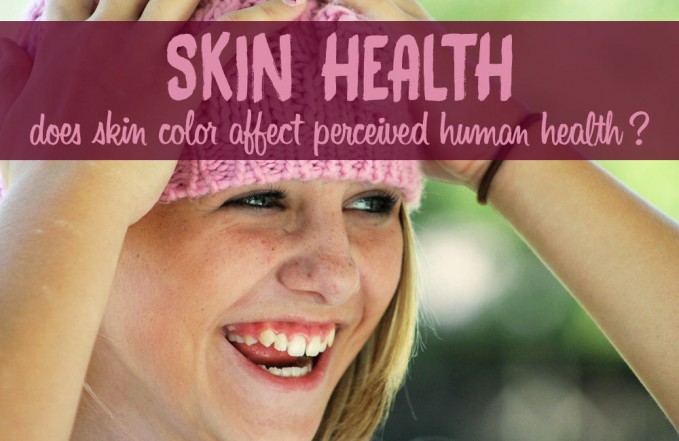 Scientists at the University of St Andrews have shown that there is truth in saying that a "rosy" complexion denotes healthiness, whereas a "pale" or "green" color indicates illness. Blood oxygenation is associated with health and physical fitness, whereas deoxygenated blood is associated with ill health. We already know when ill, you end up looking pale. However, the research goes further.
Why rosy cheeks are a sign of health?
Overall redness in the face affects how healthy and attractive a person looks. The research shows that the face looks best when more oxygenated red is added and worst when more blue is added. These measurements were used with computer graphics to allow research participants to change the color of the faces in the photographs to look as healthy as possible. Find the research here: Skin Blood Perfusion and Oxygenation Colour Affect Perceived Human Health (Plosone.org)
The skin colour actually varies with the amount of blood and oxygen in the blood. According to lead researcher Ian Stephen, "Increased vasodilation and vascularisation of the skin leads to increases in skin blood colour. These processes are enhanced by increased levels of sex hormones in women, and by physical training."
Did you know that other species, such as several monkey species, use redness in their faces or sexual skin to show their health status and to attract mates? You'll be happy to hear that it works about the same for humans… Fit people usually have more blood vessels near the skin's surface, which oxygenate their blood better. So are people who have higher levels of sex hormones! So if you often flush, it is because your blood is easily carried to skin cells. It is a sign you are fit or that you have lots of sex hormones. If you smoke or do not do much exercise, your skin tends to look paler and can lead to less oxygenated blue-tinted skin.
Does pale complexion denote illness?
A very light skin tone is often associated with people of European descent, particularly people of Celtic and Scandinavian descent. Variation in skin color is largely due to genetics and not health. When humans migrated to less sun-intensive regions in the north, light skin color re-emerged because of low vitamin D. But why Inuit have retained their relatively dark skin even though they live in an extremely sun-poor environment? This can be explained by the fact that their traditional fish-based diet provides plenty of vitamin D.
In a few cases, pale skin may reflect nutritional deficiencies. Deficiencies in iron, folic acid, and vitamin B12 can lead to anaemia since these nutrients are needed to make red blood cells. However, pale skin rarely is due to anaemia. In anaemia the lips, gums, and nailbeds are also pale. So don't worry, light skin tone does not usually mean you are unhealthy.
Other surveys actually show that most men find Asian females more attractive if they were pale. Skin whitening has a long history in Asia, where the saying "one white covers up three ugliness" was passed through the generations…
As a conclusion, it seems like quitting smoking and doing more exercise is the way to go if you want to improve how you look to the opposite sex.
"Since your attractiveness relies upon how healthy you look, you might be able to make yourself more attractive by being kind to your heart and lungs in doing more exercise or quitting smoking," concluded Ian Stephen.
Eating a variety of healthy foods and drinking plenty of water is not a bad idea neither. Good nutritional habits help most people improve the appearance of their skin.
References