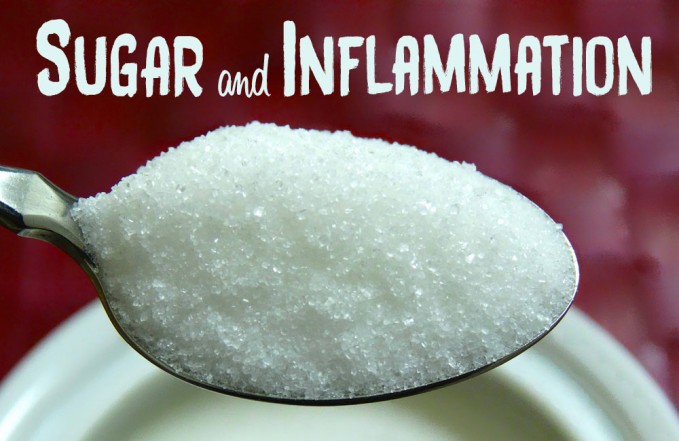 While inflammation is an important part of the body's healing process, chronic inflammation is often at the root of many diseases. Inflammation is beneficial when needed, but it can be disastrous when chronic. Does sugar worsen chronic inflammation? The answer is yes. The diet we eat can play a role in inflammation and sugar has been proven to be pro-inflammatory.
What is sugar? The different types of sugars in a nutshell
It is estimated that more than half of the carbohydrates being consumed by many Americans are in the form of sugars. What are the types of sugar we consume daily?
Glucose is the sugar in blood, and dextrose is the name given to glucose produced from corn (corn sugar)
Fructose is a fruit sugar that occurs naturally in fruits, some root vegetables, cane sugar and honey. 
Table sugar is the same than sucrose and comes from sugar beets or sugar cane. Sucrose also appears in other plants but in insufficient quantities for harvesting. Table sugar contains glucose (50%) and fructose (50%), that are chemically bound together.
High-fructose corn syrup (made from corn starch) is a synthetic sweetener. It is composed of fructose (55% ) and glucose (45%). 
Other types of sugar include: galactose and lactose (found in milk and dairy products), or maltose (found in barley). Molasses isn't technically a sugar; it's a syrup made when sugar is extracted from beets or sugarcane. White sugar contains almost no molasses, but brown or "raw" sugar contains some.
Chemically-different substances may also have a sweet taste, but are not classified as sugars. Some are used as lower-calorie food substitutes for sugar described as artificial sweeteners.
Why does sugar cause inflammation in the body?
The American Journal of Clinical Nutrition reported that processed sugars and other high-glycemic starches increase inflammation, which causes pain, overheating, redness and swelling.
When sugar is ingested, the body processes it as either glucose or fructose.  Fructose is metabolized primarily by the liver. Glucose on the other hand, is metabolized by every cell in your body.  Your cells rely on glucose as their source of energy. Too much sugar and foods that rapidly convert to sugar when eaten cause sudden spikes in blood sugar levels, resulting in the release of too much insulin into the blood stream. This process can play a role in inflammation. 
Over-acidity is also a problem. Most Americans eat an acidic diet caused by too much sugar, as well as too much white flour, dairy, meat and drinks. Many experts consider over-acidity to be one of the major causes of chronic inflammation, with increasing acidity causing increasing amounts of inflammation.
Sugar consumption may be linked to skin inflammation
Sugar can cause your skin to break out because it increases inflammation. Most people don't realize that skin directly correlates to the digestive system.
For example, sugar consumption can affect acne (note that not everyone has sensitivity to sugar that causes breakouts).  When blood sugar and insulin levels rise in the body, it can cause a serious increase in inflammatory chemicals at a cellular level. This promotes inflammatory diseases such as acne to worsen dramatically.
Long-term effects of consuming sugar also include premature aging and scarring. Sugar attaches to proteins in the bloodstream, forming new molecules, called Advanced Glycation End products (or AGEs), that damage both collagen and elastin, contributing to sagging and wrinkles. AGEs increase cellular inflammation.
In addition, sugar feeds candida, which can worsen skin conditions in some cases. Normally present in small amounts along the gastrointestinal tract, in the vagina and on the skin, candida is generally kept in check by the immune system and the other "good" bacteria in the body. But when there is an overgrowth of candida, health problems may arise (vaginal candidiasis, oral thrush, and other yeast problems).
How to avoid harmful sugar in your diet?
Beware of hidden sugars
Even breads can be packed with sugars. Remember that most of the "complex" carbohydrates we consume like bread, bagels and pasta are usually highly refined and act just like sugars in the body and are to be avoided. Here is a list of high sugar foods: drink powders, soft drinks, candies, dried fruits, cookies, spreads, jams, ready to eat cereals, cereal bars, oatmeal packs, sauces, ice cream, milk shakes, canned fruit packed in syrup… Make sure you read the label to avoid foods packed with sugar!
Stevia: healthy anti-inflammatory alternative
A healthier alternative to sugar and high-fructose corn syrup is stevia. Stevia is an all-natural, calorie-free herb used as a sweetener in South America for many years. In low doses, stevia consumption appears to be associated with general anti-inflammatory and anti-oxidative effects. 
Eat more organic low-fructose fruits and vegetables
It is best to promote produce in your diet in order to avoid harmful sugar. The more low-fructose fruits and vegetables you eat, the lower the burden of inflammation. Some of them act as direct anti-inflammatory agents. The best anti-inflammatory vegetables and fruits are cruciferous vegetables (like broccoli, kale, cauliflower, cabbage, brussels sprouts), and berries (especially blueberries). Cranberry, blueberry and strawberry contain some of the lowest counts of fructose. But make sure you buy them organic to avoid pesticides…