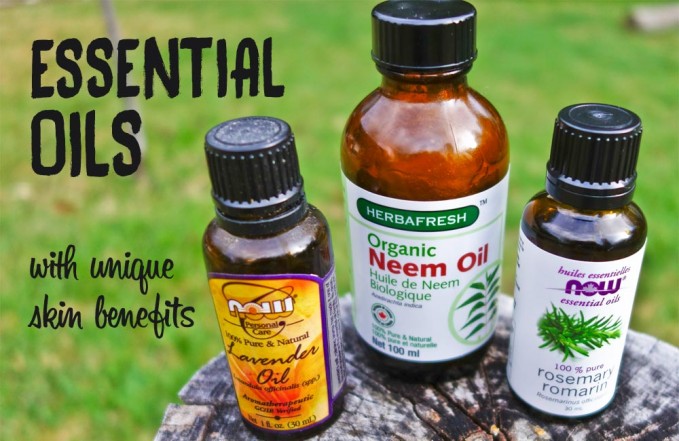 Essential oils provide a fantastic natural alternative to common skin ailments. In general, they contain some excellent antibacterial and anti-inflammatory properties. Here are 5 essential oils that can be used on skin and provide great benefits: rosemary, neem, chamomile, lavender and tea tree oil.
Rosemary Essential Oil
Has powerful anti-inflammatory properties which help calm inflammation and soothe the skin. 
Improves the appearance of chronic skin conditions including dermatitis, eczema and psoriasis.
Has antimicrobial properties which help prevent the build-up of bacteria on the skin.
Contains naturally powerful antioxidants which inhibit the activities of free radicals and slow the effects of aging.
Has skin lightening effects and helps to naturally correct age spots. 
Stimulates biological activity and cell growth to reduce fine lines and wrinkles. 
Tones and firms sagging skin.
Did you know rosemary essential oil can also help with hair loss? Check out this post: 7 Reasons Why You Should Try Rosemary Oil For Hair Growth
Neem Essential Oil
If you have psoriasis and want to give a try to neem oil, you may try this recipe: Neem oil for psoriasis
Tea Tree Essential Oil
Has powerful antibacterial, antifungal and antiviral properties. When applied to the skin, it has the ability to destroy the bacteria involved in the development of acne.
Can be applied to the skin (used topically) for infections such fungal infections of the nail, lice, scabies, athlete's foot, and ringworm. 
Is used topically as a local antiseptic for cuts and abrasions, for burns, insect bites and stings, boils, vaginal infections, and recurrent herpes labialis. 
Tea Tree Essential Oil is commonly used to treat acne. Here is a recipe using tea tree: Antibacterial lotion for acne
Lavender Essential Oil
Is anti-viral and anti-bacterial. It is commonly used as a natural cleanser for skin cuts and abrasions.
Is also effective in preventing hair loss and works to combat excess oil.
May be more effective in combating fungal infections than conventional anti-fungal medication. Research shows that athlete's foot, ringworm and other fungal infections may effectively be treated using lavender essential oil.
A good skincare recipe containing lavender oil to get rid of dandruff: Scalp tonic anti-dandruff
Chamomile Essential Oil
Is a powerful anti-inflammatory. German chamomile may be used in the treatment of acne or any skin that is red and inflamed (like eczema, dermatitis, or psoriasis).  
Calms sensitive skin (especially Roman Chamomile). Roman Chamomile Essential Oil is one of the few essential oils that most agree is especially safe to use, well diluted, with children.
Warnings about essential oils
Most essential oils should never be used undiluted on the skin. Also, some essential oils are not suitable for use on the skin. They may either burn the skin or need to be diluted to such a weak solution that they lose their effectiveness. 
Essential oils can sometimes irritate the skin, especially if you are allergic. You can test for allergies by rubbing the oil into a small patch of skin. If the skin becomes irritated, don't continue to use the oil.
If you are pregnant don't use essential oils. 
Avoid using the oil on young children who may have more sensitive skin. 
Please always consult a doctor or herbalist for proper application of oils.
The Best Essential Oil for Skin Rashes & Conditions: Effective Remedies