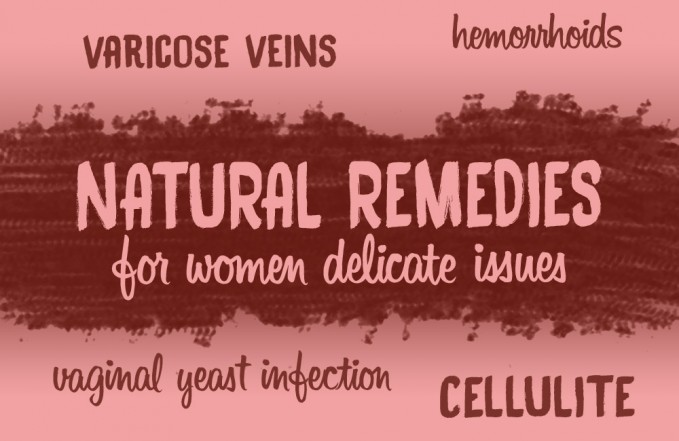 Because women travel through various phases of their reproductive cycles, they also have unique personal care needs. Menstruation, pregnancy, menopause, and all kinds of hormonal changes lead to many skin concerns, such as varicose veins, hemorrhoids, cellulite or yeast infections.
Here are a few natural tips to help ease women through delicate phases of life…
How can I avoid varicose veins, hemorrhoids and cellulite?
Most women have softer connective tissue and a poor lymphathic circulation, causing cellulite, varicose veins, hemorrhoids, and much more. Learning how to improve your circulation can lower your chance of suffering from a number of these painful conditions.
Nutrition tips
A change in your own diet is needed if you want to improve your blood circulation:
What to eat:
Green, leafy vegetables, fruit, whole grains, legumes, fish and poultry in small portions
Foods rich in vitamin C and B to strengthen cell walls and help prevent blood clots
Foods rich in essential fatty acids to keep blood vessels soft
Grapeseed oil to improve blood circulation and strengthen connective tissues
Foods rich in vitamin E to support circulation and tissue elasticity
Lecithin granules to improve blood circulation
Foods rich in fibre to avoid a build-up of toxins
Kelp to stimulate your lymphatic system
Limit your intake of:
Saturated fats or trans-fatty acids
Sugar, cheese, peanuts, tobacco, alcohol, sweet beverages, salt, fried and junk food, icecream
Other natural tips for improving circulation
Drink plenty of water, vegetable or fruit juices (unsweetened and diluted) and fresh herbal juices of horsetail, birch, nettle, parsley, yarrow, or dandelion to stimulate circulation.
Exercise! Lack of physical activity can lead to poor circulation.
Walk barefoot whenever possible.
Massage with a skin brush for 5 minutes before applying any oil or cream to stimulate circulation and promote lymphatic flow.
Put your legs up when possible, several times a day, to improve circulation in the legs.
Don't wear clothes or shoes that are too tight.
Don't stand for long periods as it increases pressure to the veins. Avoid prolonged sitting as well.
Don't cross your legs when sitting as it interferes with circulation.
Put your legs up at the end of the day, at least for one hour if you can, and elevate your feet off the bed four inches.
A rinse in cold water for several seconds helps with circulation.
A herbal cleanse, especially a lymphatic detox, may help stimulate metabolism and promote good circulation.
How can I fight against vaginal yeast infections?
Vaginal yeast infections are common fungal infections that occur when there is overgrowth of the fungus called Candida. Candida is always present in the body in small amounts. However, moisture and irritation seem to encourage yeast to grow.
When the normal acidity of the vagina changes, you are more prone to get a vaginal infection. Menstruation, pregnancy, douche products (chemical-based), diabetes, some antibiotics, birth control pills and steroids, can actually affect the acidity of your vagina.
Nutrition tips
What to eat:
Foods made with live bacteria culture (friendly bacteria) such as cheese, yogurt (plain, no sugar), kefir, tempeh, miso, and sauerkraut
Garlic, olive oil, and other antifungal foods
Foods that stimulate your immune system: foods rich zinc, in vitamin C, vitamin A, and vitamin E
Limit your intake of:
Allergenic foods since they could be the cause of a candida infection, which includes coffee, wheat, dairy (apart from yoghurt if tolerated), and citrus fruit.
All forms of sugar (fruits included), alcohol, and vinegar (except apple cider vinegar)
Skin tips and home remedies for vaginal yeast infections
Don't use chemical-based douches or soaps, since it could irritate even more your vagina.
Natural fatty oils or cocoa butter with no sweeteners can be inserted into the vagina to help with dryness.
Don't wear tight-fitting clothing or clothing made out of synthetic material. Wear cotton instead.
Change damp clothes as soon as possible to avoid humid environment.
Several drops of tea tree essential oil and apple cider vinegar diluted in purified warm water can also help.
Vaginal itching before, during and after period