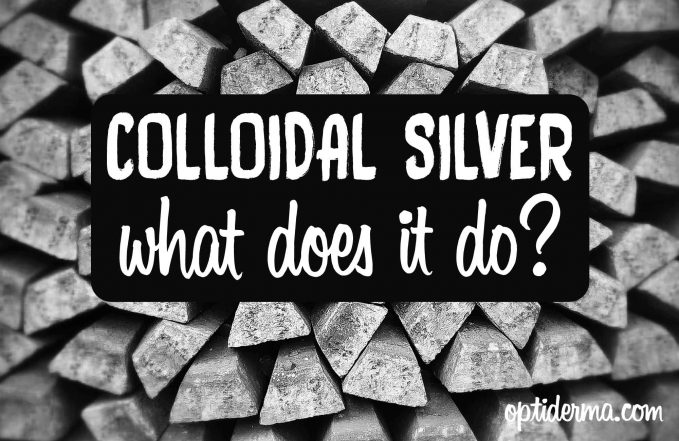 Are you curious about colloidal silver? The substance is touted as effective against viral, fungal, bacterial, and parasitic infection. It's also taken as a dietary supplement.
As a matter of fact, a french Naturopath recommended that I take colloidal silver
 for a couple of months to treat my psoriasis. Colloidal silver is a popular supplement in France and people tend to use it quite a lot as a natural antibiotic. It can be used for a wide range of diseases, including skin conditions such as rosacea, cradle cap, eczema, impetigo and psoriasis. 
However, as with many alternative treatments, colloidal silver garners mixed reviews. My concern is that some people take a website's advice as golden. So I try as much as possible to separate "scientific facts" from "my personal experience". Regarding colloidal silver, it's important to understand what it does, what it can be used for, and what the risks are.
Below are the nuts and bolts of colloidal silver and whether it's safe to use.
What is colloidal silver?
Colloidal silver is a mixture of silver atoms suspended in liquid, usually water. The silver is the same type of metal used in dental fillings, silverware, and jewelry. This fact alone set off warning bells in my brain when I first heard of colloidal silver for treating health issues.
How can this substance be good for health? To answer this question, we need to understand how it works.
What does colloidal silver do and how does it work?
Silver ions disable the enzymes pathogens need for metabolic activity. Within minutes, they suffocate and die. Without the ability to multiply, microbes are unable to develop resistance to silver.
Germs exit the body with the aid of lymphatic, immune, and elimination systems. The silver works selectively, leaving body cells intact. For this reason, proponents consider it safe for human use.
If you want more information on how it works, I recommend you watch this video:
How Is Colloidal Silver Used?
Colloidal silver has been known as a remarkably effective natural antibiotic for centuries.
Today, people buy it as a dietary supplement to treat infections due to yeast, bacteria, parasites and viruses.
Here's a partial laundry list suggested by advocates:
Kill antibiotic-resistant staph infection on skin.
Ingest it to prevent cold, flu, and viral illness.
Consume to eradicate internal cancer.
Administer drops to ears, eyes, and nose to quell infection.
Take as a digestive aid to prevent gas, bloating, and reflux.
Here's the plethora of additional health claims (source).
Are there documented cases of efficacy?
Colloidal silver has been used clinically (source). However, more research is needed.
Here are a few recorded medicinal uses and their results:
Antibacterial Creams – Topical silver to prevent wound infection was disputed by a 2012 analysis reported in Burns. The review showed significantly delayed healing compared to controls. The silver also failed to avert infection.
Dressings – In 2012, Cochrane, a trusted resource for healthcare reviews, compared silver with alginate dressings for diabetic foot ulcers. The silver poultices were no better than standard dressings.
On the other hand, there are studies & cases that show the efficiency of colloidal silver:
MRSA – In a study conducted at the Department of Microbiology/Molecular Biology of Brigham-Young University, and published in the journal Current Science, Vol. 91, No. 7, October 10, 2006, it was found that a number of the antibiotic drugs which formerly killed MDR (multiple drug-resistant) pathogens such as MRSA could actually be restored to full efficacy against the deadly pathogens, but only if a liquid silver solution similar to colloidal silver was used in conjunction with the drug.
Eye Drops – Silver solutions are currently used to prevent conjunctivitis in newborns.
Corn and Wart Treatment – Dermatologists have used silver nitrate to remove these skin growths.
How does the Food and Drug Administration view colloidal silver?
The Food and Drug Administration (FDA) has approved silver sulfadiazine for treating severe burns. The agency has also sanctioned certain silver dressings for antibacterial use.
However:
In 1999, the FDA banned retailers of colloidal silver from claiming any preventive or therapeutic merit. This was followed by warning letters to websites that continued promoting it as an antibiotic or medicinal agent. The Federal Trade Commission, an agency that enforces consumer protection laws, has filed lawsuits against companies making false claims.
In 2009, the FDA released a Consumer Advisory, warning of the harmful effects of colloidal silver.
Nevertheless, silver products are on the market in the US. They can be sold, provided they make no health claims!
Should you be worried about argyria and other side-effects?
The National Institutes of Health (NIH), a US biomedical research agency, cites the risk of developing "argyria," a permanent bluish cast to the skin. (source)
That being said, most cases of argyria occurred prior to 1970 when manufactures made colloidal silver with real silver and the particle size was far too large. The particles would lodge in the skin and when exposed to sunlight, like photo paper, would turn bluish-grey. 
Also, argyria occurs in people who ingest or inhale silver in large quantities over a long period (several months to many years).
Since nearly all modern manufactures of colloidal silver now create colloidal silver with nano-sized particles or silver ions, there is rarely an opportunity to get argyria from any store-bought colloidal silver product.
There are other potential risks associated with the use of colloidal silver:
Neurological impairment & kidney damage – The product reviewer Consumer Reports advises against taking colloidal silver as a supplement, based on a 2010 investigation. In addition to bluish skin, it cites potential side effects of neurological and kidney damage (source).
Interference with anti-rheumatic, antibiotic and thyroid medications – The NIH states that colloidal silver can interfere with the drug thyroxine, used to correct a thyroid deficiency. It can also impair absorption of oral antibiotics. The Mayo Clinic reports that colloidal silver can interfere with the action of penicillamine, an anti-rheumatic medication.
Liver damage – The Mayo Clinic states that silver is not an essential mineral and does not support any body functions. It can cause a blue-gray discoloration of gums, nails, and internal organs. Liver damage is another potential side effect (source).
As you can see, the use of colloidal silver is very controversial – especially in the US. Yes, there are potential risks of using it and I want you to be aware of the problems it may cause. However, it can still be a safe & effective remedy if used properly.
Should you be taking it?
It is true that there are no high-quality studies substantiating silver's health claims and there's evidence of its side effects if not used properly.
However, colloidal silver can be a healthy alternative to antibiotics (source).
Between 1900 and 1940 silver was the primary antibiotic used in medical practice and it actually worked (without turning people's skin blue).
Now we have antibiotic-resistant strains from overuse of these drugs.  And we have to use highly toxic doses of antibiotics to get a result in the bacteria that can still be killed by antibiotics, a problem of antibiotic-related toxicity to the humans consuming them.  
Bacteria do not generally develop resistance to silver (unless they have a very thick wall that does not absorb it). 
Colloidal silver is not a silver bullet against staph infection. But it can be quite effective compared to commonly-used antibiotics.
The antibiotic properties of silver are potent and the risk to human health in terms of toxicity is actually negligible if used properly.
Silver in today's medicine is undergoing a renaissance, with innovative new products that are able to sustain the release of silver ions enabling better surgical and wound-related uses.  Silver nanoparticles are even being incorporated into clothes, like socks and stockings (source).
Even the NASA gave thumbs up to use of colloidal silver as antibiotic in space. NASA says silver is an effective purifying agent, despite what the FDA claims (source).
The Bottom Line
Is colloidal silver safe for consumers as either a topical or supplement?
It certainly depends on the type and the quantity of colloidal silver you use. Choose a high-quality product
 if you decide to use it!
There are several types of silver products on the market. Some are healthy alternatives to antibiotics while others can be dangerous to your health.
Personally, I took it internally for 6 months and I didn't experience any adverse effect. It didn't cure my psoriasis neither, but it did help to rebalance my intestinal flora.
What about you? Have you ever used it? Your response and feedback are most welcome, below!
Since there are health risks involved if you select the wrong formula, I recommend you use colloidal silver only under the guidance and supervision of a qualified alternative health practitioner.