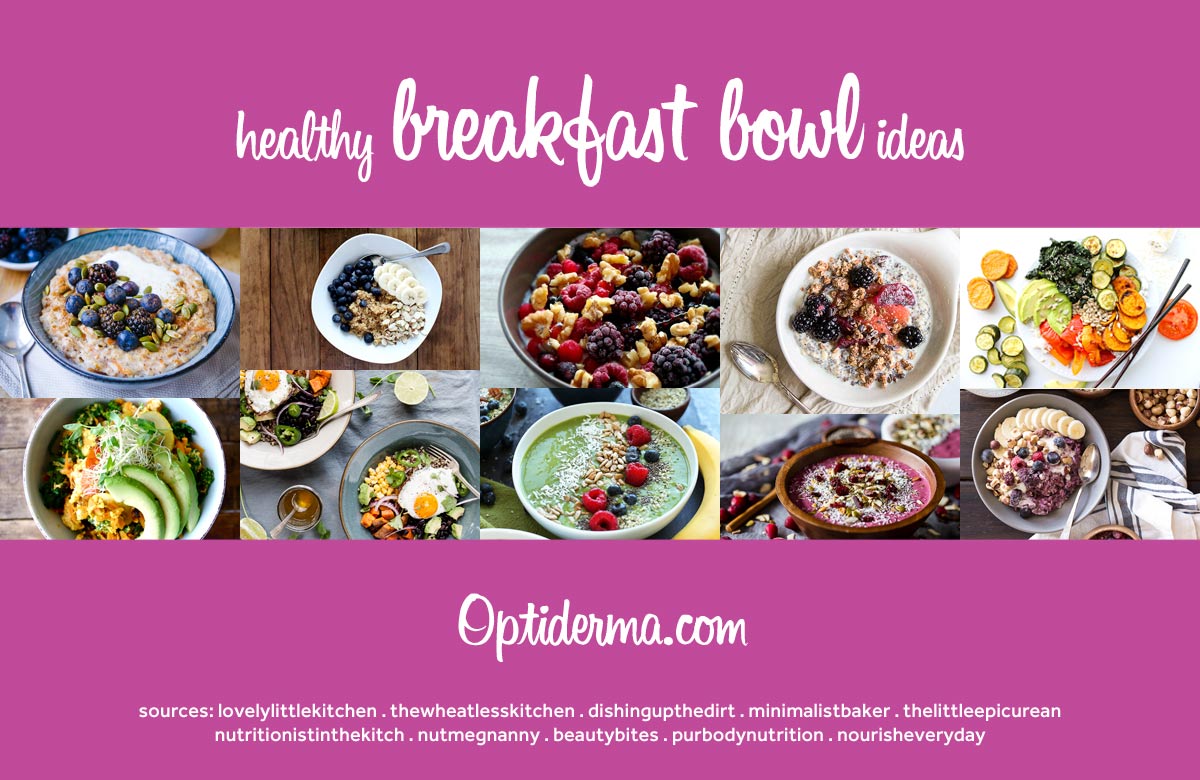 Was your mom a zealous advocate of a healthy breakfast? Has her wise advice fallen by the wayside? Do you find morning meals rather boring?
In this blog, I'll explain to you what a nutritious breakfast is. Some of the merits may surprise you. I'm also thrilled to share satisfying breakfast bowl ideas, using superfoods. You'll be leaping out of bed, eager to get cooking!
Feel Good Benefits
A healthy breakfast will make you chipper. Conversely, sugary and processed foods are draining.
Starting the day without any fuel sets the stage for hypoglycemia, a condition of low blood sugar. By noon, you'll likely feel shaky, irritable, foggy, nervous, and starved!
An ideal breakfast contains protein, complex carbs, healthy fat, and fiber.
Protein and fiber are satisfying. You need complex carbs to produce serotonin. This chemical messenger renders calmness, curbs appetite, and elevates mood. Omega-3 fats improve mental outlook, so you're less prone to pessimism.
A healthy breakfast is high in iron, evaporating brain fog, fatigue, and depression. It also includes sufficient thiamine, preventing a somber mood. Lacking this B vitamin, you'll feel sluggish and downcast (source).
Look Great Rewards
Breakfast jump-starts your metabolism, helping to burn calories throughout your day. Eating first thing launches thermogenesis, the process of using calories to generate heat.
By torching more calories than you ingest, pounds and inches disappear. Therefore, a strong metabolism supports a healthy weight.
Mental Bonuses
A nourishing breakfast aids memory, attention, and learning ability. Two-thirds of your body's glucose needs are required by your brain! (source) When mentally challenged, glucose dwindles and needs replenishing.
Maintaining blood sugar at an optimal level keeps you mentally sharp. Studies involving children and teens show that eating a healthy breakfast improves test scores. Kids also have keener concentration, problem-solving skills, and eye-hand coordination (source). Mom's advice is backed by science!
Health Safeguards
Diabetes
A woman missing just one breakfast a week has a 20 percent greater risk of becoming diabetic. For a full-time working woman, the likelihood jumps to 54 percent (source).
If you don't eat healthfully in the morning, insulin plummets. This hormone ushers glucose into cells where it's metabolized to create energy. Upon eating later in the day, your blood sugar spikes, followed by crashing.
Repeated fluctuations in blood sugar can trigger insulin resistance. Your body stops using the hormone effectively, and cells don't receive vital glucose. Consequently, sugar accumulates in your blood, leading to diabetes. However, if you eat well within 1-2 hours of awakening, glucose stabilizes.
Heart Disease
A 2013 study in Circulation showed the impact of breakfast on the heart. Men who routinely deferred had a 27 percent greater risk of heart attack than those who ate morning meals.
The breakfast-skippers were famished later in the day and consumed more food at night. This habit can lead to hypertension and coronary artery disease (source).
Although the study involved men, the findings also apply to women.
Healthy Breakfast bowl ideas
Now let's explore the foods that deliver the above benefits. I've compiled a varied collection of healthy breakfast bowls. With 10 luscious menus, your meals will never be humdrum!
1. Triple Berry Oatmeal Breakfast Bowl
Cook oats with frozen berries, such as blueberries, raspberries, and blackberries. The pigments in the fruit turn the oatmeal a lovely lavender! Crown your cereal with hazelnuts, yogurt, and sliced banana.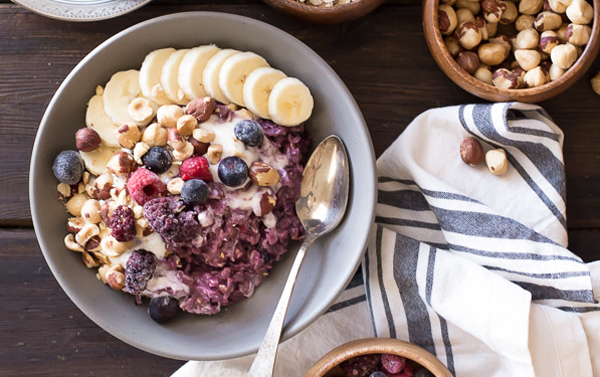 Oats – As a whole grain, oats cut the risk of diabetes and hypertension. Plant compounds called lignans divert heart disease. Oatmeal also tames high cholesterol. A good source of fiber, oats are satiating.
Berries – Eat one cup of mixed berries daily to increase good cholesterol and reduce blood pressure (source). Blueberries keep your memory sharp. Raspberries protect against cancer. Blackberries render strong bones, healthy skin, and disease-free eyes. I'm especially fond of berries since they soothe psoriasis.
Get the recipe: Triple Berry Oatmeal Breakfast Bowl
2. Superfood Quinoa Breakfast Bowl
In this dish, quinoa is sweetened with maple syrup, cinnamon, blueberries, and bananas. Almonds and hemp seeds provide satisfying crunch.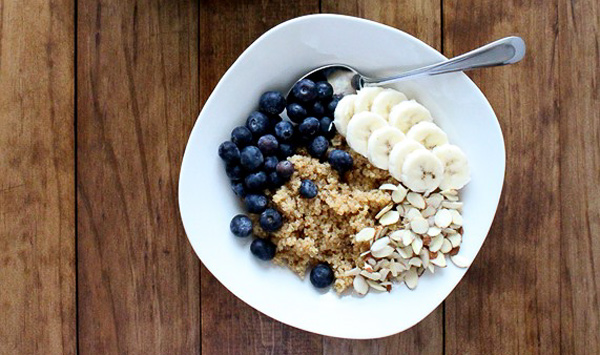 Quinoa – This gluten-free grain is a complete protein. Rich in the amino acid lysine, it stimulates healthy tissue growth.
Almonds – Vitamin E defends against cellular damage and high cholesterol. One ounce of almonds supplies 37 percent of your daily need for vitamin E! Monounsaturated fatty acids lower the risk of heart disease. Antioxidants in almond skin improve circulation. Fiber and protein curb hunger. Also read: Are Almonds Good for You?
Hemp Seeds – With the perfect ratio of omega-6 to omega-3 fatty acids, hemp promotes cardiovascular health and protects against stroke. Plant sterols quell inflammation. The crunchy seeds also contain vitamins A, C, E, potassium, magnesium, calcium, iron, zinc, and phosphorus. Hemp seed oil melts cholesterol and relieves dermatitis.
Get the recipe: Superfood Quinoa Breakfast Bowl
3. Sweet Potato and Black Bean Breakfast Bowl
This hearty breakfast combines sweet potato, black beans, quinoa, corn, and avocado. Tossed with a tasty dressing and topped with eggs, this bowl powers you through the morning.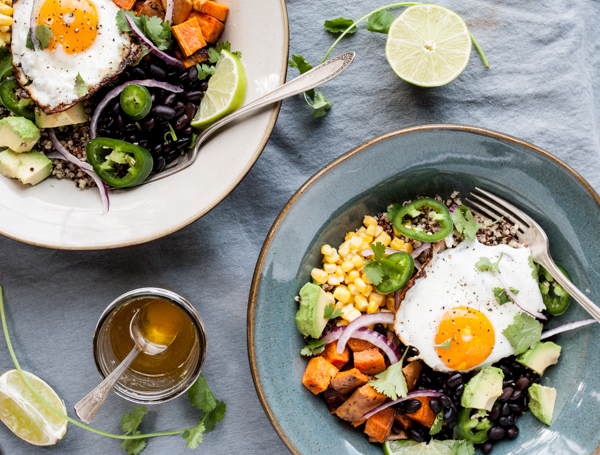 Sweet Potato – The deep orange hue of this tuber is your clue to its beta-carotene. This antioxidant converts to vitamin A, needed for healthy eyes, skin, and a strong immune system. One serving of sweet potato fulfills 65 percent of your daily value (DV) for vitamin C and 29 percent of vitamin B6.
Black Beans – This legume strengthens bones, lowers blood pressure, and regulates glucose metabolism. Vitamin B6 and folate halt the accumulation of homocysteine, an amino acid contributing to heart attack and stroke.
Eggs – The high-quality protein in eggs develops strong muscles. Lutein and zeaxanthin prevent macular degeneration, the leading cause of age-related blindness. Egg white supplies B vitamins and essential minerals. The yolk delivers vitamin D.
Get the recipe: http://dishingupthedirt.com/recipes/breakfast/sweet-potato-black-bean-breakfast-bowls/
4. Super Green Smoothie Bowl
This nutritionally dense smoothie blends avocado, banana, berries, greens, flaxseed, and nut butter. Add texture with sprinkles of sunflower seeds, hemp seeds, and granola.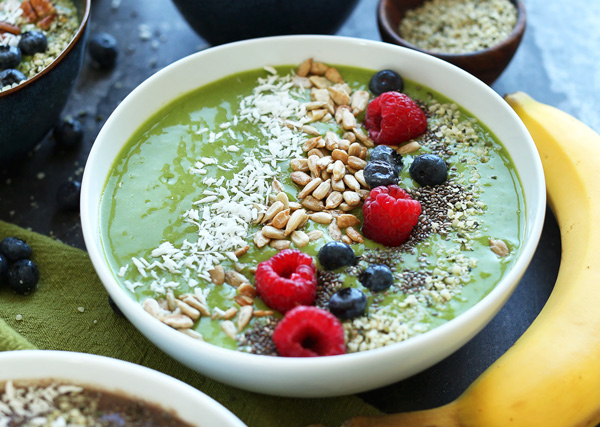 Avocado – This fruit yields a bounty of vitamins, minerals, and monounsaturated fats, benefiting your eyes and bones. It's also rich in potassium, a mineral that lowers blood pressure. Oleic acid and plant sterols slash triglycerides and cholesterol. High levels of these blood fats narrow arteries, raising the risk of heart attack, stroke, and peripheral artery disease. Also read this post about the benefits of avocados.
Bananas – Packed with vitamin B6, bananas protect against diabetes and anxiety. Like avocado, they're high in potassium. Tryptophan confers happiness by converting to serotonin. Magnesium relaxes muscles.
Greens – Spinach and kale serve up vitamin K, essential for blood clotting. Vitamin K also activates proteins needed by bones, lungs, and your heart. Copper kick-starts energy. Vitamin A promotes a clear complexion and eyesight.
Get the recipe: Super Green Smoothie Breakfast Bowl
5. Chia Oatmeal Breakfast Bowl
This recipe marries oats, soy milk, maple syrup, and chia seeds. Let the ingredients soak for one hour or overnight in the fridge, and you'll birth a delectable pudding. Then christen with your choice of toppings, such as berries, nuts, and granola.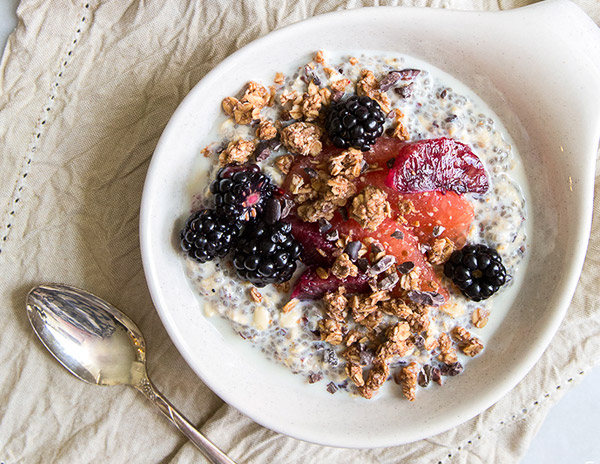 Soy Milk – This delicious dairy substitute results from grinding, soaking, and boiling soybeans with water. Buy it non-GMO, and you have a healthy source of complete protein, vitamins, minerals, and essential fatty acids. Soy lowers triglycerides and cholesterol. Phytoestrogen prevents prostate cancer in men and postmenopausal syndrome in women. This naturally occurring estrogen accelerates calcium absorption, shielding against bone breakdown. Also read: Almond Milk vs Soy Milk: Pros and Cons
Chia Seeds – Chia offers a payload of vital minerals, including magnesium, calcium, iron, and zinc. Omega-3s boost good cholesterol. Fiber keeps you full. One ounce of seeds contains 5 grams of protein, impressive for such a small portion!
Get the recipe: Chia Oatmeal Breakfast Bowl
6. Zen Quinoa Bowl
Veggies complement this quinoa-based dish, including carrots, mushrooms, broccolini, tomatoes, and kale. Spices provide yin, and lime offers yang. Whisk the ingredients in a wok, and top with egg whites or crumbled tofu.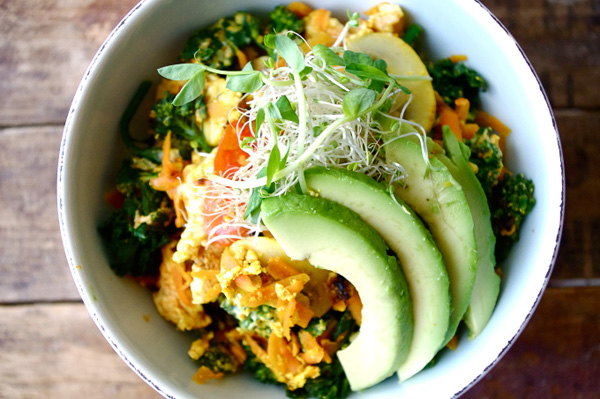 Curry – A common ingredient in East Indian cuisine, curry is most notable for resolving inflammation and enhancing digestion.
Garlic Powder – This vegetable bulb strengthens immunity and wards off cancer. Its blood-thinning effect hinders the clot formation responsible for heart attack and stroke.
Onion Powder – Garlic's cousin mimics salt in taste, without the hazards of high sodium. A 1-tablespoon serving of powder equals 1/2 cup of chopped raw onion. You receive a potent form of the veggie's fiber, calcium, manganese, and vitamin C.
Paprika – This medicinal spice is antibacterial, anti-inflammatory, and antioxidant. By stimulating saliva and stomach acids, it improves digestion. Prompting circulation, paprika lowers blood pressure.
Get the recipe: Quinoa Breakfast Bowl
7. Cranberry Smoothie Bowl
In addition to cranberries, this dish features mixed berries, bananas, and almond milk. Optional toppings are chia seeds, almonds, and pumpkin seeds. Blending the berries turns the liquid bright pink, a colorful start to your day!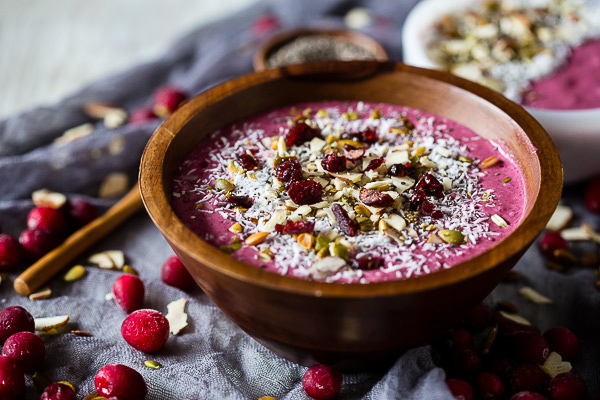 Cranberries – These sweet, ruby fruits are anti-inflammatory. Antioxidants thwart urinary tract infections by keeping bacteria from adhering to bladder walls. By eliminating microbes on your teeth, cranberries ban gum inflammation. Polyphenols spare blood vessels of plaque accumulation, preventing hypertension.
Pumpkin Seeds – Tryptophan triumphs over depression, and phytosterols reduce cholesterol. Rich in zinc, the seeds aid in healing and averting bone loss. They're also a good source of iron, copper, magnesium, and vitamins E, K, and B complex. Like chia, pumpkin seeds contain 5 grams of protein per ounce.
Get the recipe: Cranberry Smoothie Bowl
8. Yogurt, Berries, and Nuts
This recipe for radiant skin consists of yogurt, berries, and walnuts, with a hint of honey and peanut butter.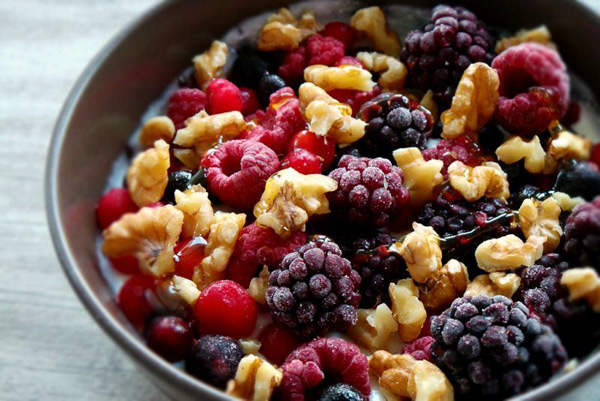 Yogurt – This cultured dairy product blesses your digestive system with benevolent bacteria called probiotics. These microbes strengthen immunity by killing off harmful pathogens. Additionally, yogurt supplies protein and calcium.
Walnuts – This satisfying nut hinders weight gain with its rich flavor, protein, and omega-3s. Biotin strengthens hair while antioxidants ward off wrinkles. With the highest levels of antioxidants among plant foods, walnuts combat cholesterol and heart disease. Eating one serving twice weekly makes women 24 percent less likely to incur diabetes (source).
Get the recipe: Yogurt Berry Nuts Breakfast Bowl
9. Beach Buddha Bowl
Veggies kiss a bed of basmati, along with a smooch of sunflower seeds. A "beach sauce" bathes the ingredients in savory flavor. The eye-popping rainbow of colors will have you grinning from ear-to-ear!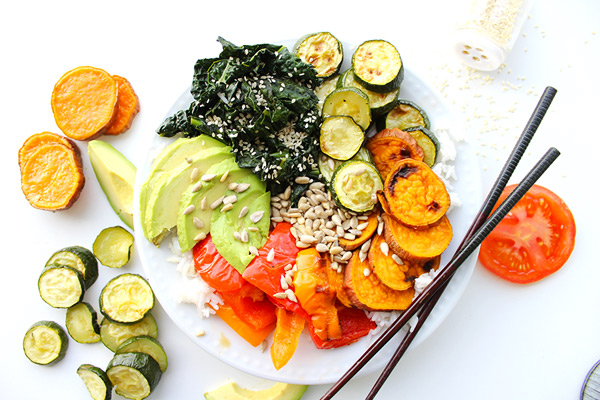 Brown Basmati Rice – This whole grain is a complete protein, with twice the fiber of white rice. One cup of basmati supplies 88 percent of the DV for manganese. You need this mineral for neural function and metabolizing protein and carbs. Basmati is also high in magnesium, required for insulin secretion. B vitamins foster alertness and a stable mood.
Sunflower Seeds – Vitamin E and folate in these earthy treats protect against heart disease. A ¼-cup serving delivers 76 percent of the DV for vitamin E, 70 percent of copper, and 43 percent of thiamine. Sunflower seeds also provide selenium, important for thyroid function. Monounsaturated and polyunsaturated fats in the seeds control cholesterol. You also receive 6 grams of protein per serving.
Get the recipe: Buddha Bowl
10. Healthy Carrot Cake Oat Porridge
This easy stove-top recipe features oats, grated carrot, flaxseed, and sweet spices for a dessert-like breakfast. Punch up the protein with an egg or protein powder. Compatible toppings include blueberries and yogurt.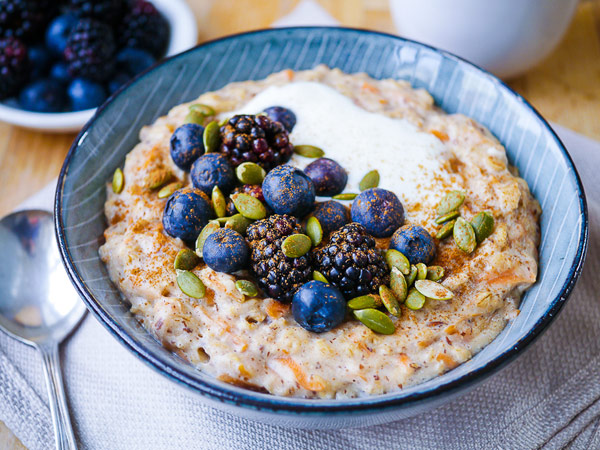 Flaxseed – This tiny seed calms digestive inflammation and encourages regularity. The oil lowers blood pressure and cholesterol. It also prevents depression. Among plant-based sources, flaxseeds are highest in ALA, a type of omega-3 fatty acid. ALA improves eczema and rosacea by internally hydrating skin. It also imparts strength to hair and nails. To reap the benefits of flaxseed, eat them ground since they're not digestible whole.
Get the recipe: Carrot Cake Oat Porridge
Summary
Are you psyched to begin your days with a healthy breakfast? Each meal should provide protein, complex carbs, healthy fat, and fiber. The breakfast bowls above are ideal.
Refer to breakfast bowl recipes to gauge measurements and quantities. Then swap in the superfoods you prefer.
By following the above meal guidelines, you'll feel alert and upbeat. They'll help you maintain a normal weight and avoid diabetes and heart disease. You'll start your day with pep in your step. A healthy breakfast empowers you to be your best self!
Do you have a favorite breakfast bowl recipe? Please share it with your Optiderma family!