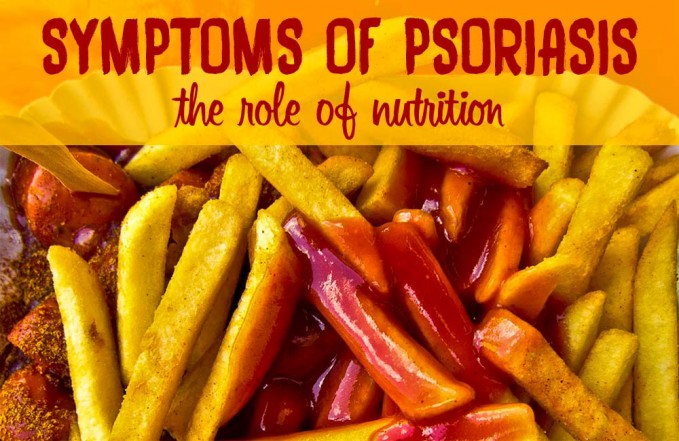 There is little scientific research on psoriasis and diet. However it is believed there is an effect of particular diets and foods on psoriasis. Does diet have any effect on psoriasis? What are the foods that seem to cause the most inflammation? Read this interview with Erin Palinski, RD, LDN, CDN, CPT.
According to your own experience, what role does nutrition play in the treatment of psoriasis?
Psoriasis is an inflammatory disease. Since there are many aspects of nutrition that can affect inflammation, I find it plays a very instrumental role. By following a healthy diet, maintaining a healthy weight, avoiding inflammatory foods, and incorporating foods that promote healing/ decrease in inflammation, it may help to reduce and improve the symptoms of psoriasis.
Which organ is more often involved in this dysfunction?
The skin itself is an organ. So, if we are taking things into our body which irritate the skin, it may promote inflammation and bring on a flair up of psoriasis. In the same sense, someone suffering from psoriasis may see some relief when taking in nutrients that promote healing to the skin.
What about organs such as the liver? It is often said that psoriasis is also a hepatic disease…
You are correct. A change in function or structure of the liver can cause metabolic and hormonal changes and lead to immune disorders, such as psoriasis. For people with psoriasis, the impaired functions of certain parts of the liver prevent the elimination of dead skin cells. The immune system then tries to eliminate these dead cells, causing the characteristics of psoriasis.
We hear everything about a proper diet to heal psoriasis. Some practitioners advise an anti-candida diet; others suggest an alkaline diet, a gluten free diet, a liver cleanse and so on. How to know which diet to start with?
Every individual is different. What helps some individuals may actually aggravate the symptoms in others. It is alright to try different approaches as long as the individual is being medically supervised to prevent the risk of any nutrient deficiencies.
There has been some research to support avoiding high acidic foods is helpful. However, some individuals do not experience a benefit from this approach.
Some individuals with psoriasis have been shown to have marginally higher incidence of anti-gliadin antibodies than others. There has been a possible benefit shown by following a gluten free diet with individuals with these antibodies. However, if you do not have these antibodies, following a gluten free diet has not be shown to improve symptoms and may lead to deficiencies with having to follow such a strict and restrict diet. I would recommend having an individual be tested for these antibodies first before implementing this diet.
The problem with psoriasis is that it may go into remission at times regardless of dietary changes or treatment strategies, so it can be hard to determine what dietary approach is best for an individual. I would recommend regardless of what approach an individual would like to start with, is that they are followed closely by a physician or dietitian to make sure they still consuming a healthful diet. They should also be keeping very detailed records of their food intake as well as symptoms to help determine what is helpful and what isn't.
What about your own experience with patients? What kind of diet do you usually have the best results with?
With the patients I see. I usually start out by assessing their current dietary intake. I focus on including anti-inflammatory foods and cutting out inflammatory foods. If appropriate, I may also recommend a supplement such as omega-3 fatty acids to help decrease inflammation. I usually find this approach provides the patients with some relief of their symptoms.
If no benefit is seen, I would then recommend conducting testing for possible gluten sensitivity/intolerance. If this test is positive, introducing a gluten-free diet would be the next step. If testing is negative, we may try implementing an elimination diet, where the most common food triggers are eliminated for two weeks and slowly added back one at a time while we monitor for symptoms/reactions. Any foods that cause negative skin reactions would then be eliminated from the diet.
Could a big change in your diet have a negative impact?
Sure. You have to be careful how much you change at once since a "shock" to your system can also bring about negative effects, such as an initial aggravation in symptoms before an improvement is seen. That is why I always recommend making gradual changes over a period of a few weeks. I find it is also easier for patients to stick with these changes rather than making too many dietary changes at once, which can feel overwhelming.
The other possibility, especially when eliminating certain foods, is that a nutrient deficiency could occur. This is why I feel it is very important for anyone looking to make changes to their dietary patterns to work with a Registered Dietitian or a physician specialized in nutrition to prevent deficiencies from occurring.
Is weight management important to help heal psoriasis?
Yes. Research has suggested that gaining weight above an ideal body weight may worsen symptoms of psoriasis, whereas losing weight may actually help improve symptoms. There has also been some new research suggesting that metabolic syndrome (which one of the main causes of this is obesity) may also worsen symptoms. So, I would definitely recommend that is someone is overweight, they work to decrease their weight gradually to an ideal body weight for their height and age to help decrease their symptoms.
Let's talk about myths concerning psoriasis and foods. From your own experience with patients, what are the top foods that are the most healing vs the foods that trigger inflammation?
From my experience, the foods that seem to cause the most inflammation and aggravate symptoms appear to be:
Caffeine
Alcohol
Sugar
White flour
Refined carbs
Soda
Red wine
MSG
Saturated and trans fats
Artificial sweeteners
The foods that seem to help decrease inflammation and promote healing are:
Omega-3 fatty acids
Monounsaturated fats (olive oil, nuts)
Lean proteins such as fish (grass-fed animal proteins also contain a higher amount of omega-3 and tend to promote healing)
Whole grains
Fruits and vegetables, especially those high in quercetin, which is found in apple and red onion skins and has strong anti-inflammatory properties.
Adequate water intake may also help decrease inflammation and promote healing.
Cruciferous vegetables like broccoli, cauliflower, Brussels sprouts, and kale, contain sulfur which the body needs to make its own antioxidants like glutathione which may also promote healing.
Turmeric, ginger, and garlic may also help decrease inflammation.
Foods to eat and avoid if you have psoriasis
In the popular "Pagano diet", Dr. Pagano suggests to stay away from tomatoes, eggplant, white potatoes, peppers, and paprika, because there are "nightshades", undesirable substances that should be avoided. What do you think of it?
I have heard of this and do agree. We do recommend consuming at least five servings of fruits and vegetables per day. However, these nightshade foods may increase inflammation in some individuals. These nightshade plants contain a chemical alkaloid called solanine. Solanine has been found to trigger pain in some people. There isn't any concrete research supporting these claims about nightshade plants, however some people believe they get relief from the symptoms of pain and inflammation if they avoid these foods. As long as an individual can meet their nutrient needs and take in at least five servings of fruits/vegetables per day without these foods, I see no harm in avoiding nightshade foods to see if this may help symptoms improve.
What about animal products such as meat and dairy?
Foods with a high saturated fat content may be inflammatory and increase symptoms. I would recommend choosing only fat free or low fat sources of dairy. I would not avoid dairy since this is a great source of vitamin D, which has been shown recently to possible help prevent and improve immune disorders. As for meat, try to choose the leanest possible cuts. Also, try to select grass-fed beef over grain fed, since this beef has a higher content of omega-3 fatty acids. I would recommend trying to consume mostly lean proteins, such as fish, white meat chicken and poultry, plant based proteins such as beans and soy, low fat dairy, and grass-fed lean cuts of beef.
So chocolate, coffee and tea are to be avoided as much as possible, which can be very difficult for many people. What about dark chocolate containing less sugar? Would decaf coffee and yerba mate be good alternatives?
Caffeine tends to be irritating to many individuals, so I would recommend choosing decaf options whenever possible. Decaffeinated green tea is a terrific option since it has a high content of antioxidants and may help decrease inflammation. Yerba mate would also be a good alternative. I would not tell someone who loves coffee to avoid it completely, unless they saw a definite correlation of drinking coffee leading to an inflammation of symptoms. Instead, I would recommend decaf if possible or limiting to no more than 1-2 cups of caffeinated beverages per day. Dark chocolate would be a much better alternative than milk chocolate, since it contains a high amount of antioxidants. I would recommend it in moderation with up to one ounce per day. Just like with coffee, monitor for symptoms/reactions. If any food or substance seems to bring about symptoms on a regular basis, then I would recommend limiting this food.
What about vinegar like apple cider vinegar?
Apple cider vinegar is an acidic food. So, if someone finds they are sensitive to acidic foods and their symptoms are aggravated, then I would not recommend this. However, some people have also stated that taking this they felt their symptoms improved, so it is very individualized. Taking anything in a supplement form should always first be discussed with an individual's physician or dietitian. Upon medical supervision, it may be acceptable to try out apple cider vinegar and monitor for changes in symptoms. If some relief is felt, this may be something to keep in the diet. If symptoms worsen, I would recommend avoiding this.
Why is red wine worst than other kinds of alcohol in most cases of psoriasis? It is supposed to be a healthy drink …
Red wine is a very healthy alcoholic beverage and in many cases, such as heart health, has been shown to be beneficial. There is not a large amount of research on red wine and psoriasis, however some people report a worsening of symptoms after drinking red wine. In general, I would promote drinking up to a glass of red wine per day for women and up to two glasses per day for men (as long as medically appropriate) for heart health, however if someone finds drinking wine makes their psoriasis worse, I would recommend they avoid this beverage and focus on other ways to improve heart health, such as with regular exercise and incorporating omega-3 fatty acids into their diet.
Can you eliminate sensitivities to these foods after a while?
That is a very individual thing, so it is hard to give a yes or no answer. I find with some individuals, a build up of a certain food or substance in their system may be leading to a worsening of symptoms. For instance, say someone has a slight sensitivity to MSG or nitrates and they are eating foods containing these substances every day. After cutting out these substances from their diet completely for a few weeks or months, they may be able to have a small amount on occasion and tolerate them just fine. For others, having even a small amount of a food or substance they are sensitive to, even after avoiding it for a long period of time, still brings on symptoms. This is why record keeping is so important for every individual. This is one of the best ways to determine how much, if any, of a food or additive they can tolerate.
Do you usually advise to supplement a specific diet with nutrients for better results?
This again is individual, but with a person who suffers from psoriasis, I almost always recommend an omega-3 fatty acid supplement (if medically appropriate- supplements can interact with other supplements or medications, so it is important to examine an individual's medications and supplements before introducing any supplement). Also, a multivitamin is usually a great way to ensure you are taking in all of the nutrients you need each day. For some individuals, a zinc supplement may also be beneficial. There has been some research to support that zinc may help decrease symptoms and promote healing.
Are there any medical research/books on psoriasis and nutrition you advise people to read?
There are a few research articles that are relatively recent that may be helpful for individuals looking into alternative treatments. These three articles address metabolic syndrome/weight management and psoriasis, gluten free diets and psoriasis, and conventional and alternative treatments:
Does metabolic syndrome influence psoriasis?  Eur Rev Med Pharmacol Sci. 2008 Sep-Oct;12(5):339-41
Serologic markers of celiac disease in psoriatic patients. J Eur Acad Dermatol Venereol. 2008 Sep;22(9):1055-61. Epub 2008 Apr 1
Psoriasis–pathophysiology, conventional, and alternative approaches to treatment. Altern Med Rev. 2007 Dec;12(4):319-30
Would you state psoriasis can be curable with proper nutrition?
I would not say it can be cured with nutrition, since research seems to indicate that this may not be possible. I would, however, say that in some individuals, symptoms may be treated and improved greatly with changes to their diets as well as possibly including dietary supplements. In addition, a healthy diet can prevent future diseases and disorders from occurring, so it is a good idea for all of us to practice eating a well balanced diet.