What Works Best for Psoriasis? Learn about The Best Natural Remedies for Psoriasis
Do you have psoriasis? Well, you are not alone. I've had psoriasis for over 12 years now. I've learned how to manage it successfully with natural treatments. What works the best for psoriasis? Here are my tips to treat psoriasis naturally:
Learn how to deal with stress and emotions
There is a direct connection between flare-ups and stress (source). In my case, psoriasis arrived when I was stressed out, tired, sick and emotionally unstable.
Calm mental states definitely help healing and dealing with psoriasis. I practice vipassana meditation and yoga daily, and it helps me so much.
When psoriasis takes over my thinking, it's like I'm riding an emotional roller coaster. It's exhausting and negative thoughts make things worse. I know this stress increases inflammation in my body and worsens psoriasis. With meditation, I become less reactive and I deal with my emotions in a much better way.
It's also proven that positive thoughts boost immunity. Have you heard of creative visualization? This technique brings great results. It slowly heals your mind.
In addition, regular exercise helps diffuse mental and emotional pressure. But don't overexercise. Excessive sweeting and exhaustion can increase inflammation. Moderation and balance is key with psoriasis. Be gentle with yourself. Sleep well to regain the energy spent throughout the day. I noticed I get more flare-ups when I'm tired.
If you can exercise outdoors, it's even better. Sunlight and vitamin D can help heal your skin (source). However, excessive sun exposure is not recommended – 30 minutes per day of natural sunlight is more than adequate.
How Does Stress Affect your Skin?
Moisturize and take good care of your skin
It's important to moisturize your skin at least twice daily. Since chemicals can irritate your skin and be absorbed into your body, I strongly recommend that you use products containing natural ingredients.
I still use topical steroids when I get an outbreak and I can't manage it with natural remedies. Don't let psoriasis become totally unmanageable. In some cases, medicine is needed and is here to help.
Mainly, my diet and lifestyle helps me to keep my psoriasis at bay. But sometimes, it's just not enough and my psoriasis is spreading.
I am regularly asked for recommendations on remedies for psoriasis. People particularly want to know what skincare products I use to manage psoriasis. 
As a result I've put together a list of my most recommended resources that I've personally used:
1. Borage Therapy Lotion
I use this lotion several times a day to moisturize my skin, especially when my skin is very dry. This lotion soaks in rapidly, it's unscented and paraben-free. In my opinion, it's one of the best skincare products for psoriasis to use on a daily basis. You need to moisturize your skin very often when you have psoriasis. I just love this cream. You can buy it on Amazon (click here). It's not too expensive.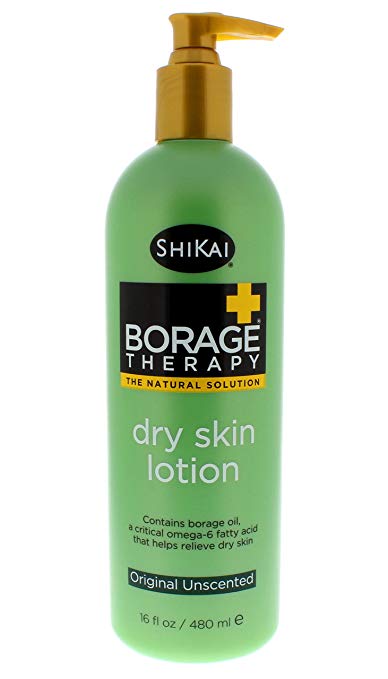 2. Donkey Milk
Unfortunately it's difficult to find donkey milk lotion in North America. The brand I use is from a small family business in France. I explain why I recommend donkey milk for psoriasis in this post.
3. Witch Hazel
I apply it on my face every morning (great for wrinkles and fine lines too!) and it's also very helpful for psoriasis, especially when lesions are itchy. Choose the alcohol-free one with Aloe Vera to soothe your skin. I wrote a post on how to use witch hazel for psoriasis if you're interested in trying it.
4. Coconut Oil
I use coconut oil all the time! Coconut oil is one of the best moisturizers for psoriasis (I explain why here). You can also use it for cooking and oil pulling. I often buy Nature's Way Coconut oil.
Of course there are many other skincare products for psoriasis. I haven't tried them all! I just wanted to give you an overview of the products that work well for me. 
Please note: some links are affiliate links. I'm happy to recommend these products because I use them and I think they are great for psoriasis. This adds no cost to you if you buy a product through one of my links, but it helps keep Optiderma.com sustainable. You can read my affiliate disclosure here.
Have a healthy diet to lower inflammation
Opting for a healthy diet and reducing inflammation through your diet can only help you in the long term! Diet and psoriasis may be linked. I invite you to read this interesting post about diet and psoriasis.
Not sure what to eat and not to eat? Check out this post I wrote. It will give you some good guidelines.
Does Diet Affect Psoriasis? Advice form a Holistic Nutritionist
Use essential oils for psoriasis
What to say about essential oils? They're just awesome! Neem oil is one of the most effective essential oils for psoriasis (read this post)
. Geranium essential oil is also great for psoriasis. It helps deal with anxiety and stress. I usually dilute it in coconut oil and use it in my skincare recipes.
Here are two great DIY recipes for psoriasis you should try:
1. Homemade Anti-inflammatory Cream
This is a cream that you can make yourself easily (see my recipe here). It contains beeswax, honey, coconut oil, almond oil and some essential oils. It works well for psoriasis and eczema!
2. Homemade Soothing Cream with Neem Oil
This is the second recipe I like the most (see the recipe here). It's super simple to make. You only need coconut oil, neem oil and some essential oils…
The Best Essential Oils for Psoriasis
Find the right treatment and the right practitioner
Even though there is no cure, many treatments exist to ease the symptoms.
Healing by natural means is possible with determination and patience. I'm not against drugs. Sometimes they are necessary and can bring lots of relief. But I think we can achieve better results with natural remedies without the side effects. Addressing the cause of disease makes more sense than only treating the symptoms.
However, the success of natural healing depends on many factors. It can be overwhelming and it can take lots of time.
To make sure you find the right treatment for you, I recommend you consult with a qualified clinician who specializes in natural therapies for treating skin conditions, such as psoriasis. We all need guidance when dealing with this complex skin condition.
The power of acceptance
Accepting psoriasis is difficult. I've struggled with it for such a long time. When you surrender the struggle of fighting this disease, you're empowered to move forward.
Now I don't fight it anymore, I do my best to give my body what it needs to heal. I don't give up my vision of healthy skin neither.
Acceptance doesn't mean you stop making efforts, but there's much less emotional stress involved.
Today, my view of psoriasis is very different from years ago. This disease helped me take better care of myself and achieve a healthier lifestyle. I'm more compassionate than ever before. I'm happier and my thoughts are much more positive than it used to be.
Summary: What works best for psoriasis?
There's no definite answer. Each individual is unique. What works for some doesn't necessary work for others. 
After 12 years of life with psoriasis, here's what has worked the best for me:
Practicing daily meditation and yoga (10 minutes min. daily).
Changing my diet and taking better care of my gut health. I eat simple nutritious foods – lots of probiotic-rich foods – and enjoy green smoothies.
Moisturizing my skin with natural high quality oils and products.
Using essential oils for psoriasis and making my own skincare creams.
Taking CBD capsules (cannabinoids). It helps reduce anxiety and calm the immune system.
Accepting to use topical steroids when my psoriasis is not manageable.
Having a healthy lifestyle and a positive attitude towards myself.
Psoriasis can be a very stubborn disease! That being said, there are lots of people who managed to treat it naturally. You can definitely ease the symptoms using natural remedies.
Also, researchers discover more and more things involved in psoriasis, and it opens up new potentials for therapy.
Hopefully this helps! Please feel free to share what works for you for your psoriasis. I'd love to hear your story. If you have any questions, feel free to contact me.
Warmly,
Josephine Beck
Certified Holistic Nutritionist & Founder of Optiderma.com
The Best Natural Soaps for Psoriasis