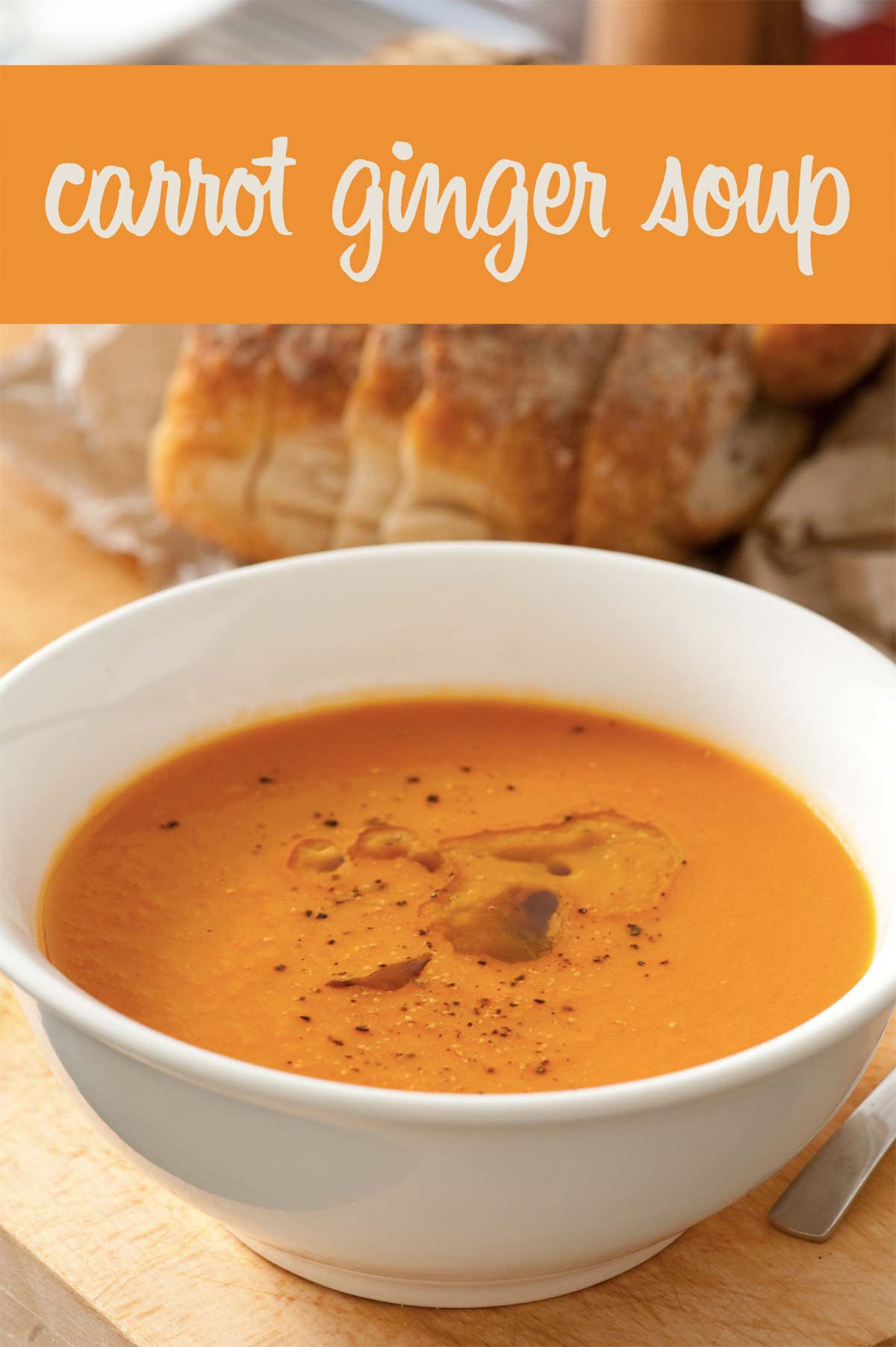 A great soup recipe with carrots and ginger… The carrot is low in saturated fat and cholesterol, high in fiber, Vitamin A, Vitamin C, Vitamin K, Potassium, Thiamin, Niacin, Vitamin B6, Folate and Manganese. Combined with butternut squash, this recipe contains lots of vitamin A in the form of beta-carotene. Vitamin A is a powerful antioxidant which can prevent inflammation and skin damage. Butternut squash also contains some Folate, Vitamin C, Potassium, Fiber, Manganese, Omega 3 fatty acids, several Vitamin B's and Copper.
Preparation: 15 min
Cooking: 45 min
Servings: 4
Ingredients to make carrot ginger soup
1/2 butternut squash (medium)
2 tablespoons vegetable oil (like oilive oil)
1 onion (diced)
1 pound carrots (peeled and diced)
 2 cloves garlic (crushed)
1 fresh ginger (peeled and sliced)
3 cups water and 1 cup vegetable broth
salt, pepper, ground cinnamon
Directions
Heat the oven 375 F.
Scoop seeds out of the butternut squash half. Place squash, cut sides up, in baking dish and cover with foil; bake 45 minutes or until softened.
Heat olive oil in a large saucepan (low heat).
Add onion and garlic, and cook until onion is translucent.
Pour in the water and broth, and add squash (diced), carrots and ginger. Bring to a boil, and cook for about 20 minutes, or until carrots and ginger are tender.
Puree the mixture in the blender.
Add boiling water if necessary. Return soup to the pan, and add orange juice. Heat and add salt, pepper and cinnamon.