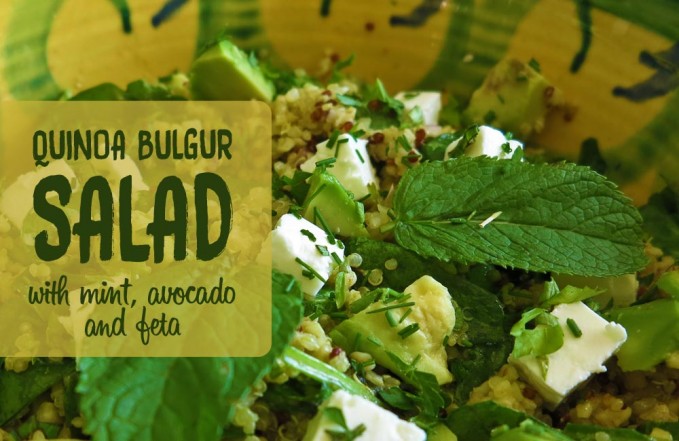 This quinoa spinach salad is a delicious summer salad full of nutrients… Whereas Quinoa is free of gluten (a protein that causes allergic reactions or digestive problems in susceptible individuals), bulgur is not. Use only quinoa if you are on a gluten free diet!
Quinoa is a complete source of protein and is rich in copper, magnesium and phosphorus, containing nearly 40 percent of the daily target intake for these minerals. It also contains about 20 percent of the daily value for vitamin B-6, folate, thiamine, riboflavin and zinc. 
Spinach contain many phyto-nutrients that have health promotional and disease prevention properties. It is very low in calories and fats and contains a good amount of soluble dietary fiber. Fresh 100 g of spinach contains about 25% of daily intake of iron; one of the richest among green leafy vegetables. Fresh leaves are rich source of several vital anti-oxidant vitamins like vitamin A, vitamin C, and flavonoid poly phenolic antioxidants such as lutein, zea-xanthin and beta-carotene. 
Mint is especially rich in carotenes and vitamin C. It is also a good source of several essential minerals, including magnesium, copper, iron, potassium, and calcium.
Avocado has a high content of essential fatty acids, which is essential for skin nutrition. Tip: brush avocado with lemon juice to prevent browning.
Note about feta: Sheep's milk is well known to be extremely well digestible and is acceptable to lots of people who cannot tolerate cow or goat milk products. However cheese can be inflammatory and should be avoided if following a non dairy diet.
Preparation: 20 min
Cooking: 15 min
Ingredients for quinoa bulgur salad with avocado and mint (makes 4 servings):
200g bulgur, ordinary and red quinoa mix

150g fresh spinach (roughly chopped)

2 ripe avocados (halved, seeded, peeled, and chopped)

10 fresh mint leaves

Little bit of fresh chives and parsley to sprinkle on top

Optional: 200g feta cheese (crumbled)
Dressing:
2 tablespoons olive oil

1 tablespoon flaxseed oil (if you have some, otherwise use another vegetable oil of your choice)

2 tablespoon apple cider vinegar

1 tablespoon mustard

1 shallot (minced)

1 garlic clove (crushed)

Salt and pepper

Optional: 1 tablespoon curry or cumin
Directions
Rinse quinoa thoroughly before cooking to remove a bitter substance called saponin that coats the seeds. Cook the quinoa or quinoa-bulgur mix according to pack instructions (usually about 15 minutes in boiling water). 
Drain well then toss with dressing while still warm. 
Transfer quinoa to a medium bowl. Add the rest of the ingredients and stir to combine.
Add a few leaves of mint, parsley and chives on top. Then serve.