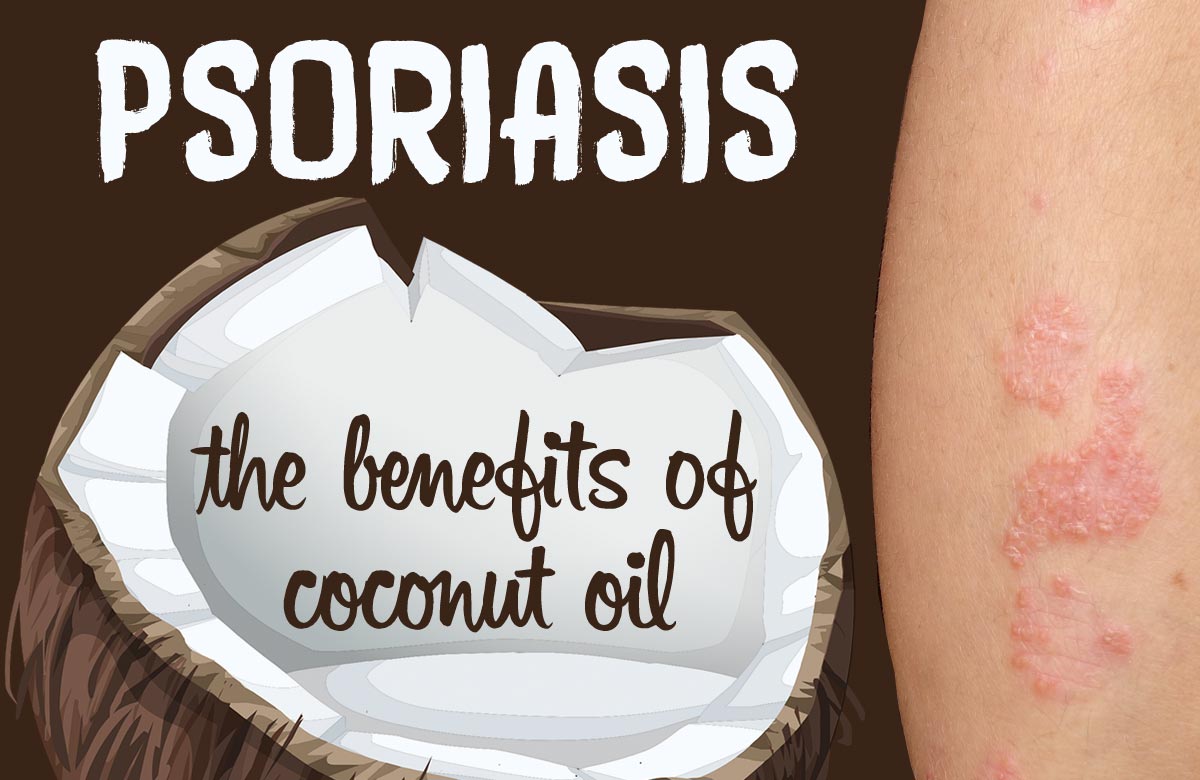 Are you weary of riding the psoriasis roller-coaster? I know exactly how you feel. Speaking from experience, successfully treating this skin condition requires experimentation (I recommend that you read my post What Works Best for Psoriasis). My eyes are always peeled for healing solutions to help you.
You'll be encouraged by learning about coconut oil for psoriasis! Working both externally and internally, the oil soothes inflamed skin. Here's how to incorporate this potent elixir into your treatment regimen.
What are the causes of psoriasis?
Before describing the benefits of coconut oil for psoriasis, here's a brief overview of the condition.
If psoriasis is new to you or you're reading this to assist another person, you may wonder what psoriasis is exactly and what triggers it.
Psoriasis is a chronic inflammatory disorder affecting the skin. Patches of red, scaly, itchy areas typically converge on the scalp, elbows, and knees. Other commonly impacted areas are the lower back, palms, and soles. Scientists aren't entirely sure of the cause.
Psoriasis appears to have five primary triggers:
1. Heredity
Researchers have identified 25 genes implicated in the disease. These instructional codes dictate how cells behave. In the case of psoriasis, certain genes malfunction, giving corrupted messages to immune cells known as B-cells and T-cells.
Normally, B-cells heal injuries. With faulty directives from genes, they generate antibodies that destroy healthy skin. T-cells are designed to attack invaders such as bacteria and viruses. When they're misguided, they produce too much of a protein called cytokine. This chemical messenger tells skin cells to multiply at five times the normal rate.
Consequently, crusts of skin accumulate. To heal these areas, the body sends more blood to the surface, leading to redness and swelling.
2. Skin injury
Psoriasis can be triggered by an insect bite, scrape, cut, and severe sunburn.
3. Infections
Skin inflammation can be set off by a cold, flu, pneumonia, and strep infection.
4. Medications
Drugs linked to psoriasis include lithium, anti-malarials, quinidine, and indomethacin.
5. Environmental Factors
Other elements that launch flares are dry air, smoking, alcohol, cold temperatures, and stress.
Why use coconut oil for psoriasis?
Dermatologists advise that moisturizing skin is the most important treatment for psoriasis.
When your skin is dry, symptoms worsen. The drawback to buying moisturizing creams is that the cost can drain your funds. This is especially the case when psoriasis is widespread.
Also, creams can be greasy. The oils in some ointments clog skin pores, causing acne and allergic reactions.
Coconut oil has five restorative qualities that can be very beneficial for psoriasis:
1. Non-Allergenic
Virgin oil doesn't block pores. Even on sensitive skin, it will not cause allergic reactions.
2. Efficiently Absorbed
Fatty acids comprise the outer layer of skin cells. Since they're identical to the fatty acids in coconut oil, your skin quickly absorbs them. They restore moisture better than any other oil, without leaving a greasy residue (source).
3. Nourishing
Coconut oil is 90 percent saturated fat. Generally, this type of fat should be avoided since in raises cholesterol levels.
However, the fatty structure of coconut oil is beneficial for psoriasis, boosting the function of your immune system.
4. Antiseptic
About half the saturated fat is lauric acid, with antibacterial, anti-fungal, and antiviral properties. Capric acid is antimicrobial, helping to protect against infection. Monoglyceride is antiseptic as well.
5. Anti-Inflammatory
Coconut oil smooths skin by exfoliating layers of dead cells and making connective tissue strong and supple.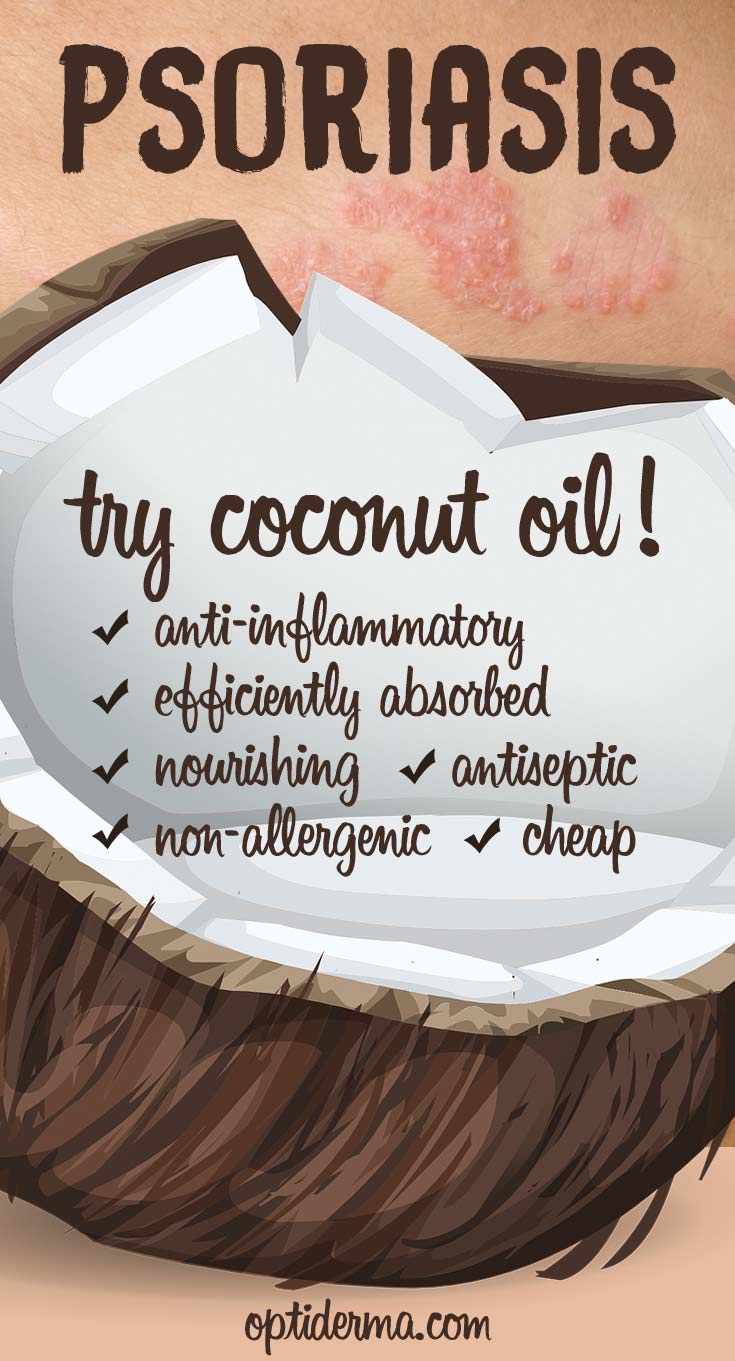 How to use coconut oil for psoriasis?
Using coconut oil on your skin
Massage virgin oil into affected skin areas three times daily.
Using coconut oil for scalp psoriasis
Worked into the scalp, the oil loosens scales. An ideal time to apply it is after showering when your skin is primed to retain moisture. To maximize this benefit, wrap a warm towel around your head.
Remove scales with a wide-tooth comb or soft bristle brush.
If scalp application makes your hair too oily, apply before bedtime and rinse it out in the morning.
DIY Recipe – Enhance the soothing effect of coconut oil with neem oil. For a homemade ointment, combine one teaspoon of coconut oil, 1/4 teaspoon of neem oil, and four drops of geranium essential oil. To facilitate mixing, liquefy the neem and coconut oils by placing their containers in warm water. Apply the ointment to lesions as needed. Here you can learn more about neem oil.
Cooking with coconut oil
Coconut oil also nourishes skin from the inside.
Coconut oil helps improve digestion. It helps absorb fat soluble vitamins and other nutrients like calcium and magnesium. Also, it kills the bad bacteria from your gut. Read this article about the connection between skin conditions and gut health.
Additionally, coconut oil promotes heart health, thyroid function, metabolism, and weight loss.
Since it's stable enough to resist heat damage, you can use it in cooking. Sauté and stir-fry veggies in the oil at low heat to avoid burning.
You can also relish it from a spoon or blend it into a green smoothie!
NOTE – Regarding intake, moderation is key. The recommended daily amount is two tablespoons of virgin coconut oil. Eating too much can cause diarrhea. To avoid overdoing calories, limit your daily consumption to three tablespoons.
Oil pulling
Oil pulling is a dental practice of Ayurvedic medicine, a holistic healing system founded in India. Coconut oil is commonly used, courtesy of its antiseptic properties.
Swishing the oil between your teeth quells bad breath, gum inflammation, and oral infections.
It also pulls toxins from blood. Because body detoxification is the first step for psoriasis healing, oil pulling can be very helpful to help detox the body.
Dr. Marc Lowenberg, a renowned NYC cosmetic dentist, advises the following procedure: Swish your mouth with 1 to 2 teaspoons of coconut oil, pulling it between your teeth for 20 minutes.
Be sure to expectorate rather than swallow the oil to prevent toxins from re-entering your system. Then, rinse with warm water and brush your teeth (source).
For regular cleansing, you can perform oil pulling daily, first thing in the a.m. before eating. During sleep, your liver is busy filtering blood, so a morning detox is timely. An empty stomach also concentrates the enzymes in your saliva, so they have the maximum potency to draw toxins.
In another blog, I detail information on oil pulling. You can access the article here.
As you can see, there are many ways you can use coconut oil for psoriasis, either externally or internally.
What type of coconut oil is best?
For the most effective results, use oil that's virgin and certified organic. Cold-pressed is also preferable.
Refined coconut oil is processed from chemically bleached, deodorized coconut meat. It lacks the luscious taste, fragrance, and healing qualities of virgin oil. Refined oil also contains additives to increase shelf life.
Pure oil is pressed from fresh fruit, without the use of chemicals and high temperatures. It contains healthy plant nutrients such as antioxidants. At room temperature, coconut oil is white and solid.
For the highest quality coconut oil, purchase it online or in health food stores. Asian groceries and Chinese supermarkets typically sell refined types.
Steer clear of hydrogenated oil which contains trans fat. Also, avoid liquid coconut oil since it's "fractionated," a process that removes the valuable lauric acid. Liquid coconut oil may be labeled "MCT oil."
Unlike olive oil, there is no difference between virgin and extra-virgin types of coconut oil. "Extra-virgin" on a label is merely a marketing tool.
Don't be concerned about genetically modified products. There are no GMO coconuts. However, pesticide may be applied to the soil or injected into tree sap. Organic versions are free of pesticide residues.
Here are the brands I commonly use for cooking and for my skin:
Conclusion
Compared to store-bought moisturizers, coconut oil is cheap. Topically, it acts as a healing balm. When consumed, it improves your health. Its heavenly, calming scent evaporates stress.
Do I sound like a retailer, itchy to make a sale? I admit, I'm sold on coconut oil for psoriasis. I think you will be, too!
To view a brief video by another impressed user, click here.
Are you also a fan of coconut oil for psoriasis? If so, please share your testimony below! And for other great remedies and foods I recommend for psoriasis, check this post!